Finding a WordPress host you really love, enjoy using and don't mind paying for isn't easy.
In this article, we're going to be taking a look at Cloudways – a managed WordPress host that runs on major cloud providers like Linode, Digital Ocean,  AWS, the Google Cloud Platform or VULTR.
Cloudways simplifies the process and takes the complexity out of setting up, maintaining and securing a powerful cloud server by automating the process and allowing you to interact with your server (i.e. create new WordPress installations and so forth) all through their easy-to-use dashboard.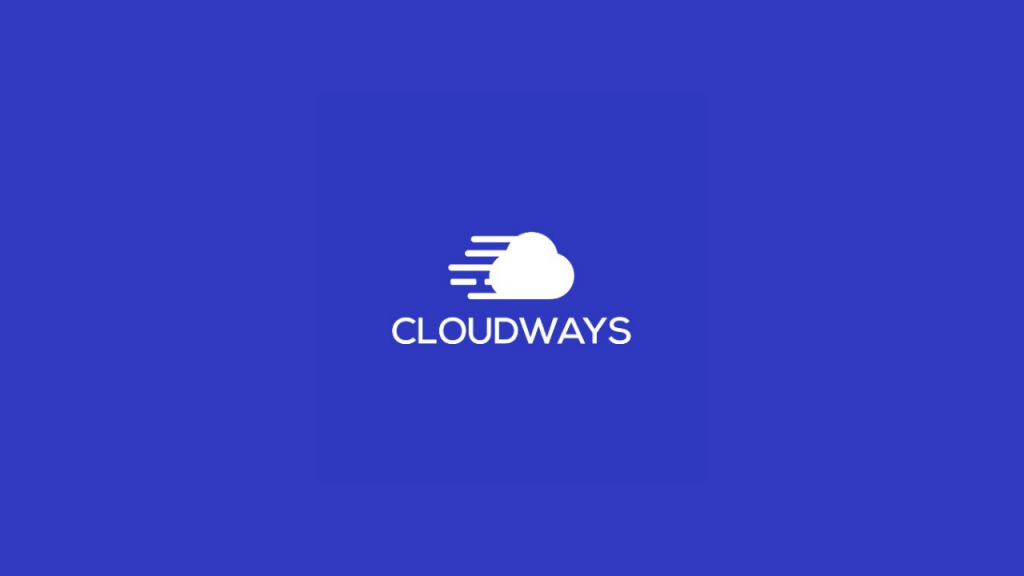 Here are just a few of the things that we'll be taking a closer look at in this review:
The features Cloudways offers
The Cloudways dashboard
The quality of the support that Cloudways provides
The speed/performance and architecture of Cloudways platform
We highly recommend you do read the entire article if you want to learn more about Cloudways and find out whether they could be the right WordPress host for you, but in case you don't have time – here's the TL;DR (too long; didn't read):
What Is Cloudways?
Cloudways approaches WordPress hosting in a unique way. You're able to choose where you want your server to be located and your preferred provider.
Choices include Linode, Vultr, Amazon Web Services, Digital Ocean and the Google Cloud Platform. Beyond this, they offer an extremely desirable set of features especially when it comes to scaling.
Simply put,  Cloudways is a PHP MySQL hosting provider for developers that simplifies the process of setting up and maintaining both singular servers or a number of servers.
As you'd expect from their name, Cloudways allows you to deploy easily scalable servers on any of the major cloud providers mentioned above.
Scaling is typically very difficult but thanks to Cloudways, you can freely resize your server as you start requiring extra resources.
Their intuitive dashboard paired with their support team makes Cloudways an easy choice for people who want to move away from traditional shared hosting or those who want more control than their current managed WordPress host provides.
1

Cloudways Overview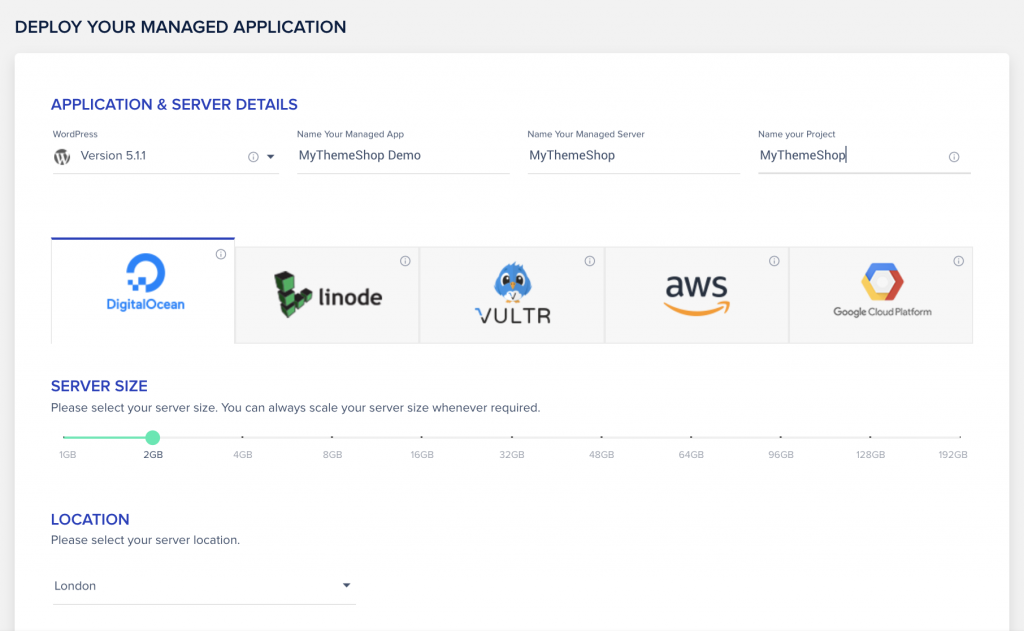 Many of you will be very familiar with shared WordPress hosting that makes use of a piece of software typically referred to as cPanel.
This is great for beginners with low-traffic websites because static websites can still load extremely fast on shared hosts through the use of multiple caching layers.
SiteGround is a great example of a popular shared hosting company, but as you might have noticed, the trend seems to be moving away from shared hosting at the moment.
Agency owners, freelancers, and businesses all over the world are outgrowing shared hosting as powerful cloud hosting (like Cloudways) becomes easier to use, more accessible and far more affordable.
So while you may initially be uncomfortable with the concept of moving away from cPanel shared hosting which you've been using for years and are extremely familiar with, we highly encourage you to try Cloudways out.
If you've only ever used shared hosting, you will definitely find the experience completely different but we are sure that by the end of it, you'll be glad you moved away from the clunky cPanel dashboard that pushes you to host an email server on the same server you host your website; something we highly recommend avoiding. And it's easy to see why people love Cloudways.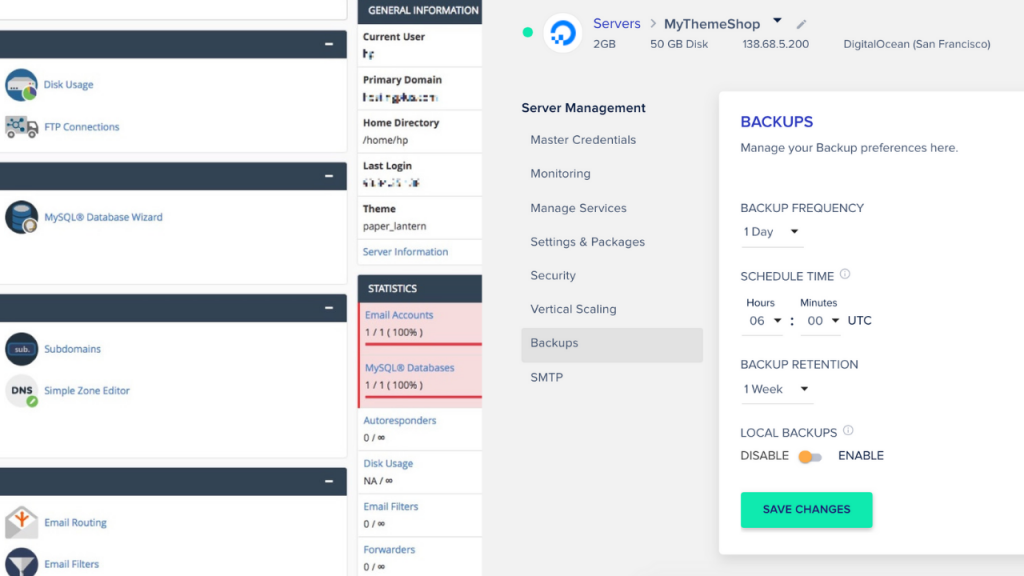 And since you can opt to host multiple applications (such as WordPress or Magento) on one server, you can easily switch between the server and application view using the toggle as highlighted below.
For the purposes of our testing, we've only created a single website hosted on a relatively small Digital Ocean droplet.
If you're unfamiliar with Digital Ocean, droplets are flexible Linux-based virtual machines (VMs) that run on top of virtualized hardware.
Each droplet you create is a new server you can use. And with Cloudways it's possible to add multiple websites to a single server.

One of the best things about using a web host like Cloudways is that there's no need to share resources with 50 other websites hosted on the same server.
The result of this is a website that is not only more secure but also significantly faster and less likely to crash your server or result in insane overage fees when your site starts attracting some attention.
Getting up and running with Cloudways is extremely easy. You can choose the size of your server, your preferred location and which of the following cloud VPS providers you'd like to rent your server from:
Digital Ocean
Linode
VULTR
Amazon Web Services
The Google Cloud Platform
It's important to note that people typically recommend choosing a location that is as close as possible to your target audience geographically.
However, with the rise of popular content delivery networks that have Points of Presence (PoPs) all over the world, such as Cloudflare and CloudwaysCDN – both of which are extremely easy to configure and use, the location of your server isn't as important as it once was.

Once you choose your preferred setup options, Cloudways will start provisioning your server.
This process will typically take around 10 minutes but is fully automatic and does not require your attention in order for it to complete. That was easy, wasn't it? 😀
2

Cloudways Pricing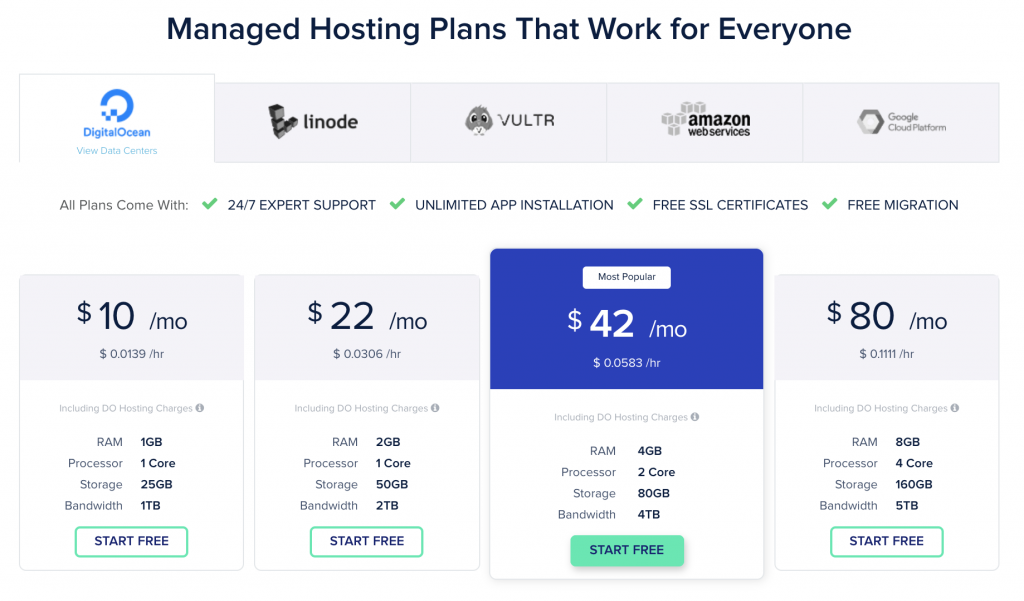 Unfortunately, for a large number of people looking for WordPress hosts – price is understandably going to be the most important factor in their decision-making process.
As much as you try to tell someone who's just getting into WordPress not to go with a certain web host just because they're the cheapest, at often times they'll still make the mistake and come back to you a year later once they've made it 1/3rd of the way through their three-year contract which they can't get out of.
Cloudways, on the other hand, strikes a great balance. They're definitely not the cheapest but the barrier to entry is still very low considering the smallest server only costs around $10/month.
The best part is that since these servers provide you with dedicated (or in some cases containerized) RAM and vCPU cores, they're far more powerful than a shared hosting plan that costs about the same.
Most websites would run without issue on a smaller server with Cloudways because (unless they're dynamic websites which are more difficult to cache) they can be heavily cached and served through a powerful content delivery network like Cloudways – as you'll learn more about in our speed optimization guide.
3

What can you expect?

As the all-time favorite and preferred host for professional WordPress design and development agencies all over the world, it's easy to see that people love Cloudways.

Join almost any WordPress related or Web Design Agency Facebook group and you'll see proud and satisfied customers recommending Cloudways to everyone who's on the lookout for a new host, struggling with a slow website or horrified by their current web host's support.

In addition to this, they're actually so confident that you'll love their service that they offer a completely free trial (which doesn't require your credit card) which allows you to provision a server launch your site and get started right away so you can see if they really are the best host for you. 
4

Cloudways Support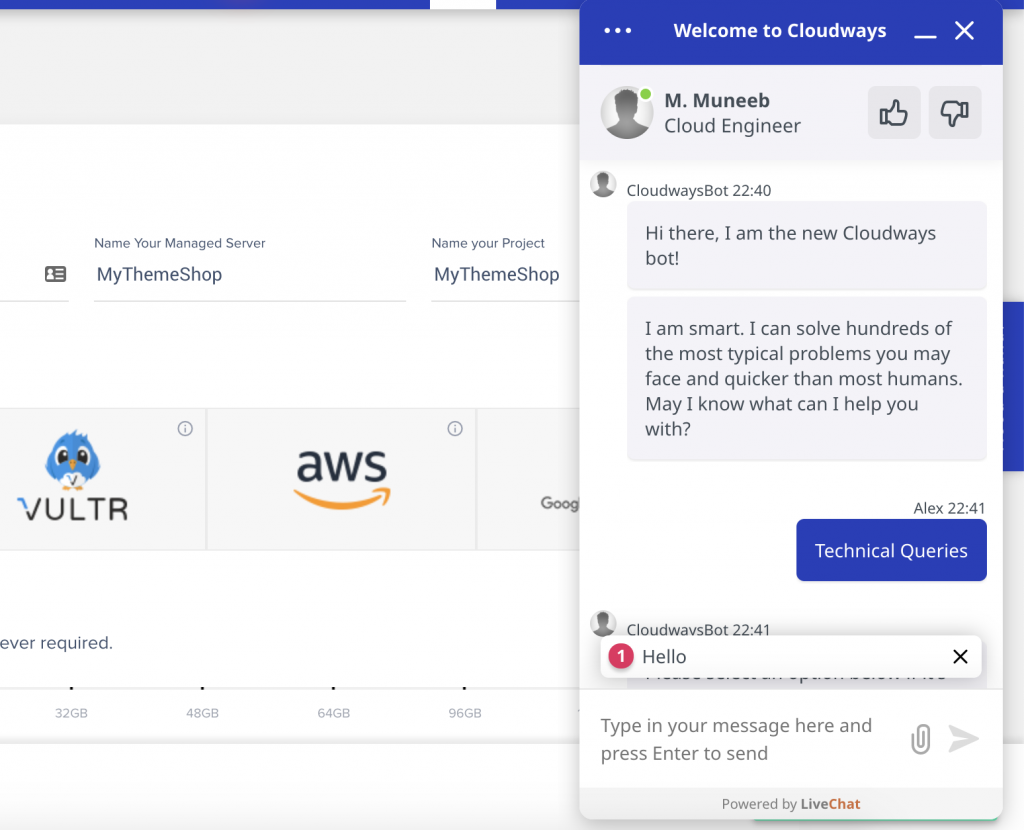 The odds that you'll have to reach out to support are always improving but it's still important to know that when (or if) things eventually do go sideways whether it's because of a mistake that you made or one of the cloud providers caused, Cloudways will be there to help you and will be there fast.
While they don't provide support over the phone because that's becoming an increasingly outdated and inefficient method of supporting customers at scale, they do have their live chat easily accessible in the dashboard, a powerful ticketing system and active community of customers on Facebook.
5

Cloudways Backups
While we always recommend using a powerful WordPress backup plugin, taking backups at the server level is really useful for a range of reasons.
For one, it makes it extremely easy to move to another cloud provider that Cloudways offers and also makes it extremely easy to quickly restore your backup if something goes wrong.
You can easily choose your backup frequency, time and retention in your Cloudways dashboard and optionally take backups on-demand if you've just made changes which you'd like to backup immediately for the extra piece of mind.
6

Cloudways Speed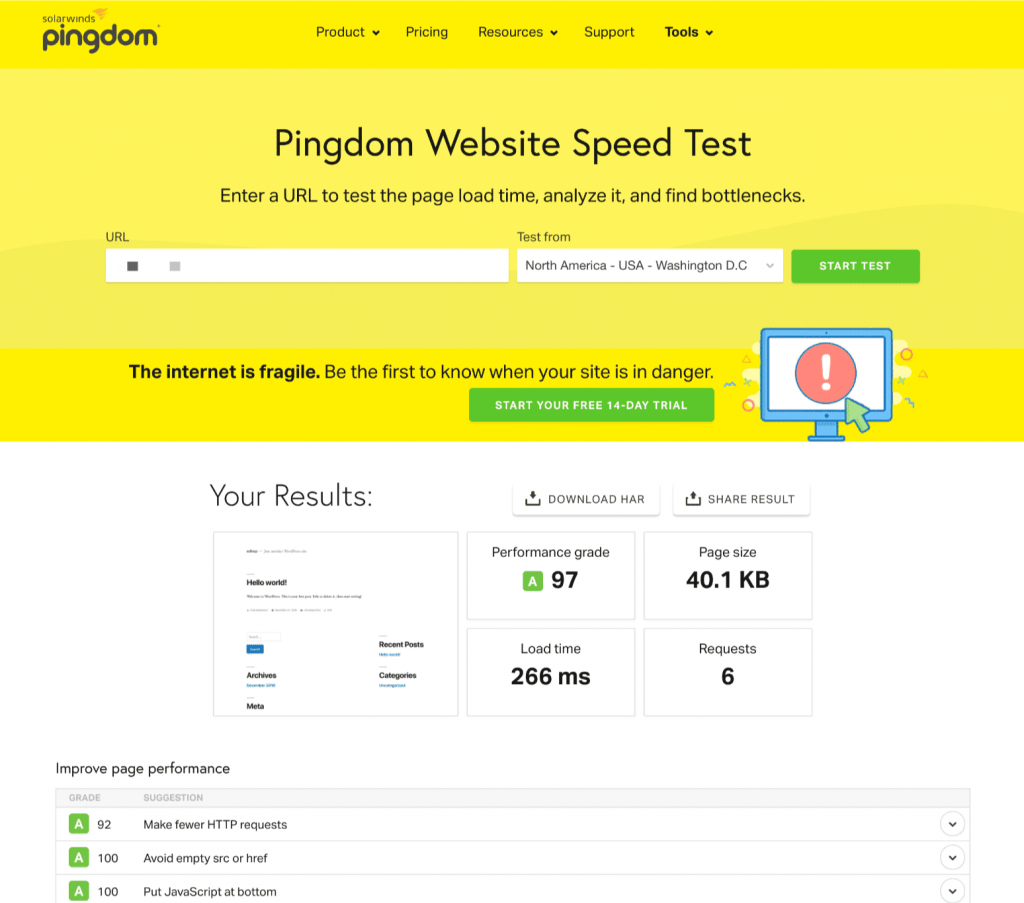 While website speed isn't entirely dependent on your WordPress host, it's certainly a huge part of what makes a fast and successful website.
On this front, Cloudways is regarded as one of the most capable WordPress hosts available – every website runs on a highly optimized version of WordPress which is both heavily cached and also includes their proprietary Breeze caching plugin which is available for free in the plugin repository.
But although a great web host is at the heart of every performant website, it's still extremely important that you take the time to optimize your WordPress website even further.
You'll be pleased to hear that we have an awesome WordPress speed optimization guide that is perfect if you're looking to achieve the best possible performance.
7

Cloudways Vertical Scaling (no downtime)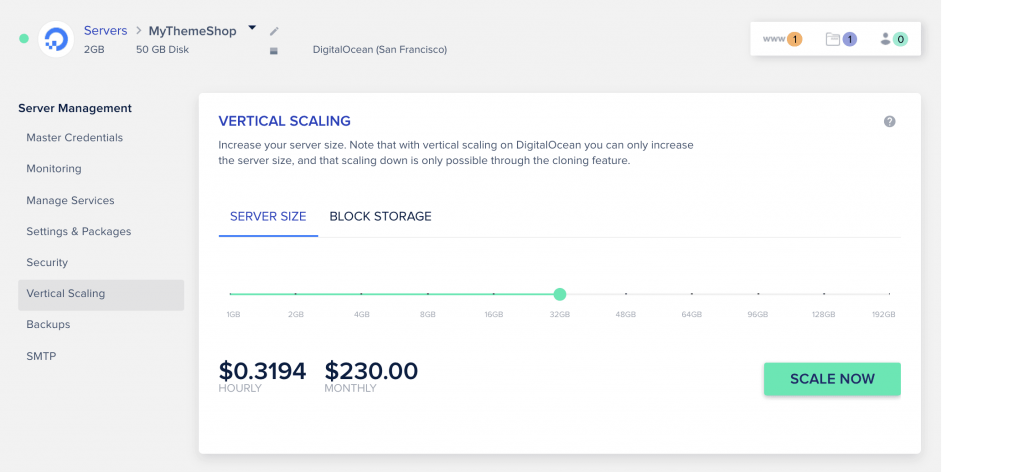 As of right now, Cloudways is the only solution to offer easy 1-click vertical scaling for WordPress website without downtime.
Although, scaling servers hosted with providers like Digital Ocean is easy to do – doing so can result in a large amount of downtime depending on the size of your server.
But don't worry because Cloudways has got you covered – easily scale up and down servers during peak and off-peak hours so that you no longer have to overspend or incur large overage fees as you would with other web hosts. 
Conclusion: Is Cloudways The Best Managed Hosting Platform??
When it comes to WordPress hosting, confidently making a sweeping recommendation that applies to any and all users is extremely difficult to do.
Everyone is different, everyone's situation is different and everyone's website is different.
The only way to truly find out what works for you is by trying, but when it comes to the few highly capable, cost-effective and powerful managed hosting companies like Cloudways – you can't really go wrong, especially given that you can launch your website with Cloudways today for free.
Use the code
SCALEINSUMMER
for 30% off for your first two months with Cloudways.
Have anything to add? Are you a current Cloudways user or thinking of becoming one? Feel free to leave a comment below and let us know – we can't wait to hear from you! 🙂