Namecheap was founded in 2000 as a domain registration and management service, and they have over 3 million clients and manage over 10 million domains today.
If you've thought about creating a WordPress site and researched web hosting companies, then chances are you've heard of Namecheap.
In 2017, they took the WordPress website world by storm by releasing EasyWP, a fully managed WordPress hosting. What was special about EasyWP is that it was backed by the Namecheap brand, was a fully managed service, and had jaw-dropping prices.
So, in this EasyWP hosting review, we are going to put EasyWP hosting to the test and find out how it stacks up against the competition.
EasyWP Features
EasyWP is a fully managed WordPress hosting, which means all the technical aspects of managing your website, like installing WordPress, backups, setting up SSL, caching, a free CDN, FTP, and all the other aspects are taken care of for you—you don't have to worry about it.
Using managed hosting does mean that you lose the fine-grained control over these aspects of hosting, but for most people, this is a better choice as it allows them to focus on building their website instead of just managing it.
EasyWP Pricing
EasyWP offers 3 hosting packages, each with its own pricing. Here are the current prices for EasyWP Hosting
•          EasyWP Starter Plan – $3.88 per month ($1 for the first month)
•          EasyWP Turbo Plan – $7.88 per month ($2 for the first month)
•          EasyWP Supersonic Plan – $11.88 per month ($3 for the first month)
You can get a considerable discount if you pay for the hosting yearly.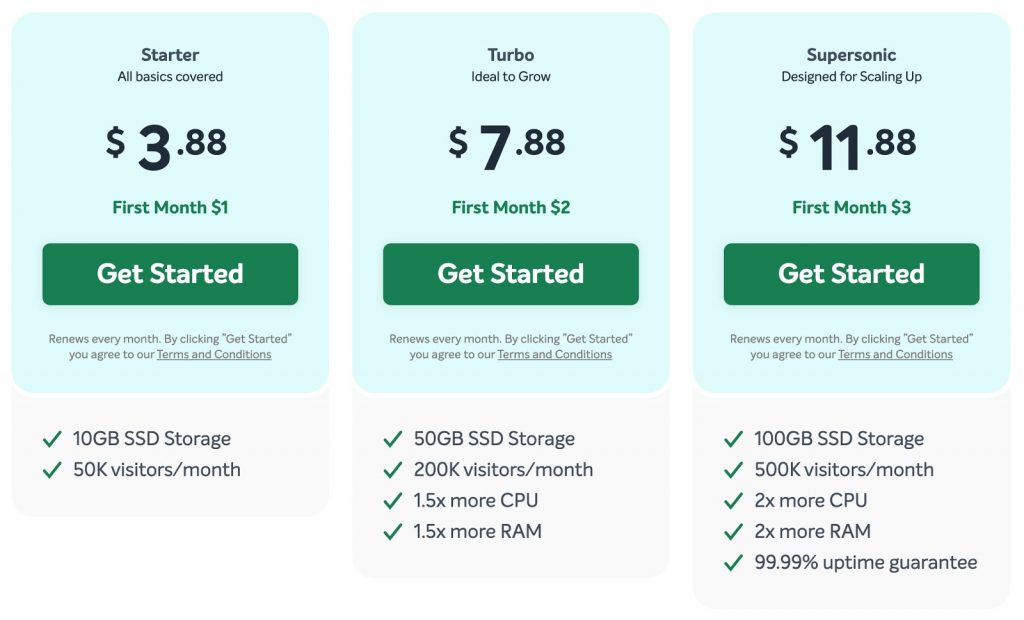 It is important to know that EasyWP is a cloud-based hosting, that means you get all the benefits that you'd get from a dedicated server hosting while excluding all the problems that shared hosting or VPS providers might have—all for the price of shared hosting—it is the best of all worlds.
All plans include generous SSD storage. Also, the differences in the plans are easy to understand, as they are clearly laid out just below the pricing. The visitor limit on the pricing is an interesting approach, but it does make sense from a customer perspective and makes it easy for them to pick out a hosting plan that fits their needs.
For uptime, only the Supersonic plan has a 99.99% uptime guarantee, and the other two plans have a 99% uptime guarantee.
Although there are no free-trials just yet, they are coming as soon as early 2020. If for some reason you want to cancel your account, you are backed by a 30-day money-back guarantee. All you will have to do so is to get in touch with customer support.
Comparing the pricing to another managed hosting provider, SiteGround, the pricing is similar, but EasyWP supports a significantly larger number of visitors on similarly priced plans.
For our testing and review, we purchased the EasyWP Supersonic plan.
Website Setup Process
Creating a website is a huge task in itself. But, if the host has an easy to use interface, then it takes some of the load off. Let us see how is the experience of setting up a website is with EasyWP.
Once you select a plan, you are taken to the payment screen. Once you've made the payment, you can start the website creation process. Do keep in mind that the payment will happen through Namecheap, so don't be alarmed if the payment page takes you to Namecheap instead of EasyWP. In fact, after you purchase a plan, you will see EasyWP as an application inside your Namecheap account.
Here is how the payment screen looks like. Once you proceed to pay, you may be redirected to Namecheap.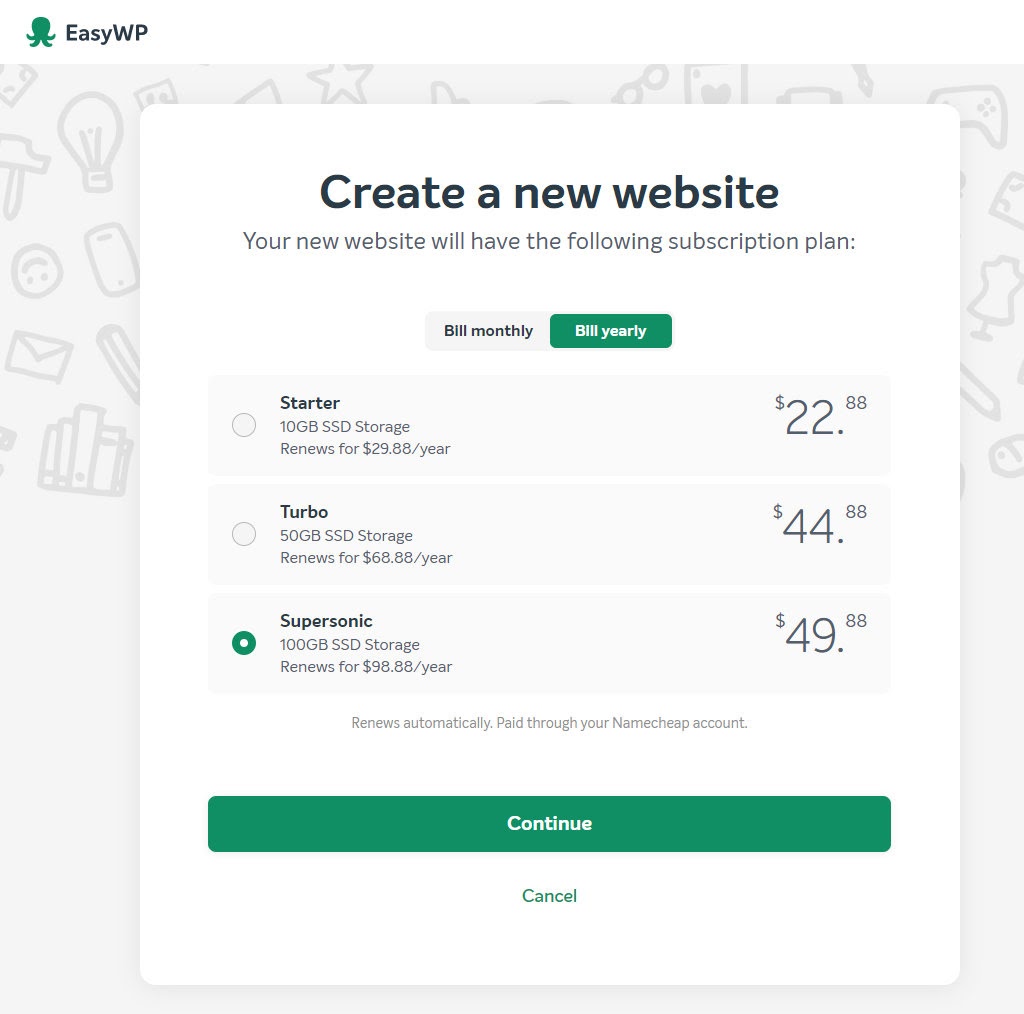 Once we made the payment, we started the website creation process. The interface is pretty clean, and all we had to do was click "Set up WordPress." The process is comparable to one-click WordPress installs that most modern hosts offer.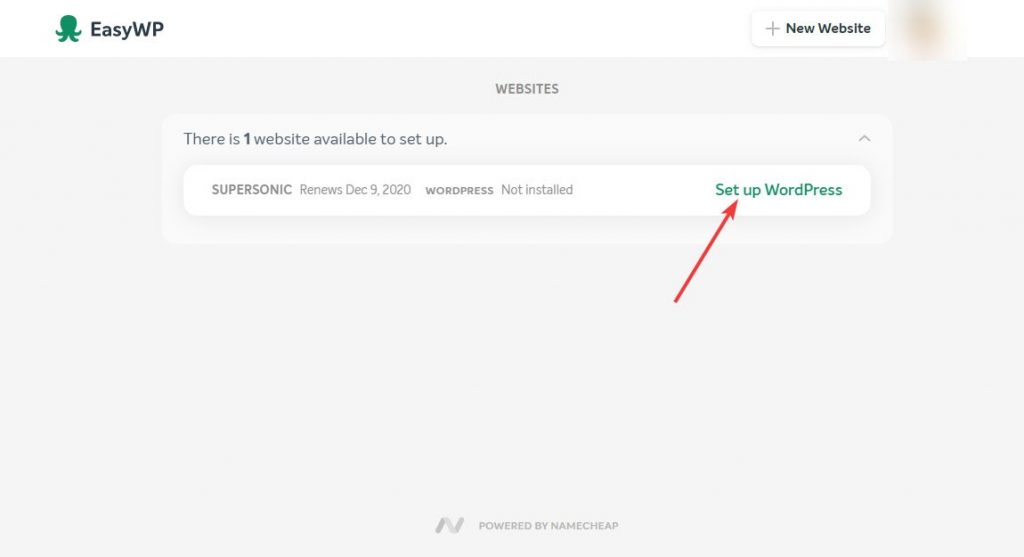 On the next step, you can choose the domain you want to set up your website. You can use a domain you purchased on Namecheap or any other registrar. If you don't have a domain ready, or if you haven't decided on a name yet, you can choose a temporary domain name (set by EasyWP) as well. Later, you can change from the temporary domain to a new domain name.
Important Note: When EasyWP was launched, it only supported Namecheap domains, i.e., domains hosted with Namecheap. That has changed. Now, you can use any domain, registered with any registrar, and use EasyWP hosting to set up your website.
We already registered a domain name from Namecheap (and received WhoisGuard for free), and we used the same domain to set up our website.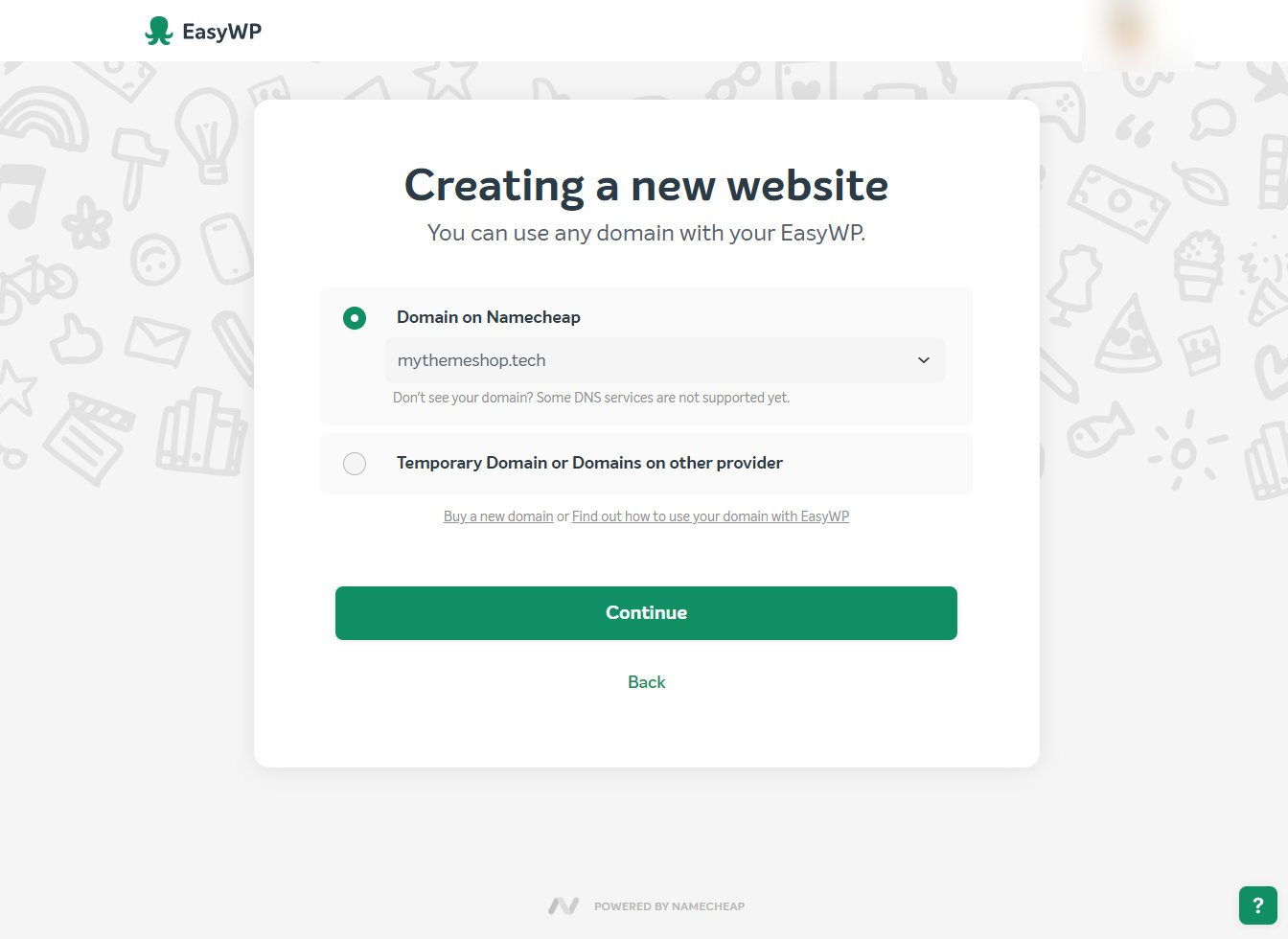 After selecting a domain name, you can start setting up WordPress. You have the option of using a 1-step WordPress install or customize your install.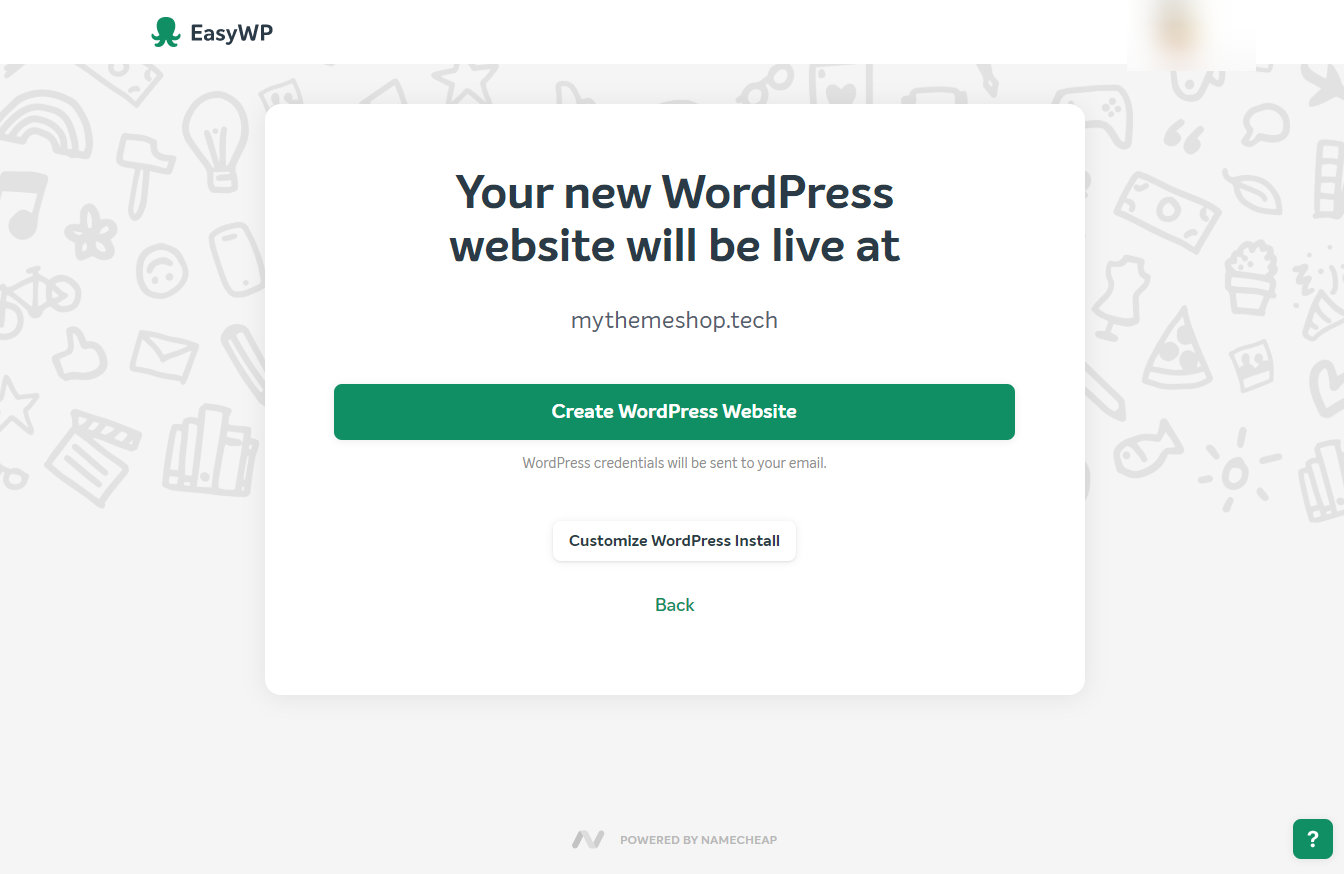 The customization options aren't complicated, though. You can select your website title, a username, and password, and change your email address. You can also choose the WordPress theme that will be used on your website and even pre-select some plugins that you'd like to use.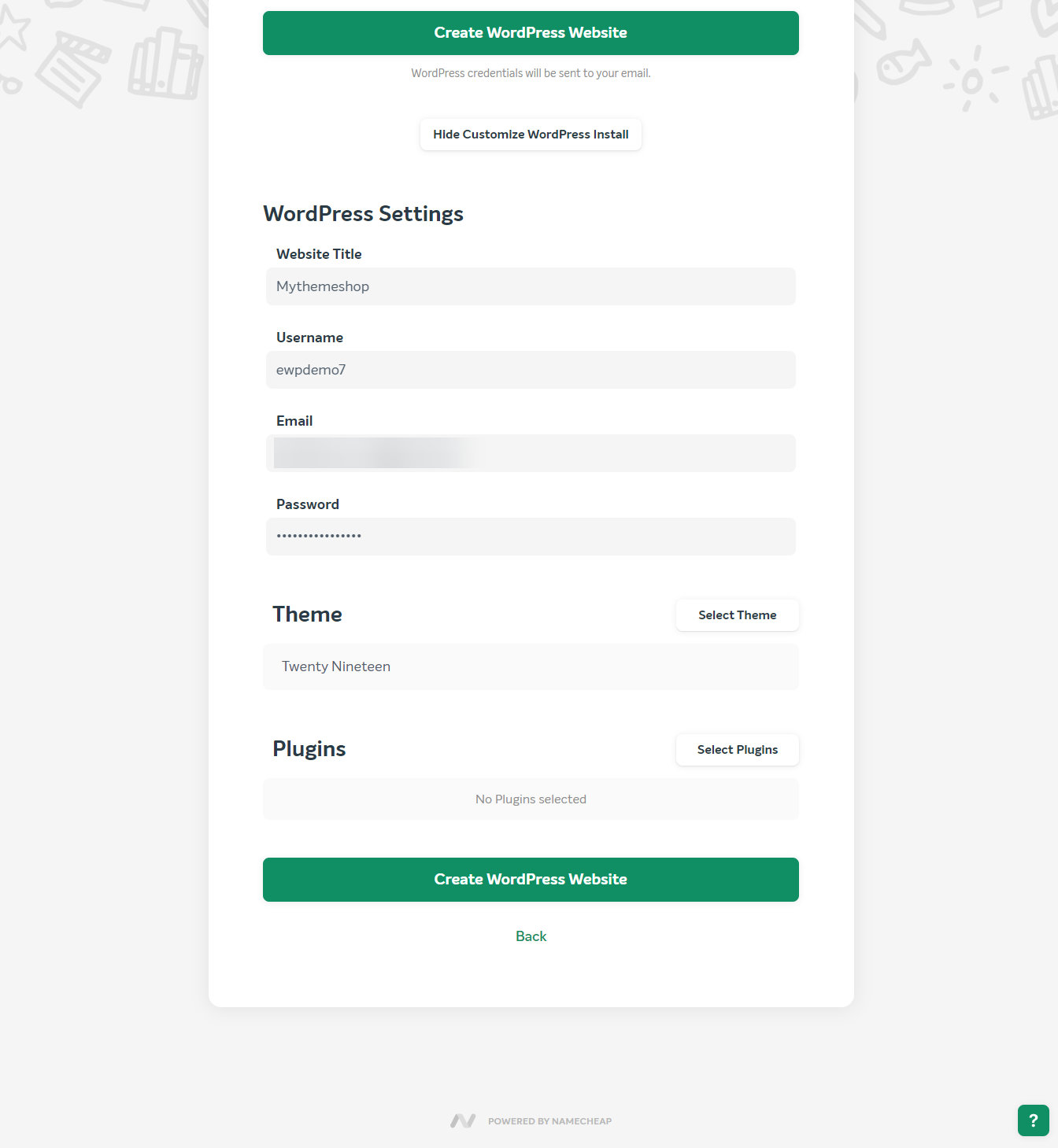 Once the website is being set-up, you will see this warning. This is normal. Press Continue to proceed with the installation.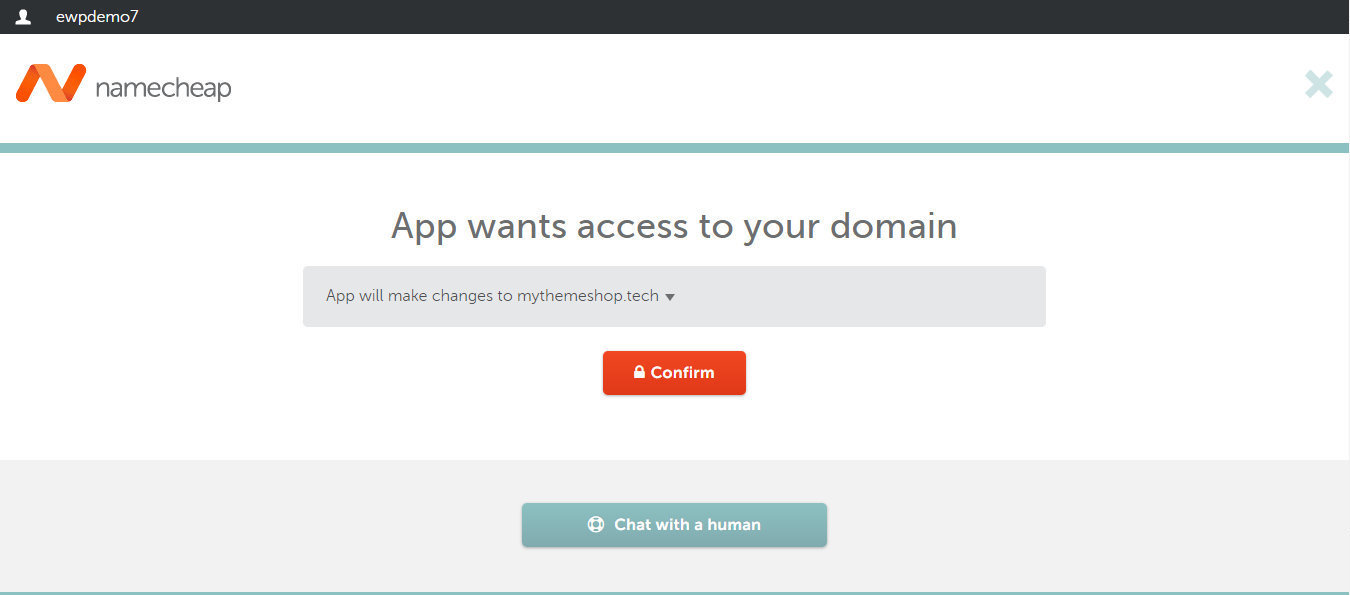 In just a few moments, WordPress will finish installing, and your website will be live. You should get the website login credentials in your email, using which you can log into your website's backend.
Do remember that if you choose a custom domain name for your website, then EasyWP will configure the DNS for you, but it might take upto 24 hours to take effect. In our case, the DNS propagation took a few hours, during which we couldn't access the website.
Once the DNS propagation is complete, you can log into the EasyWP Dashboard and access the dashboard, which will list all your websites.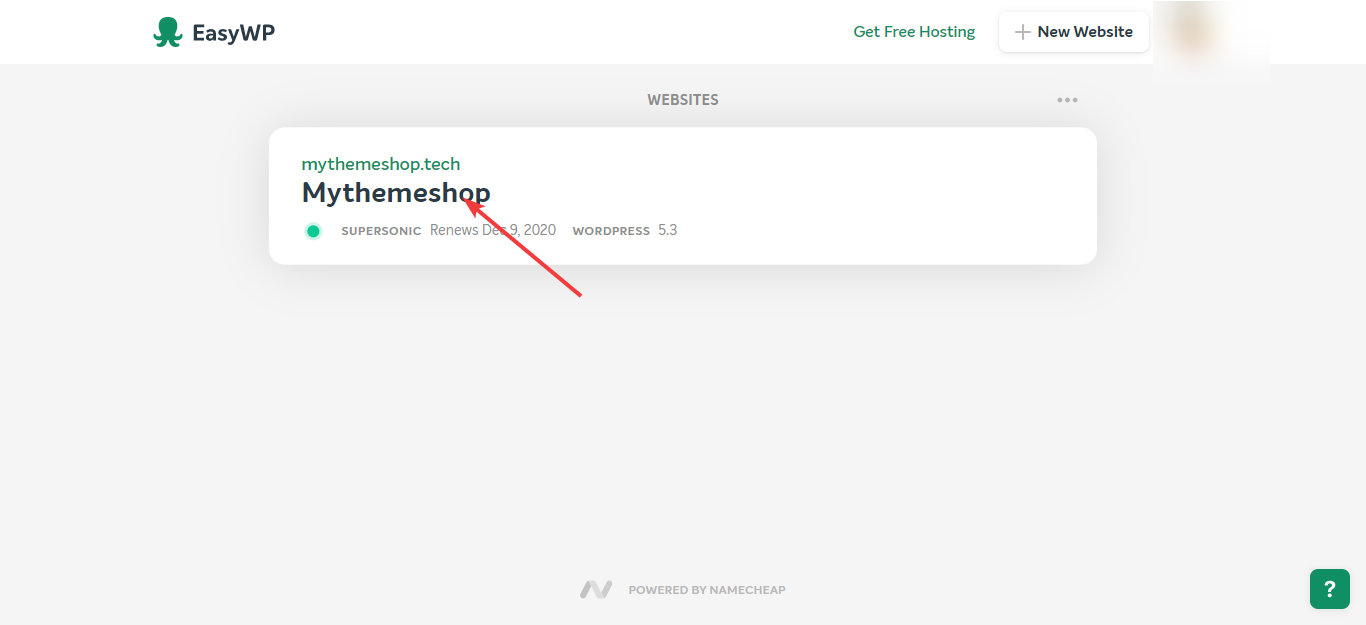 You can click the website to see all its details. From there, you can manage your SSL certificates, backups, and database and SFTP access. You can also take your website offline from here if you need to.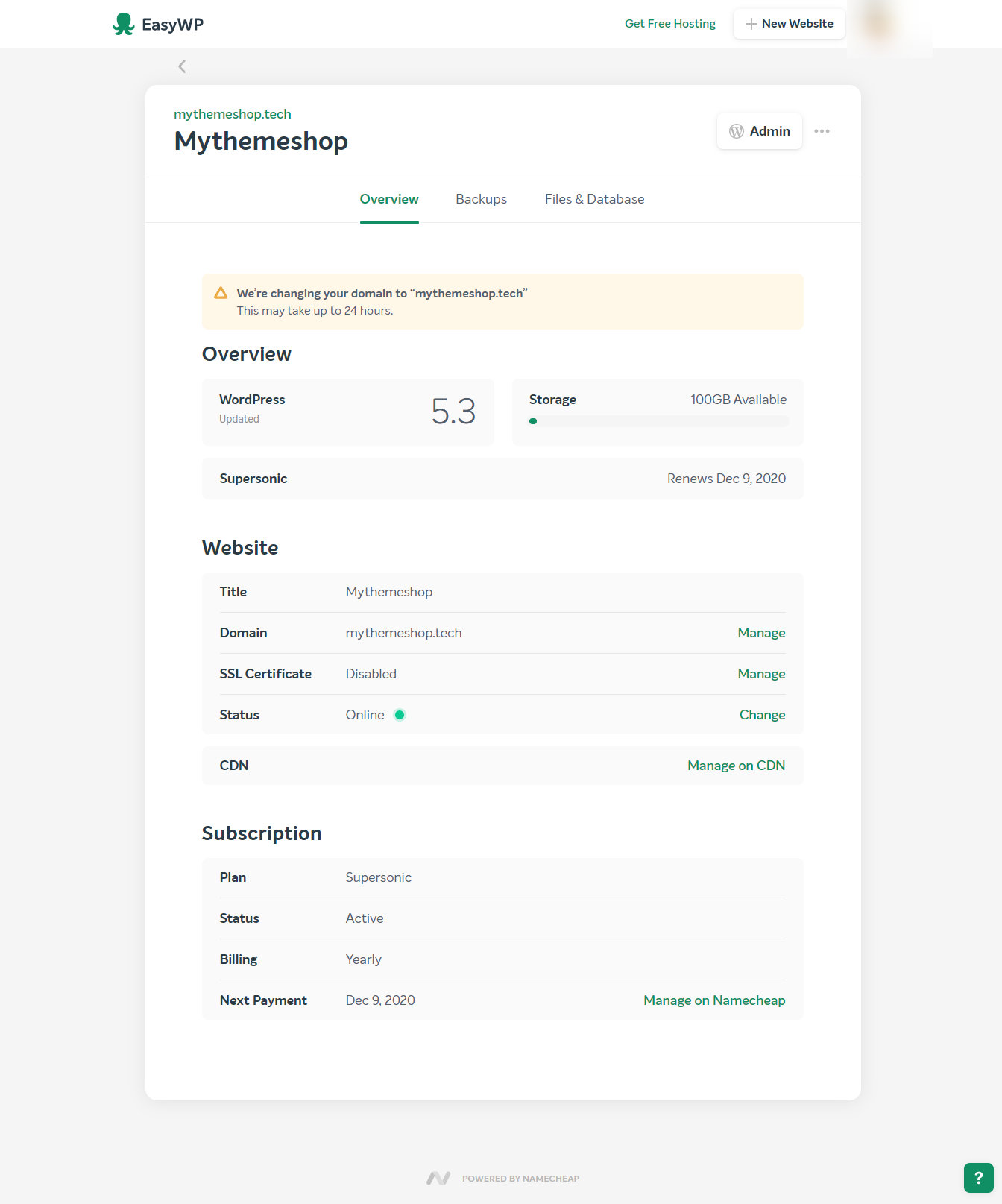 Installing the SSL certificate can be intimidating for some, but you upload a custom SSL in EasyWP with just a few clicks. 
Also worth noting is that EasyWP now offers built-in CDN support. You can check it out from the CDN link in the dashboard and set it up in a few clicks. There is even a free plan available with a generous 50GB bandwidth.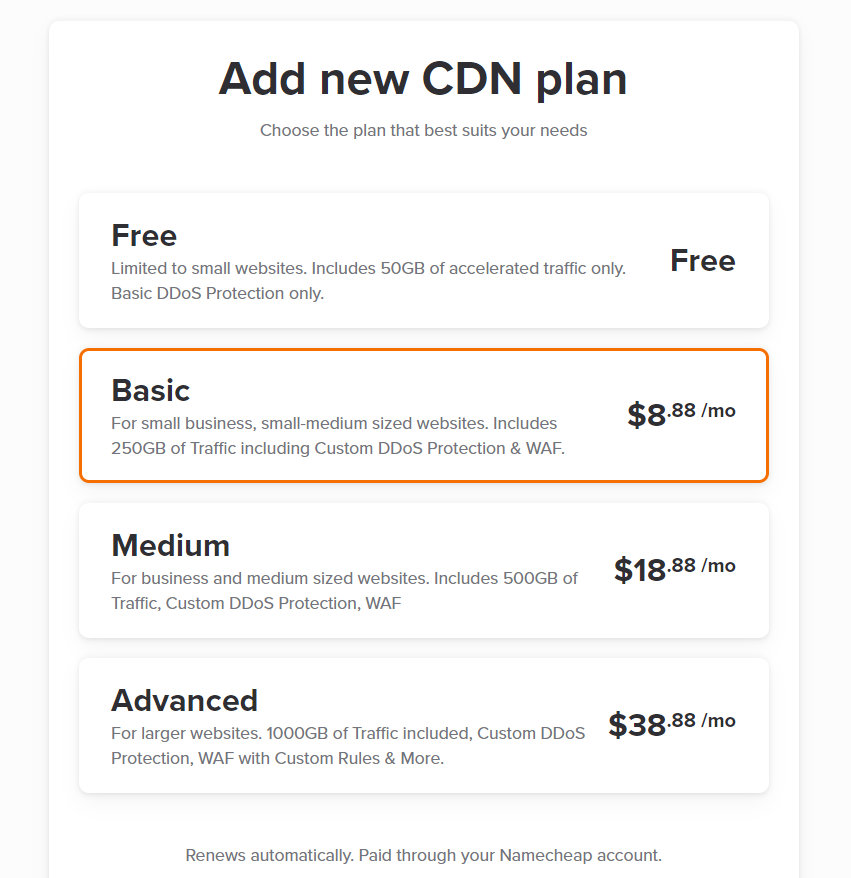 Let us check out the Backup and Other options more closely.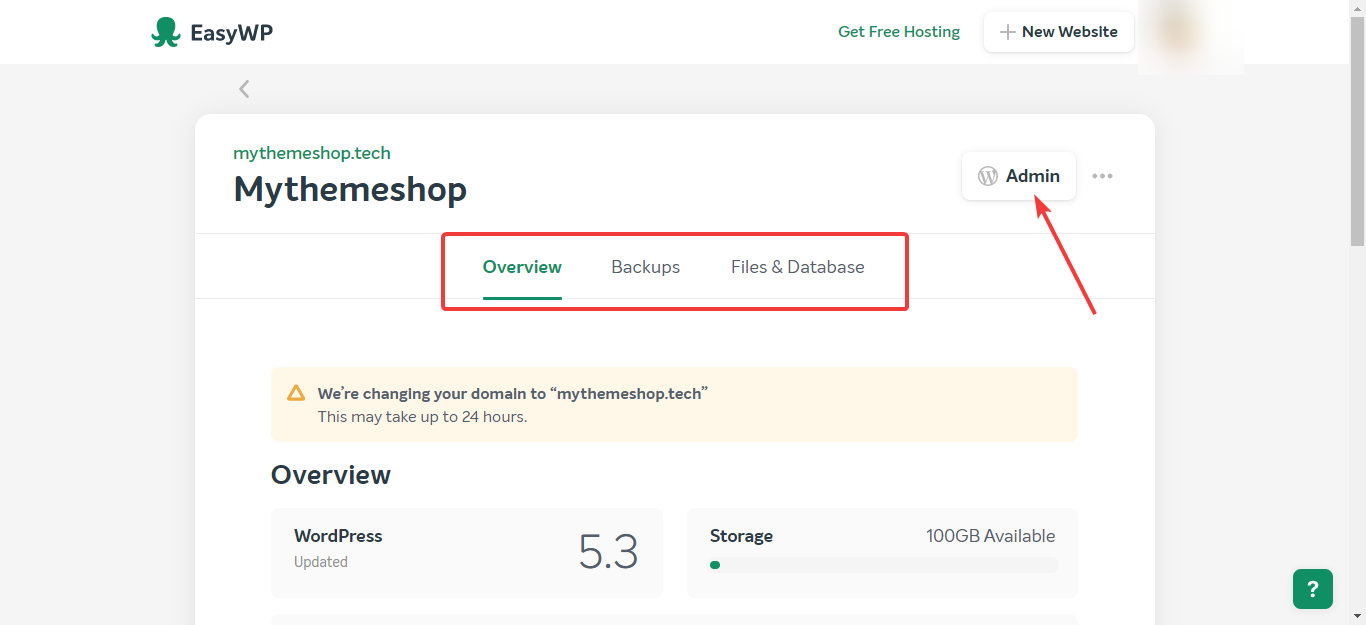 Backups
The Backups section is where you can create a backup of your website. The process of taking one is pretty straightforward. Just enter a name for your backup and click the "Create Backup" button.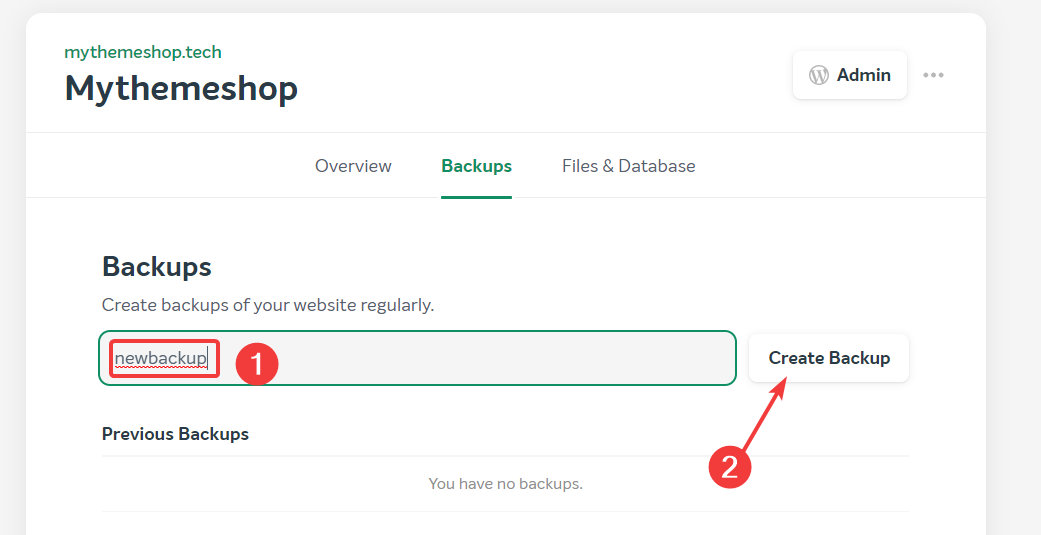 Once a backup is successfully completed, you can download the files and database separately, delete the backup, or restore it. The option to download the files and databases separately can be quite handy.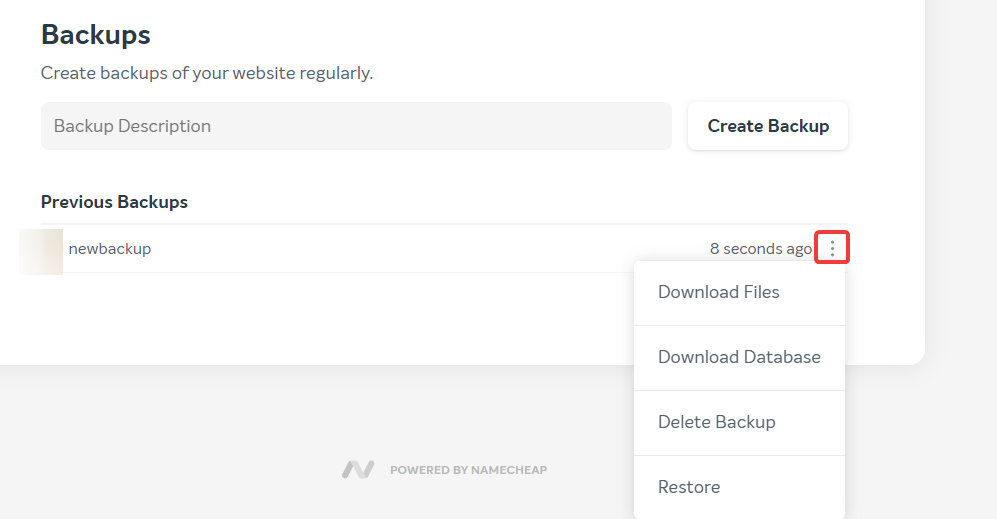 However, there is no automatic backup, at least not yet. For a service that is supposed to be easy, this was a surprise. Of course, you do have the option to backup manually or even install plugins to do so; first-time users of WordPress might not know about this and forget about backups until it is too late.
Files and Database
Here you can enable the FTP access and Database access for your website if you need it. The interface, again, is quite straightforward, and you have the option to create a temporary or a permanent authorization token for each access.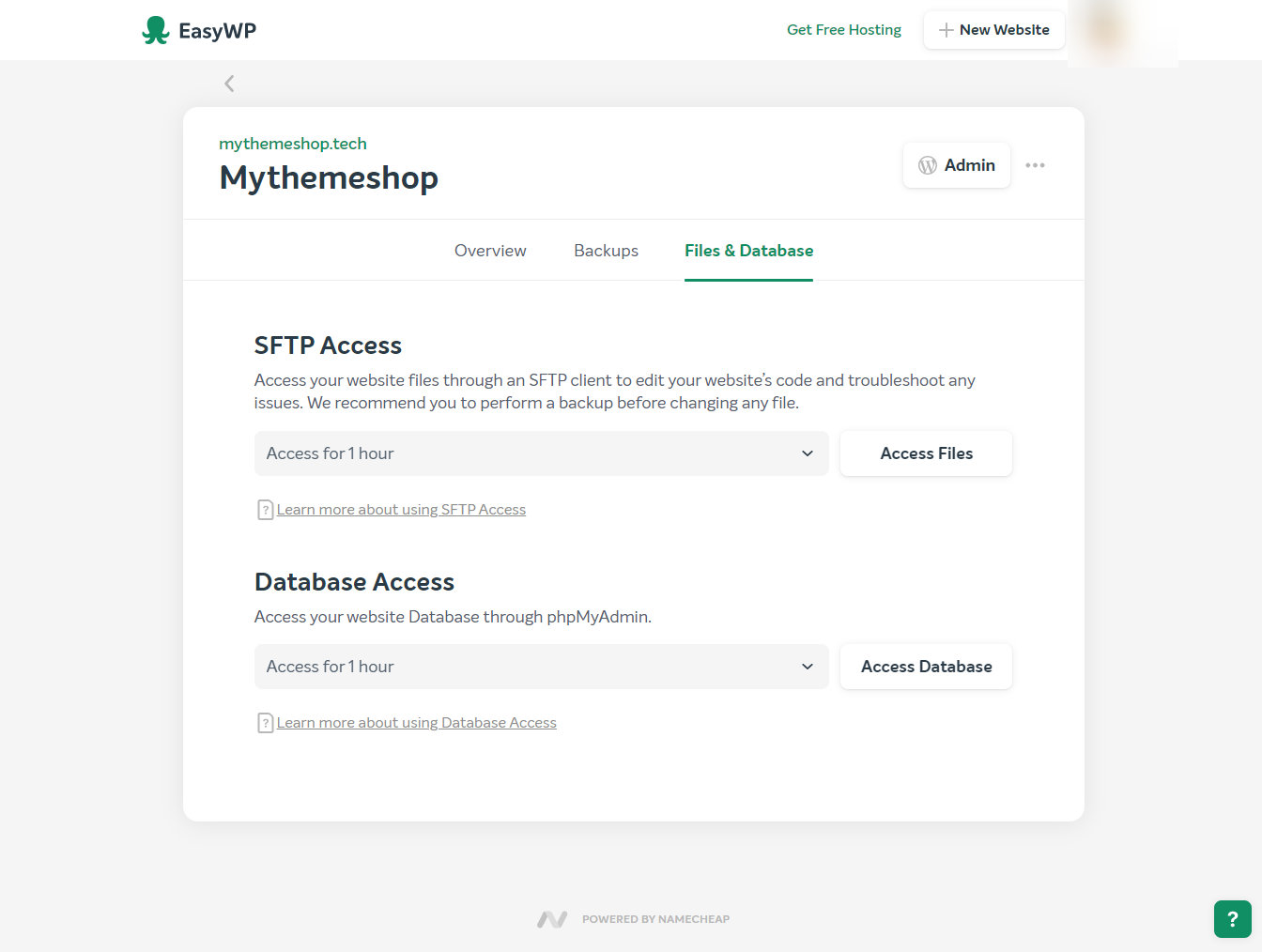 Once you create an authorization, you will see credentials pop-up on the screen and a timer indicating the remaining time.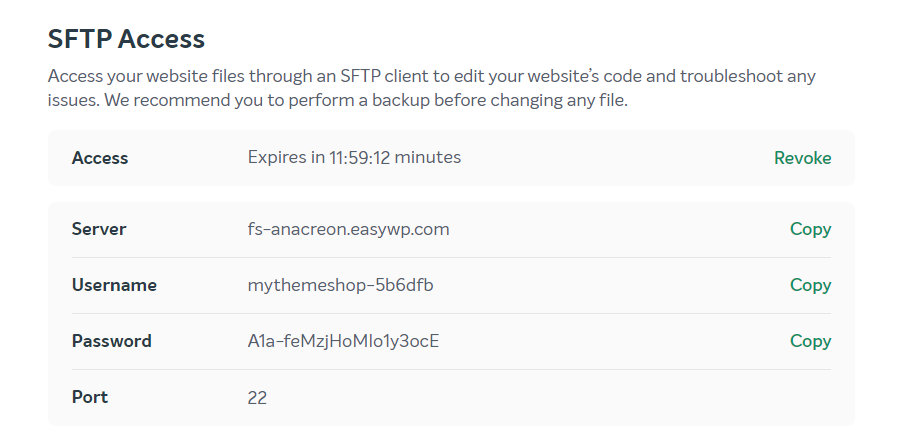 To use FTP, you'd have to use 3rd-party software to gain access. There are plenty of FTP software available, and FileZilla is a popular open-source alternative available for many platforms.
The process of authorizing database access is the same, with a simple difference. Once authorized, you can access PHPMyAdmin directly through a link, no 3rd-party software is needed.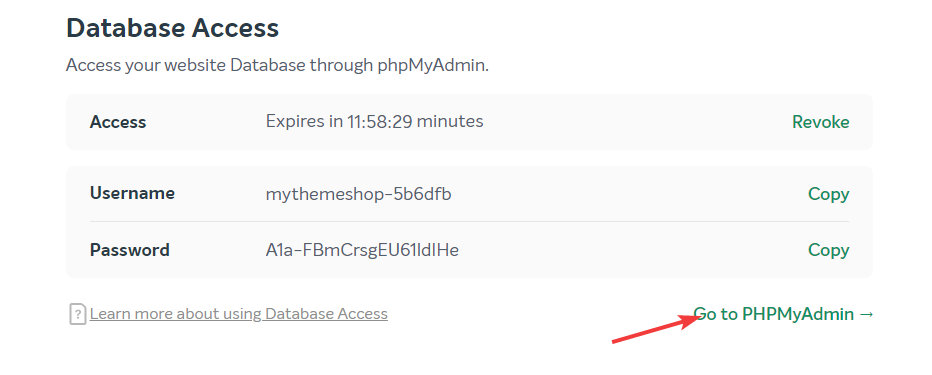 The authorization token can also be revoked both for the database and FTP, which makes it a flexible and secure way to access your files.
The Website
Now, let us check-out the website we created with EasyWP.
The front-end of the website will be familiar to anyone who has used WordPress as it is the familiar "Hello World" that you see with every new install.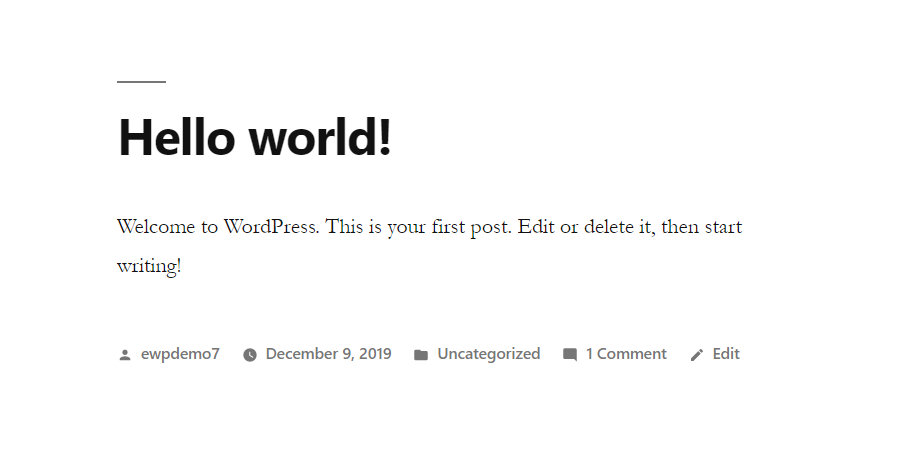 On the backend, the setup is pretty clean—no additional features or plugins are installed except the ones that come default with WordPress.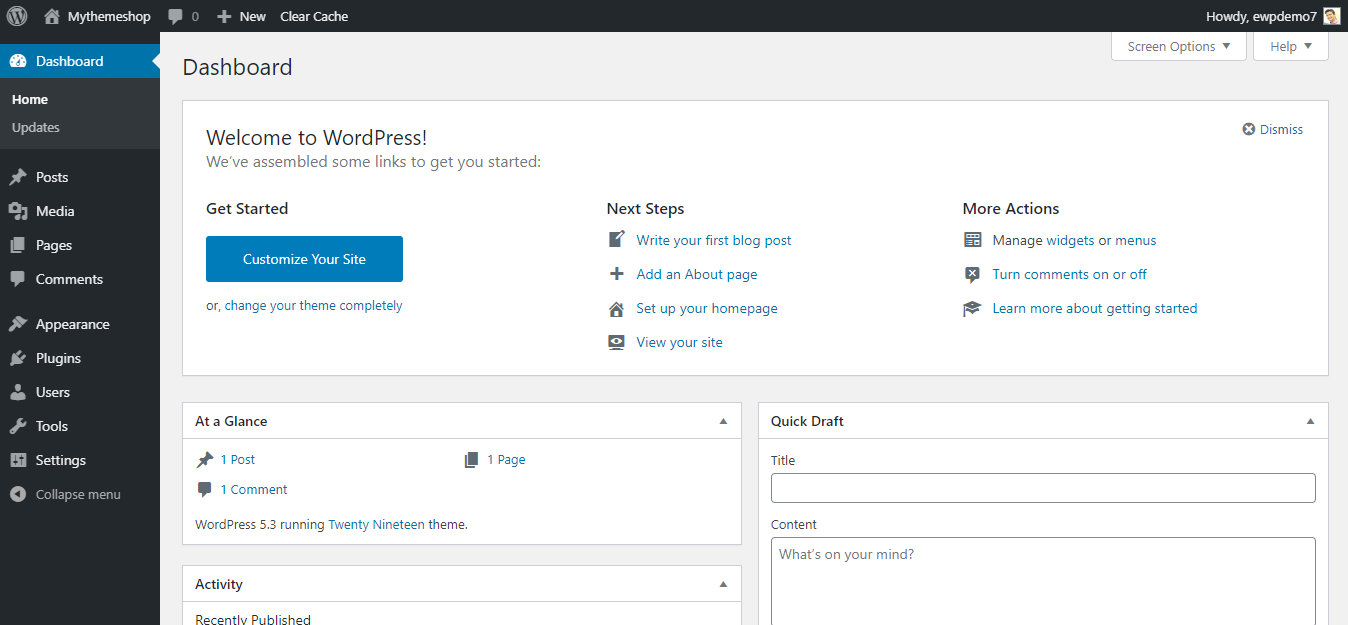 However, there is one thing that we noticed that is different. EasyWP does bundle its own catching solution with WordPress, which is delivered via the EasyWP plugin. EasyWP claims that this caching solution offers Varnish, Opcache, and Redis object cache and offers faster performance than many other caching plugins.
EasyWP claims that you will need any other caching plugins on your website, but you can use plugins that minify your HTML, CSS, or Javascript.
Restrictions
As EasyWP is a managed hosting service, there are few restrictions on what you can do to your WordPress install to maintain security and performance. Here are some of the noteworthy restrictions:
•          Disabled PHP Functions – Here is a list of PHP Functions that are disabled.
•          Plugin Restrictions – These are the plugins that cannot be used with EasyWP. The reason for the restriction is also mentioned alongside the plugin name.
•          Multisite Support – EasyWP currently does not support WordPress multisite setups.
Apart from these restrictions, you should also know that EasyWP (and other managed hosting providers) won't have cPanel. If you don't know what cPanel is, it is a popular software that is installed on servers to help manage the website. It is fairly popular in the hosting industry, but with managed hosting like EasyWP, most of the heavy lifting is done for you, so not having cPanel is perfectly fine.
Performance
We've seen the EasyWP setup process. But what about its performance. As you know, having a fast website is mandatory for visitor satisfaction, conversions, and a host of other metrics. So, let us find out how our EasyWP website fares on that front.
First, we will test the performance of our website as-it-is, i.e., without any content to see how fast does the hosting perform. Here is what we found.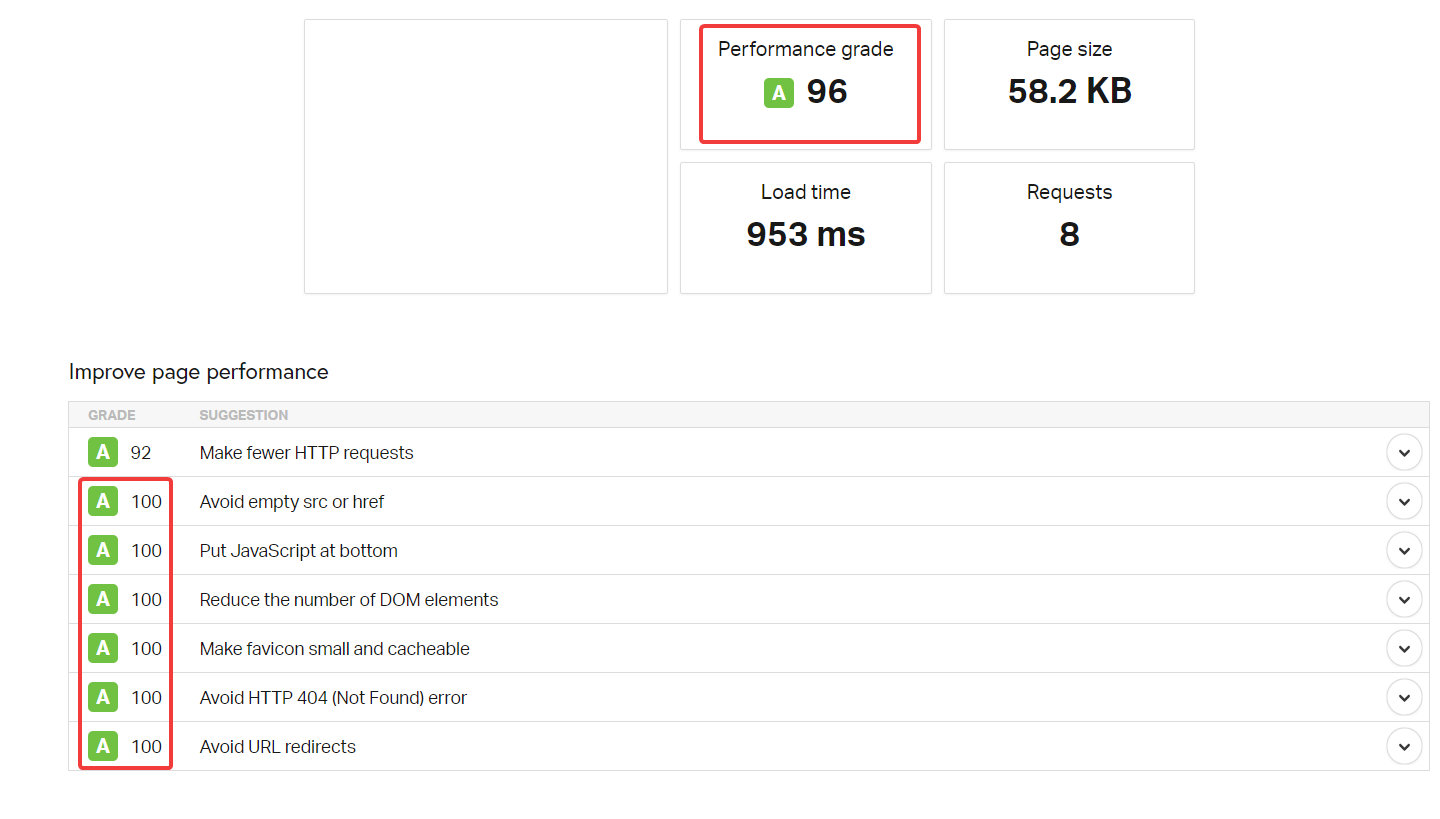 The performance was pretty impressive on Pingdom Tools, where almost all the scores were already at 100%. GTMetrix had a similar response.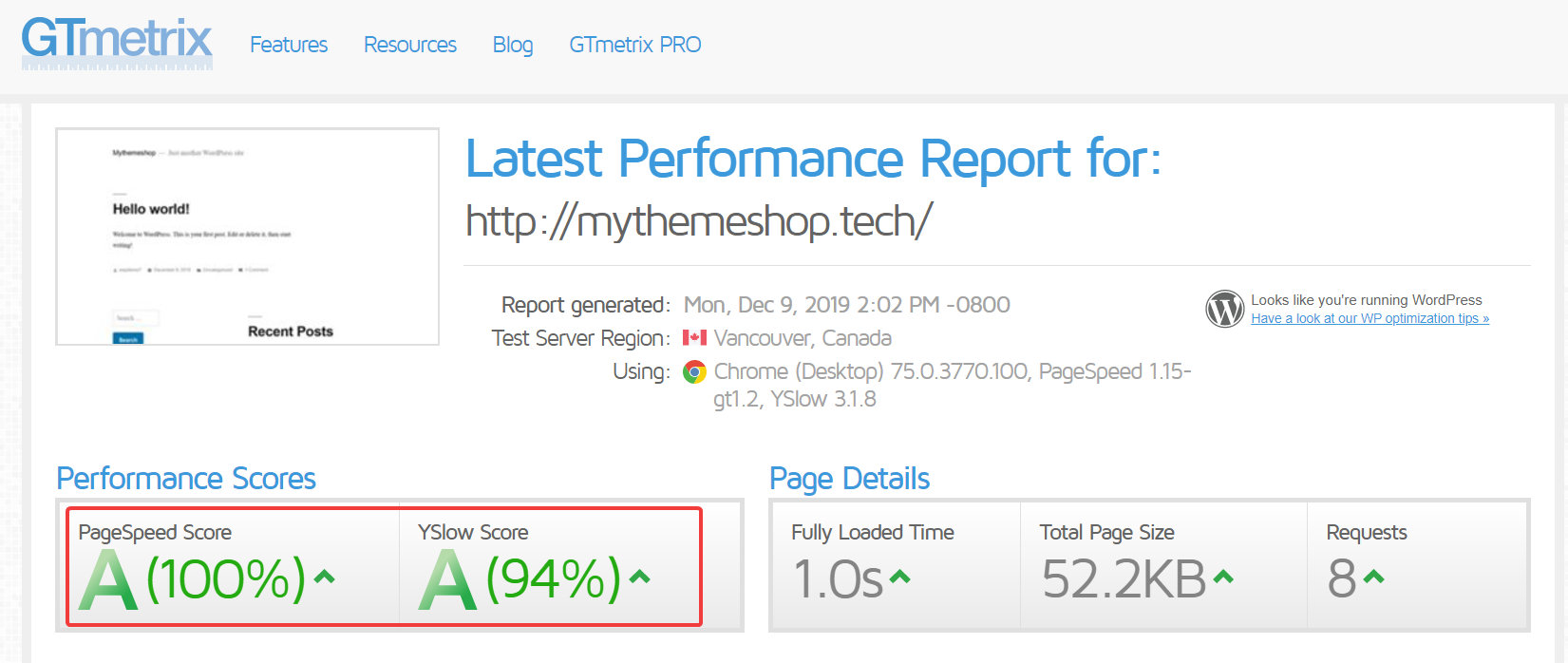 Now, let us install some plugins and add some content, then repeat this process to see how it affects the performance.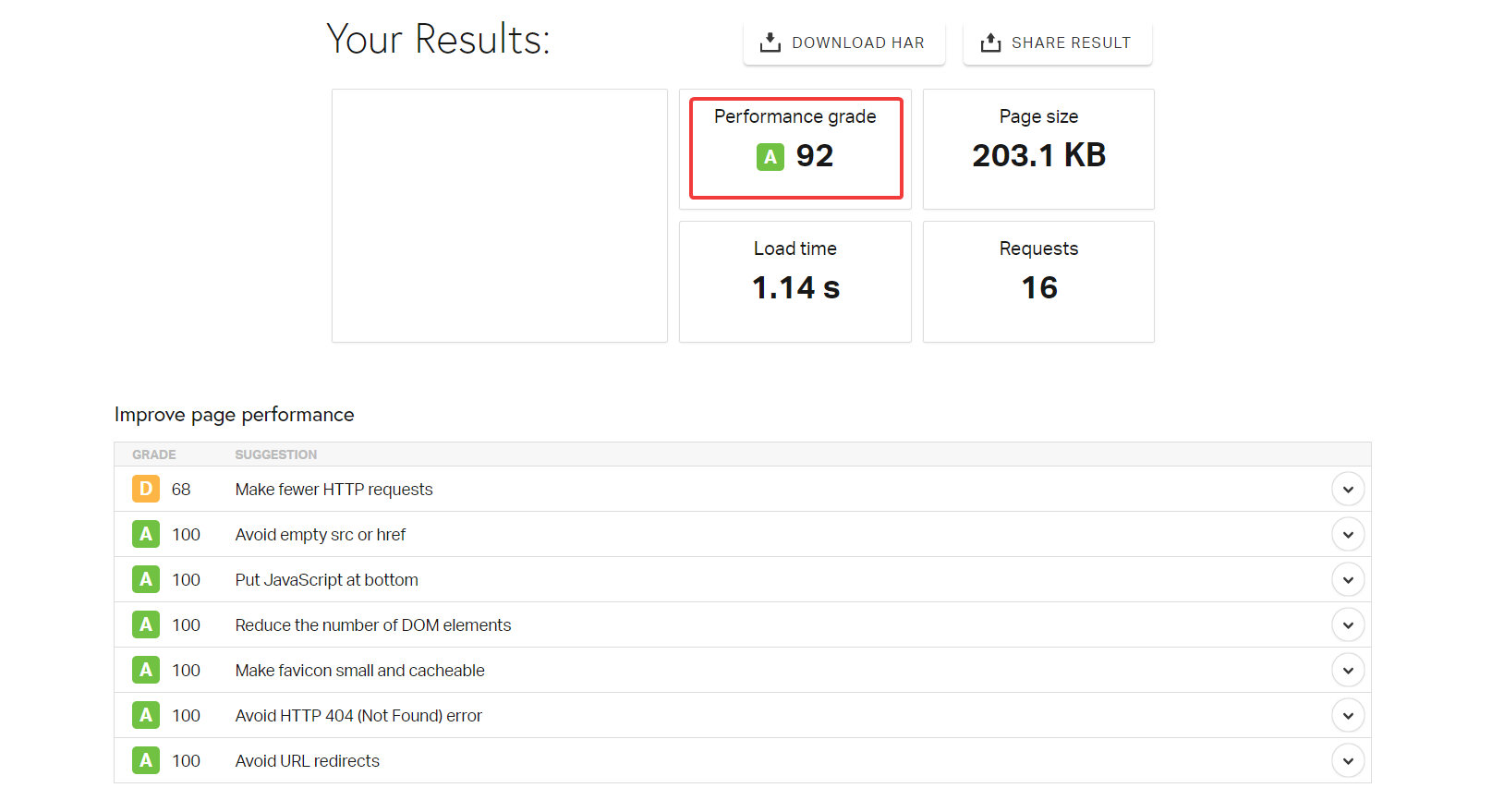 Overall, the page size grew almost 4 times in size, the number of requests doubled, but the load time remained almost the same. This is an example of excellent performance.
To compare, here are the results from GTMetrix.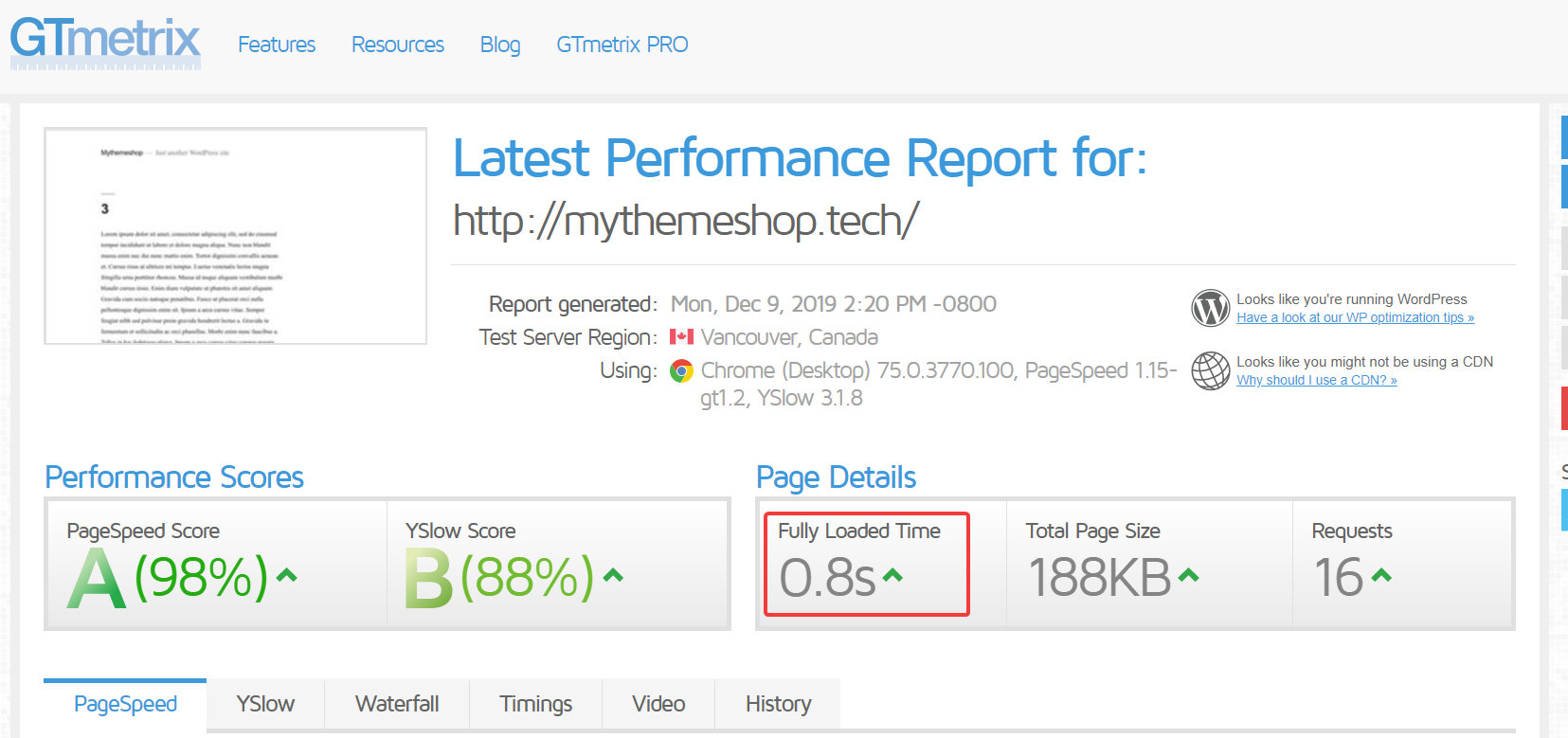 Here, the load time actually decreased, meaning that the website got faster. This is perhaps caching kicking in, but the performance is still commendable.
Is EasyWP Right for You?
Unless you're a system or website administrator, EasyWP is a solid solution for hosting all kinds of websites. The interface is easy to use, the website setup is quick, the performance is excellent, and the pricing is one of the best in the industry. The only caveat we feel is the lack of automated backups, and we do hope that the EasyWP team does something about it. Till then, be prepared to back up your website manually.
Conclusion
This was our review of EasyWP; the attractive managed WordPress hosting solution for WordPress. Overall, EasyWP seems like a solid contender in the space with the right mix of features backed by very affordable pricing. We tried to test all the aspects of EasyWP in our review, and it exceeded our expectations for almost all the tests. Of course, the real-world results might be a little different, but our tests will give you a decent idea of what to expect.
What are your thoughts on EasyWP? Did you like it? Is there something else we could have tested out? Let us know in the comments.
Pricing

Ease of Use

Features & tools

Website Setup Process

Customer support