To set up a website that can fetch a considerable amount of revenue on a regular basis and create an additional passive income stream, you need to keep in mind a lot of things. The most important among them is the web hosting.
It's the only way to ensure that the site remains online and helps you achieve all your goals in a hassle-free manner. So, no matter what, don't ever compromise with your web hosting service provider.
Opt for the one that's affordable, easy to set up and most importantly comes with a proven track record. AccuWeb Hosting is one such option. It has got essential features to live up to your expectations and keep your site online without any downtime.
Here is a detailed AccuWeb Hosting review for your reference. Check it out to clear all your doubts and take a call that can benefit your next online venture.
1

AccuWeb Hosting Review

Over the last 14 years, AccuWeb Hosting has established itself as one of the leading web hosting providers in the industry.

At present, it has a dedicated team of experts to manage more than 55000 websites and 15,000 virtual servers ensuring that all the customers who have opted for its shared, dedicated or VPS hosting services can have the finest experience.

Unlike many other companies, AccuWeb Hosting provides complimentary backups with most of its plans.

Moreover, you can also upgrade to the paid plan for daily backups of your data. Some other noteworthy features provided by AccuWeb Hosting include DDoS protection, 24/7 monitoring, free website migration, and free email hosting.


In case you're a university student, you can apply for AccuWeb Hosting's college scholarship program that rewards $1000 to deserving students each semester. The quality of the submitted entries is judged based on three criteria — quality, originality, and creativity.
Winners are announced each year on January 31st for the fall semester and July 31st for the spring semester.


Alternatively, you can have a look at AccuWeb's free hosting initiative for university students. Under this plan, users can get free cPanel, SSD storage, full technical support, multiple layer protection from cyber attacks, video tutorials, 99.9% guaranteed uptime and no pop-up advertisements.
The only requirement for this is that you should be a current or incoming student at a well-known university. More details about how to apply for free hosting for students is available on their site.
2

AccuWeb Hosting Plans

Some of the most critical factors that differentiate an average web hosting plan from an extraordinary one are ease of use, speed, scalability, security, reliability, responsiveness, and optimization. Most mobile apps and websites lack all these attributes, which hits their search engine rankings as well as user experience in the long run.

You get all these and a lot more with AccuWeb Hosting. Depending on your requirements, choose an ideal web hosting plan and set things into motion.
2.1

AccuWeb Shared Hosting Plan

For individual users, AccuWeb Hosting offers premium shared hosting powered by a fully functional cPanel, blazingly fast SSDs, LiteSpeed WebServer, and CloudLinux Operating System.
Some of the highlights of its shared web hosting plans are:
Unlimited domains
10 GB pure SSD storage
500 GB monthly bandwidth
Upto 150 email accounts
Free website migration,
256 bit SSL certificate (additional)
Shared SSL certificate (included in plan)
Dedicated IP (additional)
Unlimited MySQL database
Free domain name registration
Free website builder
Instant account activation, and
30 days money back guarantee
You get a choice of locations and can to have your website hosted in Denver-Colorado-USA, Singapore or London-UK.
In case, you run a small business and think that the plan mentioned above won't live up to your requirements, then you can go for their small business web hosting plan.
All the features in this plan are similar to individual shared hosting except the fact that you can add unlimited domains with 30 GB pure SSD storage, 750 GB monthly bandwidth, and 500 email accounts.
If you're into the agency business or have a slightly bigger organization requiring more space and memory, then go for AccuWeb Hosting's Enterprise Web Hosting plan.
The Enterprise Web Hosting plan offers:
50 GB pure SSD storage
1 TB monthly bandwidth
1000 email accounts, and
24/7 premium technical support
All these plans come with different billing cycles ranging from 6 to 36 months. So, assess your requirements carefully and then choose any of these plans.
2.2

AccuWeb Application Hosting Plan

If you're planning to launch a mobile application for your business in the near future, then consider opting for AccuWeb Hosting's application hosting plans. There are over seven options available, including Node.js hosting, MEAN.js hosting, Joomla hosting, Magento hosting, OsCommerce hosting, ASP.net hosting, and IIS8 hosting. Find details about them below:
2.2.1

Node.JS Hosting

If you want to build a modern business application that gets frequent updates, none of which should affect the user experience, then Node.js hosting should be your way forward.


AccuWeb Hosting has multiple plans that can fit the bill.
The first option is Node.js VPS 1 plan costing $23/month. It offers:
1 GB RAM
20 GB RAID6 SSD storage
Two vCPU Cores
250 GB premium bandwidth
Seven days of money back guarantee.
Payment plans are monthly ($23), quarterly ($65) and yearly ($258).
A perfect solution if your app is still growing.
The next best plan is Node.js VPS 2, in which you get:
2 GB RAM
30 GB RAID6 SSD Storage
Three vCPU cores
450 GB premium bandwidth.
The prices of this plan start at $41/mo and go up to $460/year.
This plan is recommended if your mobile app is continuously getting a decent amount of traffic and growing at a good pace.
In case, you have an established business, a large customers base and are getting a significant amount of organic search traffic, then VPS 3 and VPS 4 plans should be on top of your priority list.
VPS 3 and VPS 4 hosting plans offer:
Guaranteed RAM of 4GB and 8 GB, respectively
SSD storage of 50 GB and 100 GB, respectively
Four vCPU cores
Multiple dedicated IP addresses
Premium bandwidth limit of 650 GB and 1000 GB, respectively.
The VPS 3 plan costs $77/mo while the VPS 4 plan is available for $149/mo.
You can also go for quarterly or yearly payment plans and save a considerable amount of money in the long run.
2.2.2

MEAN.JS Stack Hosting

The MEAN stack comprises of open source components like Mongo, Express, Angular (6) and Node.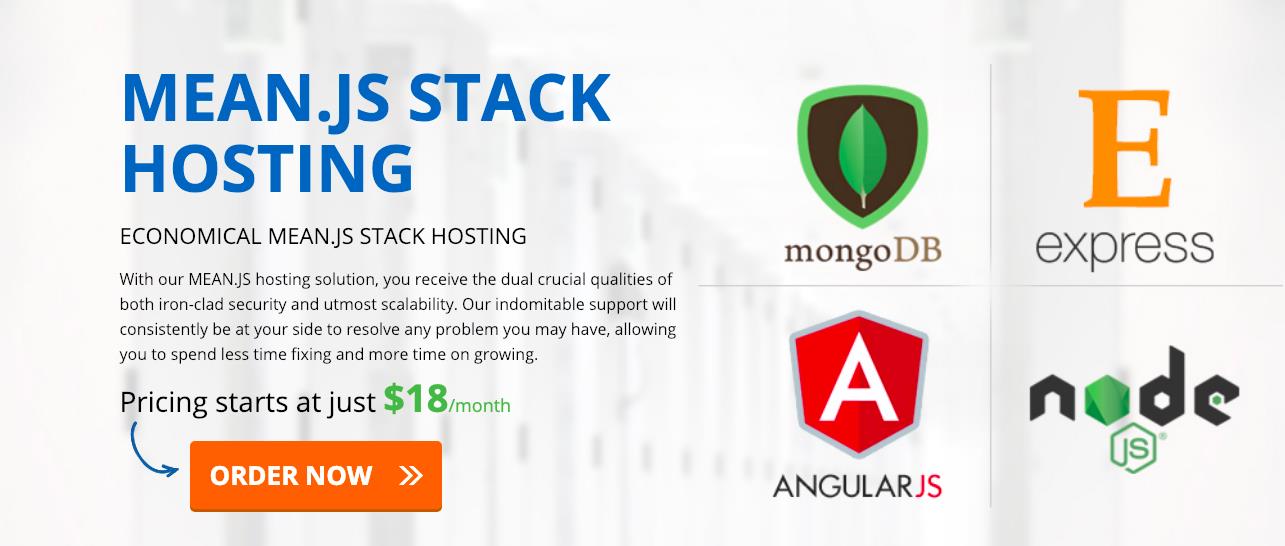 The MEAN.JS stack hosing aims to provide a scalable hosting experience to help you build responsive and easily maintainable web applications.
There are four plans available with a starting price of $18/mo and can cost up to $144/mo. With these many options at your disposal, it can become incredibly easy to scale your mobile app without any server issue.
2.2.3

Joomla Hosting

AccuWeb Hosting's Joomla hosting plans start at just $3.49/month and offer you a robust application hosting experience with constant technical support, free migration, domain name registration, instant account activation, and 30-day money back guarantee.


Based on your monthly traffic and server requirement, you can opt for its personal, business or enterprise plan to deliver a top-notch experience to users.
2.2.4

Magento Hosting

Magento hosting comes packed with a search engine friendly eCommerce script that can help your e-commerce store improve its search rankings without affecting users' mobile experience. There are a total of three plans to choose from based on RAM, SSD storage, CPU cores, IP addresses, and bandwidth. The starting price of AccuWeb Hosting is $36/mo and can go upto $144. So, you have a handful of options to select from and take your mobile e-commerce app to all new heights this year.


2.2.4

osCommerce Hosting

Launching an osCommerce store couldn't get easier than this. Check AccuWebHosting's attractive osCommerce hosting plans starting at just $3.49 and experience upto 200% faster load time.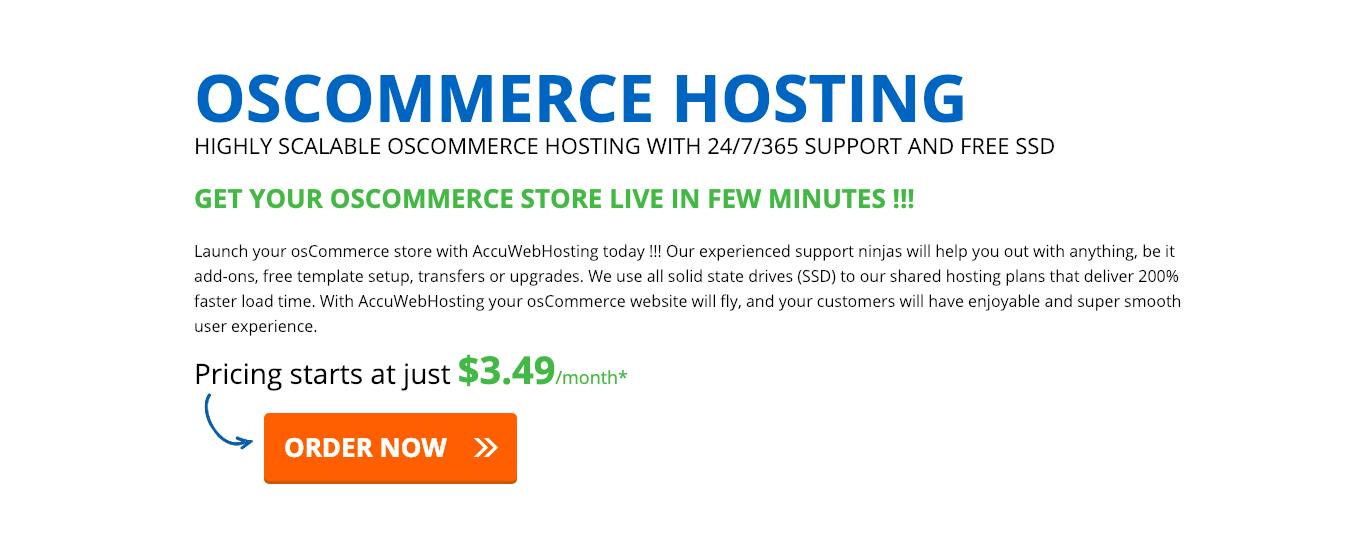 The fully managed osCommerce hosting plans come in three categories — personal, business and enterprise just like other options as mentioned above. Go for any of them to offer the best-in-class browsing experience to users.
2.2.5

ASP.NET Hosting

The next option on this list is ASP.NET hosting plan by AccuWebHosting.


Some of the highlights of this plan include Windows Server 2016 & SQL Server 2017, latest ASP.Net core, Plesk Panel, ultra-fast SSD, full trust level, and round the clock technical support. The pricing varies from $3.52/mo to $12.46/mo, so analyze your requirements clearly and pick a plan that fulfills them.
2.2.6

IIS 8 Hosting

The last name on the list of application hosting options is IIS 8 hosting.


It allows you to host multiple websites, do remote IIS management, and use various administration tools that come along with it to manage the backend in a hassle-free way. The personal plan is available for $3.19/mo, while the small business and enterprise plans cost $5.86 and $11.17 respectively.
2.3

AccuWeb Windows Hosting Plan:

Due to the lightning fast speed and more than 99% uptime, Windows hosting has become quite famous among SMEs and large businesses. In case you're running a business that has a robust digital presence, then have a quick look at the AccuWebHosting's Windows hosting plan.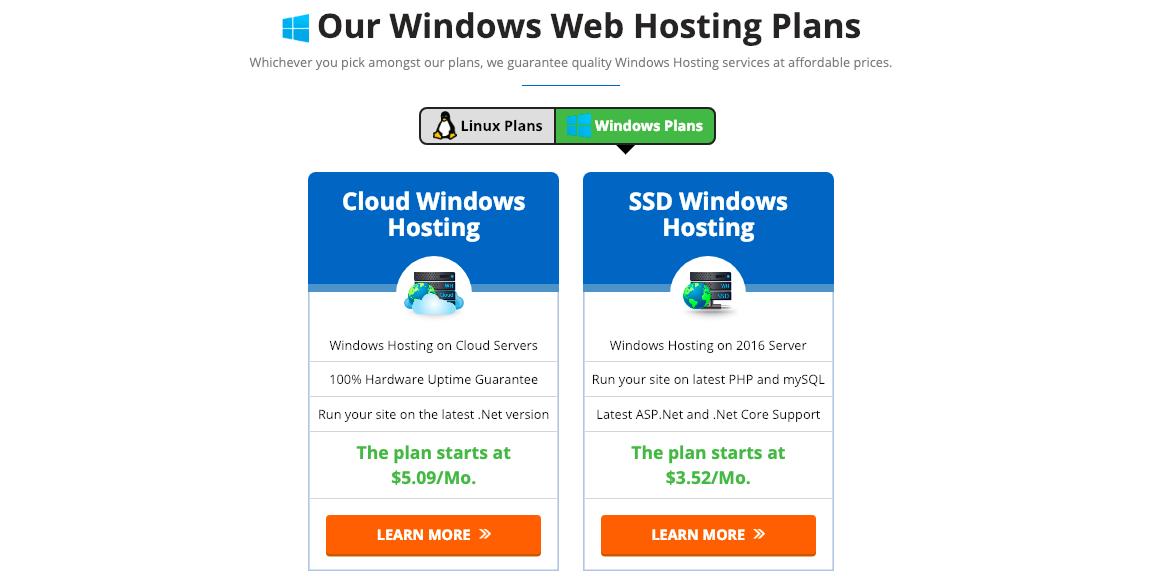 2.3.1

Windows SSD Hosting

AccuWebHosting's Windows SSD Hosting is powered by Plesk Panel, Windows 2016 OS, fast servers and the latest ASP. Net tools.

The personal plan costs you $3.52/mo and offers single domain option along with 10 GB of pure SSD storage, Windows 2016 server, CloudFlare CDN and 30 days money back guarantee.

On the other hand, the small business plan costs $6.58/mo and lets you host upto three domains in one account.

You also get 30 GB SSD storage and 750 GB data transfer every month.

The enterprise hosting plan costs $12.46, allows you to host upto five domains, and offers 50 GB pure SSD storage. Pick any of these plans depending on your monthly traffic and budget.
2.3.2

Windows Cloud Hosting

Though the SSD hosting keeps your website up and running, if you want to lift the bar higher and take your site's loading speed to a whole new level, then go for Windows cloud hosting option. There are three plans available for you — cumulus cloud, stratus cloud, cirrus cloud.

While cumulus offers 3 GB cloud storage, 500 GB bandwidth and one domain per account, the status plan offers 10 GB cloud storage, 750 GB bandwidth and upto three domains per account.

Large businesses experiencing a tremendous amount of traffic can upgrade to the cirrus cloud plan offering 25 GB cloud space, one TB bandwidth, and upto five domains per account. All these plans come with 30 days money back guarantee.
2.4

AccuWeb VPS Hosting Plan

Shared web hosting plans might cost you less, but they cannot guarantee you a hassle-free experience as you have to share your server resources with many other users. If any malware attack happens on their web hosting account or they overuse server resources, there are high chances that your experience will affect.

To make sure that nothing like that ever affects your user experience, switch to a virtual private server (VPS) hosting plan and put all your worries to an immediate end.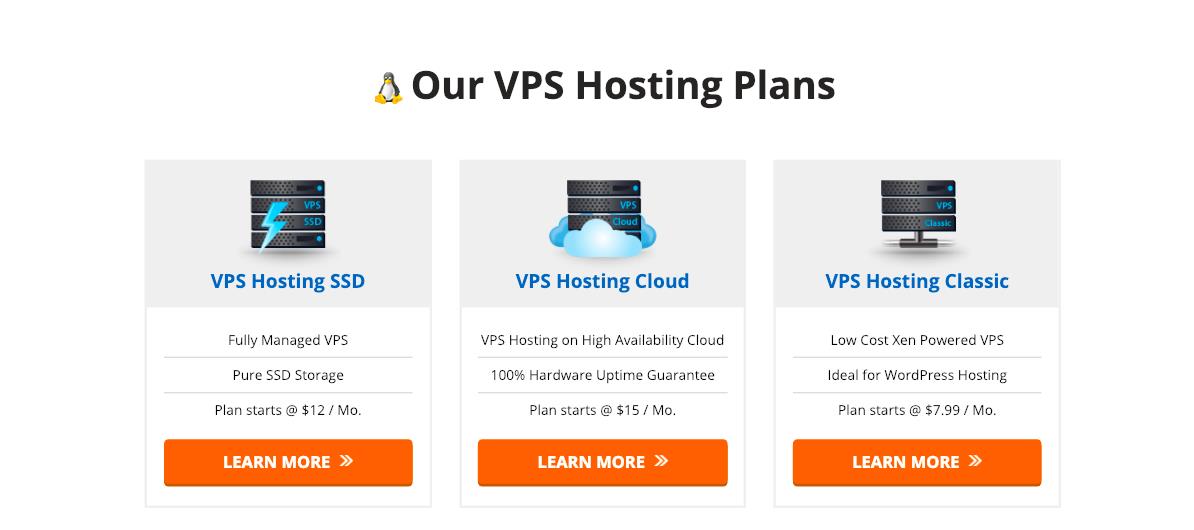 AccuWeb's VPS hosting plan can improve the overall performance and stability of your site. There are multiple plans available, such as VPS hosting SSD, VPS hosting cloud, VPS hosting classic, etc.
Depending on your budget and server requirements, pick any of these plans and improve your web property's performance by a significant margin without compromising with its security aspects.
Not to mention, all these plans are affordable and 100% value for money and like the shared hosting plan, you get to choose to have your website hosted in Denver(USA), Singapore, Mumbai (India) or Sydney (Australia).
2.5

AccuWeb Dedicated Server Hosting Plan

While VPS offers you more freedom than the shared web hosting, you still have to share the physical resources of your server with others. In case you don't want to take any risk and have an entire server dedicated to your web property, then it's recommended to upgrade to a dedicated hosting plan. With it, you don't have to share your web server with anyone else.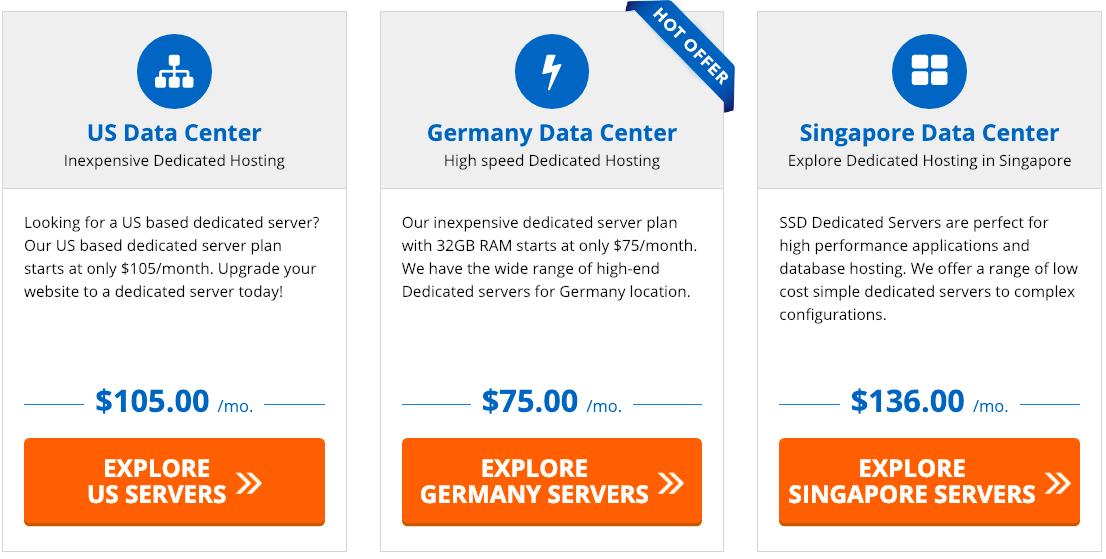 AccuWeb's dedicated servers, with a starting price of $75/mo, support Linux and Windows, offer quick speed options for enterprises, SSD, and SATA drives, have a dedicated redundant network and come with fully managed support contracts. At present, there are dedicated servers for geo locations like US, UK, Canada, Singapore, Australia, India, Germany, France, Poland, Netherlands, with many other options being added to this list on a regular basis.
2.6

AccuWeb Hosting Reseller Plan

You can start a unique web hosting business by opting for AccuWeb hosting reseller plans. Whenever you make a purchase, you get many latest tools, fully managed technical support team, and affordable pricing options varying from $14.25/mo to $115/mo.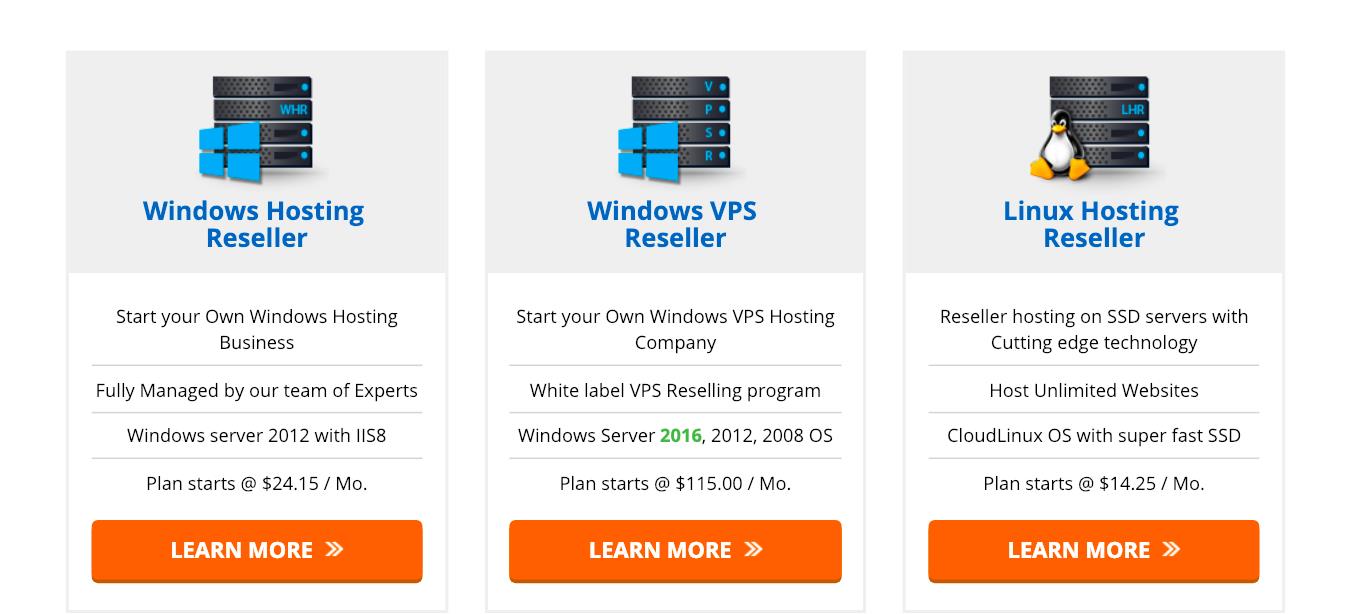 It offers three reseller plans — Windows hosting reseller, Windows VPS reseller, Linux hosting reseller. You can recommend any of these plans to your clients based on their requirements and create a constant passive income stream over time.
3

AccuWeb Hosting Speed, Performance & Security

At a time when the site speed has become one of the most important and critical SEO factors for first page rankings, you cannot afford to have even a second of extra load time. Thanks to AccuWebHosting's latest tools and world-class services that you will never have to worry about your site's speed and performance. It comes with SSD, CDN, caching, HTTP/2, etc. to make sure that your site doesn't take much time to load on desktops as well as smartphones.


As far as the security is concerned, most AccuWeb Hosting plans come with complimentary backups, anti-spam email protectors, and 24/7 technical support. With its multiple security layers, your website's security remains intact round the clock. And just in case you have any concern about the security issues, simply get in touch with their support team and get your doubts resolved within minutes.
4

AccuWeb Hosting Web Services

AccuWebHosting offers a wide range of web services to ensure a smooth experience. These services improve your site's security score and at the same time make it easy for you to finish the setup process. Some of these services are as follows:
Domain Name Registration: Whether you want to register a single domain or many together, you can use AccuWeb's clutter-free interface and highly responsive platform to avail amazing discounts on domain names. The registration process is super easy, and payments are fully secured.
SSL Certificates: You can add an extra layer of security to your website by installing SSL certificates on the web server. AccuWebHosting makes this complete procedure quick and easy, offers free IP address, high-grade 256-bits encryption level, standard trust level, and 24/7 technical support. There are three plans to choose from — rapid, multi-domain and wildcard. Check their features and choose one accordingly.
CDN: A CDN or content delivery network refers to a system of distributed servers that customizes the content based on end-users' geographical locations to ensure a quick load time without making any change in the backend of the site. With AccuWebHosting's CDN, you can make your websites load faster, more secure, rank higher on search engines, and reduce the server load time. It's available for free for the first month, after which you need to pay $3.95/mo to continue.
Free Migration Service: One of the most challenging tasks for site owners is to transfer their website data from one host to another. In fact, most of them hire a third party service provider to help them with the site migration. You will not have to deal with any such problem while migrating your site to AccuWeb. It offers a free migration service with nearly zero downtime so you won't lose your rankings and traffic during the data transfer.
Some other web services that you can avail include anti-spam email protection, smarter tools software bundle, and immediate free technical assistance in case you ever get stuck during the site setup process.
5

AccuWeb Hosting Backup Support

All the AccuWeb VPS and dedicated server hosting plans come with complimentary backup support. As part of it, all your data is backed up on a weekly basis using CDP backup or VCC snapshot service. You can restore this data for unlimited times at no extra cost.

In case you run a viral site and are extra cautious about the data backup, you can opt for its paid backup plan by paying $10/mo and get your VPS data (upto 20 GB) backed up on a daily basis. This backup copy is accessible by default for seven days.

For dedicated servers, a complimentary weekly backup service is offered to users in Canada, UK, Australia, Singapore, France, Germany, Poland, and France data center. The maximum storage space in this complimentary service is limited upto 500 GB. For additional storage space, they can pay $25 (1 TB), $75 (5TB) or $100 (10 TB) per month and keep their data safely stored. For daily backups, an additional $30/mo fee per 40GB data is applicable.
6

Pros of AccuWeb Hosting
It provides a long list of web hosting plans and customization options to fulfill all your requirements.
Both VPS and dedicated hosting plans are highly configurable and good enough to ensure that your data is safe and backed up always.
It offers a stellar uptime of 99.9% and excellent customer support to let none of your technical queries go unaddressed.
Pricing of all the web hosting plans is affordable.
7

Cons of AccuWeb Hosting
Since there are too many plans and options available, any newbie user seeking for a decent web hosting plan can get confused while making the final call.
Windows hosting plans don't have unlimited email accounts.
There is no monthly payment facility for shared hosting plans. The minimum payment period is six months.
Conclusion
Even though there are dozens of web hosting providers in the market, hardly any of them can outshine AccuWeb's amazing uptime and technical support facilities. If you're looking forward to upgrading to a VPS or dedicated server and have a limited budget to do so, go with AccuWeb Hosting without a second thought. It has everything to match your expectations and take your site's rankings to newer heights.