InMotion has been around for some time (since 2001) – so they've seen a lot of online trends come and go. Over the period of time, their marketing strategy has changed, but they've always maintained their image as the "nerd's choice".
That shouldn't put you off – their system is easy to use and they have plenty of training resources and great customer support.
They are one of the few big independent hosting companies around. Many other brands are owned by a few large corporations – for instance, Endurance International owns eHost, HostGator, and Bluehost (to name a few).
Operating as an independent company forces InMotion to compete in terms of service, performance, and pricing – and this is good news for customers!
1

Upsells

Unlike Godaddy (the king of upselling), InMotion does not attempt to shove a million optional extras down your throat when you sign up!

That said, they will attempt to sell you domain privacy protection during the checkout process, if you choose to register a new domain. This is quite standard with registrars and hosting companies, but you can easily opt-out if you don't want it.
Once you sign up, you have the option to pay for an SSL certificate, which comes with a free dedicated IP address. This is essential if your site will be collecting sensitive user information. It's a good idea even if it doesn't – Google gives preference to secure web pages in its search results.
You can also buy McAfee virus protection for your email account.
InMotion also offers a web design service, which includes the first year's hosting in the fee. They will design a custom WordPress theme and build your site with the content you provide to them. The process breaks down into 4 steps:
They interview you to get a sense of your creative vision and overall goals.
Next, you send them your existing content.
They will design your site, and get you to review it.
If you like it, they'll publish it.
The service also includes integrated e-commerce (through WooCommerce).
The price of this service depends on how ambitious your project is, so you'll have to contact them for a quote.
2

Freebies

Like many other hosts, InMotion gives new users a voucher for Google Adwords credit. They also provide a number of free tools, such as a free site transfer app, easy Google Apps Integration, a site builder, and others.

They also provide free data backups (up to 50GB). If you've ever accidentally deleted your content from a server or had to recover from a malware infection, you'll understand how important this is!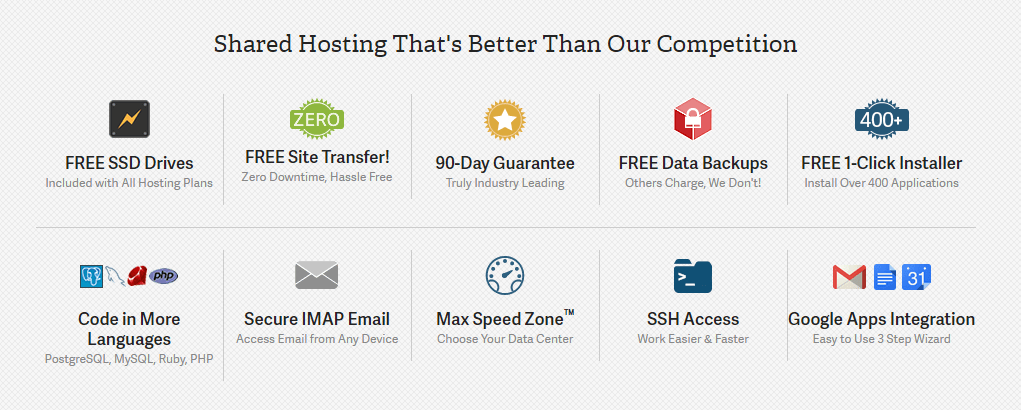 Many hosting companies provide backups as standard, but they usually charge you a fee to recover a backup. In the case of HostGator, it costs $19 to recover your files.
InMotion allows you to recover backups for free.
Of course, it goes without saying that you should perform your own regular backups. But having this extra level of safety is certainly useful!
3

Hosting Performance & Uptime

Third party monitoring sites report that InMotion has an impressive 99.99% uptime, which beats the industry standard (99.5%). In addition, InMotion has never suffered from major downtime across its data centers.

This will come as a relief to anyone who remembers the 2013 meltdown that hit HostGator and other Endurance international brands at the same time.

InMotion offers great page speed across all its hosting accounts. This is largely due to the fact that they use SSD drives for all accounts (even shared plans). SSDs are up to 20 times faster than the fastest hard disks, so the impact is quite noticeable.

They also ensure their shared servers are not crammed full of user accounts. Some hosting companies fill their servers to capacity – so when one of their customers experience a traffic spike, it can slow down the performance for everyone else. That doesn't happen at InMotion.

To get the best performance on shared hosting, customers should still use caching. This is a good option even on high-end premium hosting, so it should be standard practice for all webmasters.

Page speed is critical for two reasons. Firstly, it has a direct impact on bounce rates – a good percentage of users will hit the back button if a site takes more than two seconds to load. Also, Google gives higher rankings to sites that load quickly.

Your exact page loading speed depends on a number of factors, such as the number of plugins you install, and your site's front end code (especially CSS and Javascript).

However, the server plays an important role. The most important statistic is the time to the first byte (TTFB). This measures how long it takes for the data to arrive from the server when a browser requests a web page.

On shared hosting, InMotion takes just under a second for the first byte to arrive. For higher-end packages (VPS and Dedicated servers) the TTFB is much shorter – less than half a second.
4

Security

I've already mentioned the SSL certificates and antivirus scanner for email accounts. InMotion also provides the free Sucuri Security plugin for their WordPress hosting packages.

Sucuri provides a number of features to safeguard your site. It regularly scans your WordPress files on the server to detect corrupted or compromised code. It also logs all security-related actions, so you can detect hacking attempts. And it integrates with the Sucuri external web service to scan for malware infections.

It hardens your WordPress installation to make it harder to hack, and it also includes tools to repair your site if it is hacked. These features make the Sucuri plugin an essential addition to your WordPress toolbox – and it's installed as standard by InMotion.
5

Control Panel

InMotion accounts use the cPanel interface – a very simple but powerful control panel. Unlike most hosts, you can access your cPanel from your user account dashboards – most other sites force you to use a separate login.
cPanel is very simple, but it provides almost all the tools you will ever need to manage your server. For technical purists and power users, there is also the option to log on using SSH.
InMotion have installed the Softaculous cPanel extension, which makes installing software a breeze. You can set up a new WordPress blog, forum, or e-commerce store with a single click. There are many other apps covered by Softaculous, and it's a great time saver.
6

Website Building

Building a website on InMotion's server is very easy. You can use Softaculous to install WordPress, Drupal, Joomla or any other popular CMS.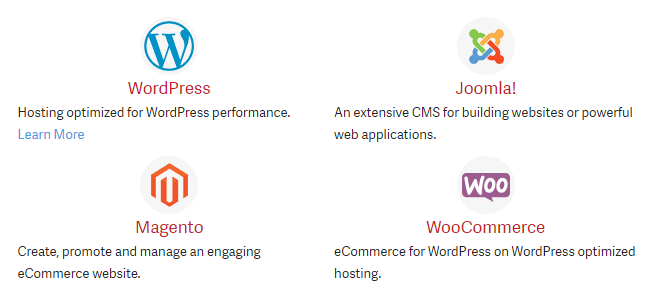 You can also use InMotion's "premium builder" to rapidly create a simple site. The builder comes with 500 templates you can use as a starting point – although some of them do look outdated.
Using the builder is very simple. You just select a theme, add your content, customize the colors and graphics, and publish it. It's simpler than WordPress, but not as powerful.
You can also add a flash intro. To be honest, flash intros are very outdated these days (due to poor mobile support). Today, most vendors have switched to HTML5.
7

Money Back Guarantee

InMotion offers a full money back guarantee if you decide to cancel within 90 days – which is much better than the industry average of 30 days.

However, you have to pay for a year's hosting up front. If you decide to cancel after 6 months, you will not receive a refund for the remaining 6 months.
8

Choosing a Hosting Plan

InMotion offers a range of hosting plans to suit your requirements. Here are the available packages:
Shared Hosting (which they call "business hosting")
VPS Hosting (Virtual Private Server)
Dedicated Servers
Reseller Hosting
WordPress Hosting
Shared hosting is ideal for smaller sites that have not established a large audience yet. It's called "shared hosting" because you share a virtual server with several other customers.
Unlike most other hosting companies, InMotion does not attempt to cram as many customers as possible onto a single virtual server.
Since you are sharing resources with other customers, there are some limitations you need to be aware of. If you have a long-running script on your server, InMotion will probably shut it down after a time limit. This does not apply to apps such as WordPress, which only runs when someone visits your site.
However, if you plan to process large quantities of data or scrape information from the web, your script could be terminated before it completes its actions.
VPS servers are a step up. You get an entire virtual server to yourself – there are no other customers hogging the resources or complaining if you do! As a result, you are free to run your own scripts and install additional software packages.
Although it appears you have an entire server at your disposal, in actual fact you only have a virtual one.
A single physical server (an actual box sitting on a rack) can host multiple virtual servers at the same time. They all have their own separate filesystems, but they all share the same network connections and processor resources.
Nevertheless, a VPS plan provides much better performance than a shared hosting plan.
A dedicated server plan means you get the entire physical machine to yourself. As you can imagine, this is more expensive, as the company could use that machine for dozens of shared accounts. The plus side is very fast performance and complete freedom to modify the software as you see fit.
Reseller accounts are ideal for agencies who sell web design, marketing and hosting to their clients. As a reseller, you can brand the hosting as your own, but you have the added cushion of InMotion's tech support if you need help.
WordPress hosting is designed for people who intend to use their server for one thing – hosting WordPress sites. The server is optimized for WordPress, and it's already installed for you.
You have a large library of high-quality themes to choose from, and they include plugins and extras to accelerate your site's performance. You can migrate your existing WordPress site without downtime using InMotion's import tool.
InMotion has also included the BoldGrid design system for WordPress. BoldGrid is similar to a site builder, with a large number of modern responsive templates. You can quickly customize your site from within WordPress, so you don't have to shop around for a premium WordPress theme.

BoldGrid also includes a large library of free images you can use, as well as some which you can pay to use.
All InMotion plans come with SSD storage as standard, which ensures fast performance with any package. They also include "Max Speed Zones", which is InMotion's name for their content delivery network.
InMotion has multiple data centers spread out across the US. You can choose to host your site close to the strongest concentration of your users, so your site is faster for them. For high-end plans, they will automatically serve your content from the closest data center.
InMotion has also set up high-speed access for the most popular ISPs, so the network speed is fast and your content arrives rapidly.
9

Customer Support

Most hosting companies outsource their support roles to overseas call centers. The staff who work in these centers are usually quite tech-savvy, but they are not trained as engineers. So if you have an unusual tech issue, they have to refer you back to an engineer in the parent company. This makes tech support quite painful at times.

Fortunately, InMotion has taken a very different approach. They have a US-based tech support center, with properly trained technicians. This means they can usually debug an issue on the spot, and help you to fix it during the call.

Instead of walking you through a scripted sheet of instructions, they can dive into your server and analyze the problem there and then.

There are 4 ways to get support. You can use the online chat system, call the support team by phone, open an email ticket, or turn to the community for support. There is also an extensive knowledge base if you want to try your hand at fixing the issue yourself.

The comment system on the knowledge base documents is very useful. The community often adds useful tips or their own insights, and you can get into the discussion to get a personalized solution.
With some companies, it takes a long time to get an answer by email. This isn't an issue with InMotion. They always respond to email queries rapidly, and with the same care and attention, you would get from a technician over the phone.
10

Who is InMotion Best For?

InMotion is a great hosting company, but we all have individual hosting needs, and there is no one-size-fits-all solution. They do offer outstanding performance, but they also impose some limits.

Unless you opt into the highest plan, you are only allowed to host a limited number of sites, and you can only create a limited number of databases.

InMotion is ideal for customers who only plan to host a few sites, and are willing to pay a little more for the outstanding support and performance.
11

Onboarding

They have detailed guides to get you started, and you can turn to the outstanding support team if you get stuck.
12

Pros and Cons

Every cloud has a silver lining, and by the same logic, every silver lining has a cloud. There's no such thing as a perfect hosting company. So let's weigh up the pros and cons of InMotion. We've already covered many of InMotion's strong points. For us, these are the most outstanding ones:
Pros
SSD as standard.
A low number of users on shared hosting.
High-speed connections with the most popular ISPs in the USA.
Unlimited traffic for all plans.
An excellent selection of high-quality WordPress themes.
Good security features for WordPress hosting.
Outstanding tech support from talented technicians.
Great onboarding process.
Cons
The highest level of services are only available to "Pro" level account holders.
The basic plans are competitively priced, but to get around the limitations, you have to pay for the professional plan, which is more expensive.
You have to pay for a full year in advance.
For lower level plans, you are limited in the number of sites you can host, and the number of databases you can create. These limits are more generous for the next level, and there are no limits for pro accounts.
13

Why We Recommend InMotion Hosting

InMotion offers reliable hosting with great uptime, incredibly fast connection speeds, and outstanding performance. Their technical support is second to none, and they provide plenty of tools to make hosting your website painless.