One of the most notable changes between the web of the 1990s and the current web is the explosion of media available on the web. Whereas before, sites were largely text only and bandwidth was limited so using a lot of media was difficult. That's all changed, and now, media is essential for blogging to engage readers. Plus, setting up a WordPress blog takes few minutes only.
Flick is a clean, media-oriented WordPress Magazine theme that is perfect for bloggers who have media content such as photographs, images, graphics and other media. This type of content is proven to increase reader engagement, and Flick is specifically designed to maximize the potential and display it in an optimized format.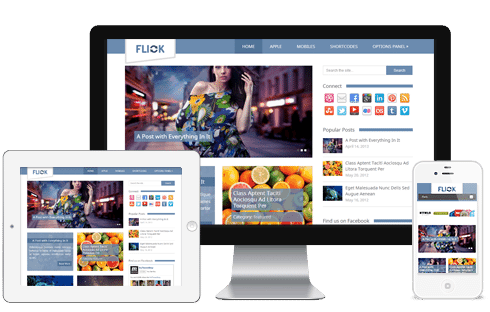 It's fully responsive with a nice clean design, so the focus always stays on your content, and there are slick mouseover effects and features to help maximize your blogging potential. These design styles are all customizable, including colors, backgrounds and fonts, so you can make Flick truly your own creation.
Flick features the latest HTML5 and CSS3 techniques, as well as SEO best practices, and like all our MyThemeShop themes, it will be updated with new best practices to ensure that you're always ahead of the curve.