One thing that is at the top of every blogger's list is earnings. While it's great to have a blog that has a ton of visitors, most bloggers want to earn money from their WordPress blog to pay hosting costs and earn some profit.
Most themes are designed simply with one concept in mind, such as media or SEO. We decided to push the limits of WordPress theme design, by creating a new theme: Fortune.
Fortune is a one-of-a-kind Adsense WordPress theme that is optimized in every way possible. The ad spaces are optimized for CTR and CPC, while the theme is also optimized for SEO with the best practices in mind.  The posts are optimized to give readers the best experience possible, and this is all accomplished while still maintaining lightning fast load times.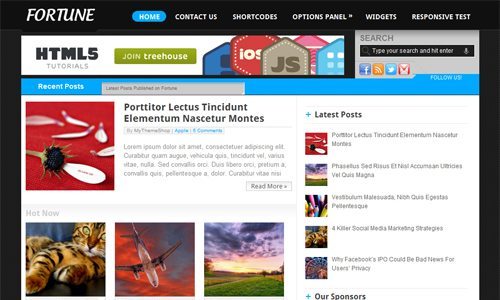 Fortune also includes the usual MyThemeShop goodies, such as our custom widgets, options panel, and shortcodes, so you get the same great MyThemeShop experience while also gaining advantages in ad optimization.
We've tested Fortune on some of the web's top blogs, and both users and bots gave it high-performance marks, so you know that it's reliable and loved by everyone.
So, what are you waiting for? Get Fortune here: Check Fortune WordPress Theme
Or, check out the live demo and see everything Fortune has to offer: Fortune Theme Demo
We hope you like the continued improvements and developments that we're adding to our themes, and we always appreciate your feedback.