We continuously work to improve all of our WordPress themes, and we occasionally rollout updates to address changes to WordPress best practices, new search optimization techniques, and to address user requests.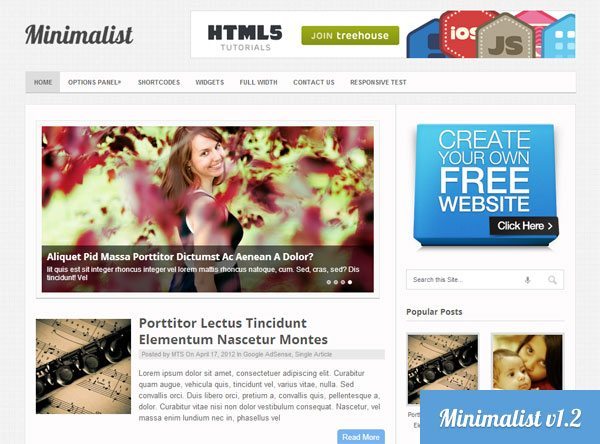 We've just rolled out Minimalist v1.2.  Among other things, we've removed some deprecated features, added more background patterns and widgets, and optimized the theme for speed on our latest framework.
Here's a list of changes:
You can upload any size of logo image without modifying CSS.
New framework implementation, code and speed optimization.
Added few words in .po file for translation.
Options panel error fixed for few servers.
Small design improvements.
Removed No Preview image from homepage excerpts.
Removed Hot Now section from archive pages.
Removed Twitter, Facebook & RSS counter widget. (Reason: FeedBurner deprecated APIs)
Slider dropdown can show more than 20 categories.
Pinterest counter button added.
Removed Digg button.
New social profile widget added.
Improved Recent Posts, Category posts and Tabbed widget.
Removed contact page due to security issue.
Made Column shortcodes responsive on small screens.
Added 20 extra background patterns.
Related posts will show random posts from same category.
Comment date issue fixed.
Customized tag widget.
Option to add any Google Font.
Removed Font size option.
Fixed Ad section below title.
Steps to Upgrade:
Open cPanel and find the folder named 'minimalist' in themes.
Create a backup of this zip folder and delete it.
Add new theme folder or install a theme using WordPress.
Activate it, you will not lose any settings from Options Panel but if you have made any changes in core theme files, then those changes will be lost.
You can check live demo here and download new theme files from our Member's area. If you face any problem while updating, feel free to create new thread on our support forum, our support staff will help you.