Our design and code monkeys have been working hard in 2014, working on updating our existing WordPress themes, improving our framework, creating new and unique designs, and coming up with new features to help you out. We've been getting great feedback from our users about what we need to do to help you succeed, and we're taking action on it.
We're proud to unveil our latest theme release, Monospace which is one of the best additions in the Blog WordPress Themes category. Monospace is a design like you won't find anywhere else. Colorful, with unique typography and a custom slider, Monospace is sure to wow your audience, and it includes both a light and dark version.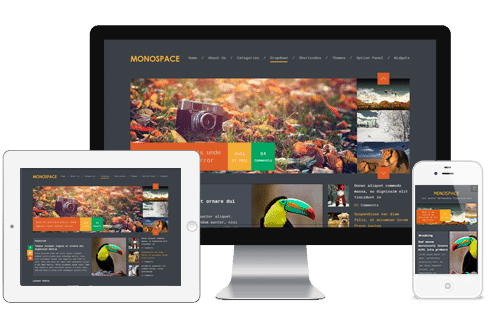 It's fully customizable, so you can control the color scheme and typography easily, and it's also fully responsive so it works on all devices, browsers and screen sizes. With the arsenal of WordPress shortcodes and custom widgets that we included, you won't have to tinker around with tons of extra plugins.
We added our best optimizations to Monospace, including search optimization, ad optimization, pageview optimization to boost views of your posts, speed optimization to help it load faster regardless of your server configuration, and much more.
Of course, it also includes our premium support, where you can get assistance from our friendly and knowledgeable support staff about any issues you're facing with the theme.
Check out the demo of Monospace if you're not already convinced: Demo
And now that you've seen it all, buy it for our low price here: Buy Now!