For those of you who are unaware, WordPress 3.5 was just released. Code named "Elvin", WordPress 3.5 offers some new features. Specifically, uploading images and creating galleries has been streamlined, the dashboard has been updated to be Retina-ready, and a few sections of the WordPress admin dashboard have been streamlined.
You can watch our latest free WordPress Tutorials to get the in-depth knowledge of the subject.
Additionally, there is now a Tumblr importer, improved multi-site functionality, included Javascript libraries and some updates to meta queries.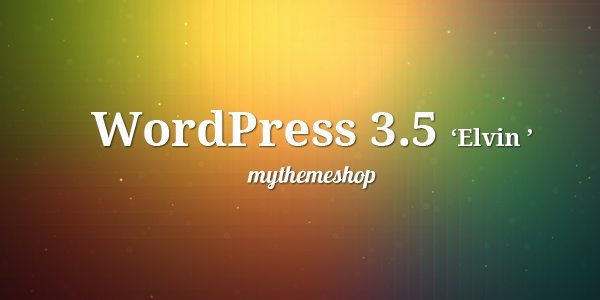 What does this mean for you as a MyThemeShop customer? It means you can safely update to WordPress 3.5, as all MyThemeShop WordPress themes are forward-compatible. We follow WordPress developments carefully and are always factoring in their changes and future-proofing our themes, so you don't have to worry about breaking anything.
To update to the new WordPress version, simply click the "Update Now" button on your WordPress website, let the upgrades run, and then watch the magic.
As always, our dedicated support staff is available to answer your questions on our support forum, so if you have concerns or suggestions, please let us know.
Thanks for your loyalty to MyThemeShop and we look forward to continuing to serve you with the best WordPress themes for many years to come.
Haven't started yet? What are you waiting for? Start exploring Premium WordPress Themes now.