While we've been busy working on our new WooCommerce-ready themes, we have not forgotten about our promise to provide premium quality free WordPress themes to show our appreciation for your loyalty.
Continuing with our show of appreciation, today, we're proud to unveil DualShock. DualShock is a 100% free, dual purpose blog and magazine WordPress theme. Even though it's free, we made sure to include our best premium features to show you what the MyThemeShop experience means.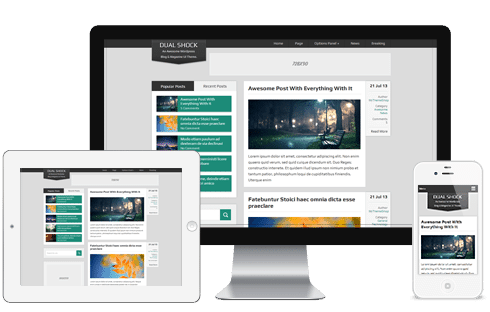 DualShock features a unique layout, with custom widget styles, and fancy post meta info boxes in a design you won't find anywhere else. It's fully customizable from the options panel, so you can change the color scheme, backgrounds and more, and we included our custom widgets library so you don't have to bother with extra WordPress plugins.
DualShock is fully responsive and coded with the latest techniques in HTML5 and CSS3, so it will work on all devices, all browsers, and it does it all seamlessly. Plus, we included our search engine optimizations to help your site rise to the top, and translation-ready features so you can reach an even bigger audience. If you are new to WordPres platform, do watch our free WordPress tutorials to increase your knowledge about the platform.
These features normally help a premium theme stand out from the crowd, but we believe in giving back and showing you the MyThemeShop experience, so we're releasing DualShock as a 100% free download.
Download it now: DualShock Theme