Are you tired of buying WordPress themes that have great designs, but take forever to load? Or do you keep having to hunt around for a theme that truly lets you customize it to how you want it to look? Well, we have the theme you've been looking for here.
MagXP is the pinnacle of a customizable, fully functional and flexible WordPress theme. With 9 pre-built homepage layouts, an options panel that lets you turn the design from clean and minimal to bright and engaging in a heartbeat and Google fonts integration to let you control the typography, MagXP can be turned into your dream Magazine WordPress theme design with minimal effort.
If you are new to WordPress, you can learn a lot by watching our free WordPress tutorials.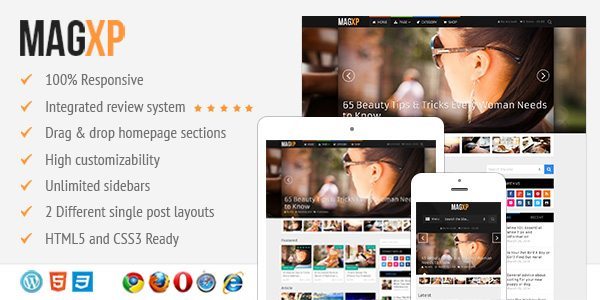 But MagXP is more than just a pretty face. It's built on a rock solid foundation with our all new framework. Site load times, poor SEO, insecure code and bloated files are a thing of the past. MagXP is lean, mean and ready to take on any task you need in the blogging world. It won't be wrong to say that the MagXP theme will truly add starts to your WordPress blog.
It includes a new powerful slider, an integrated translation panel, our new options panel, built-in review support, rich snippets optimizations to help Google find your content, and all our usual SEO and speed optimizations. Using the theme, you would truly feel blessed that you have started a WordPress blog.
You'll see your site look prettier, function better, load faster, rank higher which all leads to more blogging success for you.
Check out the demo of MagXP and see your new theme in action: Demo
Now take control of your blogging destiny and harness MagXP's power for yourself: Get Instant Access