We're constantly working on new WordPress themes in addition to providing support and updates to existing themes. After weeks of hard work, we're releasing our newest theme: Metro.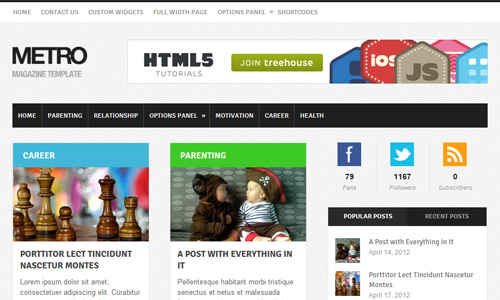 Metro is an elegant magazine WordPress theme, available for purchase from MyThemeShop. Inspired by the Windows Metro visual style, Metro features a responsive layout, with some sharp, vibrant colors to contrast against the soft grays of the theme.
Metro also includes our options panel and 11 custom widgets, as well as the ability to customize and style Metro to your liking. Of course, we also provide our premium support for Metro, as with all our other themes.
We've also taken this opportunity to update our framework, and have updated two of our previous themes (Top and Simple) to the new framework as well.
Check out the demo for Metro here: Check Metro Demo
Buy it from MyThemeShop here: Buy Metro WordPress Theme
As always, if you have suggestions for theme styles, features or just overall feedback, please let us know!