One of the places that we look for inspiration in developing new WordPress themes is by looking at what has been successful for other websites. Imitation is the best form of flattery, and it also ensures that our new themes will bring success to your blog by utilizing tried and true techniques.
Our latest theme is Pinstagram. Pinstagram is a grid layout Magazine WordPress theme that draws inspiration from Pinterest. By focusing on creating a layout that is similar to Pinterest, it ensures that new visitors to your site will be somewhat familiar with the layout, making it easier for them to find content, and it will maximize page views and revenue for you.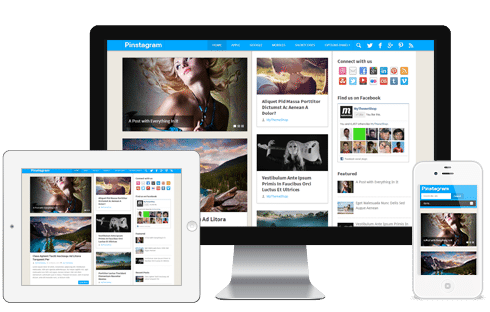 Pinstagram is fully responsive, so it will adjust for optimal display for mobile, tablet and desktop users. It's translation-ready and is coded with HTML5 and CSS3, so you can capitalize on all the latest that the web has to offer, in any language. And you can capture more traffic than ever before with our social media integration and search optimizations.
Plus, it includes our industry-grade WordPress shortcodes, custom widgets, and ad management system, all controlled through our options panel. Blogging success has never been this easy.
Check out Pinstagram demo | Buy Pinstagram theme
Wishing you continued blogging success!