The web is constantly changing, and here at MyThemeShop, we work tirelessly to stay up-to-date with the latest trends, styles and techniques.  Google has recently tweaked numerous things, and some new design trends have emerged, so we set out to create a theme that capitalizes on all of these.
The result is Saturation.  Saturation is a traditional blog WordPress theme that features a bright and crisp design, which is fully customizable in the usual MyThemeShop manner.  You can choose colors, backgrounds, fonts, and more, all from the built-in options panel.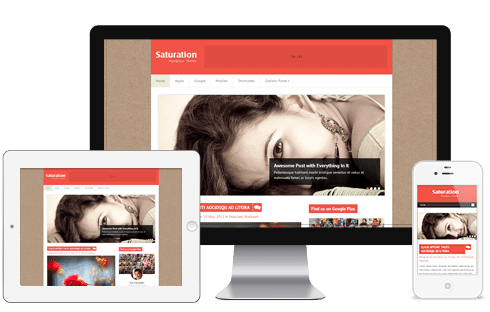 We included a new widget, our Google Plus badge widget, which takes advantage of some of the new power of Google Plus and features a slick design.  We follow the latest best practices, and included them in our search and advertising optimization, to help you earn more.
If you are new to the WordPress platform, do watch our free WordPress tutorial on how to set up a WordPress theme.
Plus, with translation-ready functionality, cutting edge HTML5 and CSS3, and a responsive layout, Saturation is ready to conquer the web as your secret weapon.
Buy Saturation Theme | See Demo