If you've been following MyThemeShop for a while, you probably know that we are big fans of clean, minimalist design and lightning fast, flexible themes. One of the great things about our minimalist WordPress themes is that they can serve as a great starting point for custom theme creation, allowing freelancers and service providers to use our themes as a starting point to build their own themes.
With this in mind, we created Simpleton. Simpleton is a blazingly fast WordPress blog theme that features a clean, minimalist design and is built to be flexible. This flexibility means that Simpleton is a perfect out-of-the-box solution for your blog and can function as a standalone theme, or it can be used as a base theme to create your own custom theme.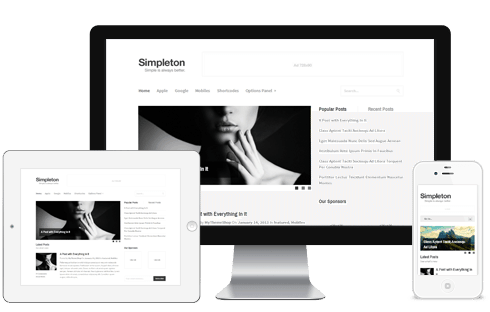 Thanks to our options panel, you can customize and control all your theme features from one command center, and you never have to tinker with editing strange code and uploading all sorts of files. With Simpleton, your site will simply work, and thanks to our included Shortcodes and custom widgets, the need for extra WordPress plugins is reduced.
We also added our newest features such as our translation-ready functionality and our streamlined ad management system. Simpleton is SEO optimized and uses the latest HTML5 and CSS3 technologies to bring responsiveness and flexibility to WordPress.
So, check out the demo here: Simpleton demo
And now purchase it for our lowest price ever: Simpleton Theme
Do check our WordPress tutorials if you are just starting out with your first WordPress blog or you want to gain more knowledge about the platform.