We're proud today to unveil our latest WordPress Blog theme, titled Wildfire. Wildfire is a traditionally structured WordPress magazine theme that goes well beyond tradition to bring you the best blogging experience possible.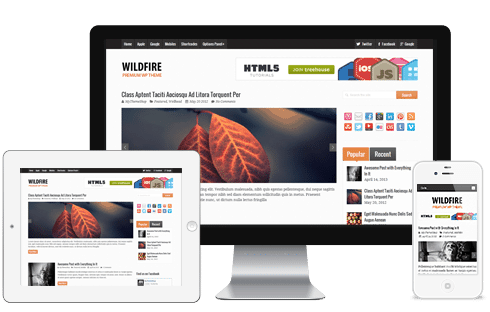 Starting with the design, Wildfire maintains a clean, functional yet aesthetically pleasing approach. The user experience is all about providing the content in an easy-to-read, easy-to-use manner. This helps you generate more pageviews and keeps users on the site longer. But the design is fully customizable, so you aren't stuck with a cookie-cutter theme. Instead, you can personalize the colors, fonts, backgrounds and more in order to make your site your own. Watch our WordPress tutorial on how to setup a WordPress theme on your WordPress blog.
The functionality doesn't let down either, as Wildfire is fully responsive, is fully translation-ready, and includes our options panel for easy configuration. Plus, the custom dashboard design helps you streamline your blogging experience, and the included widgets help your site load faster and work more smoothly.
Buy Wildfire Theme | Wildfire Demo