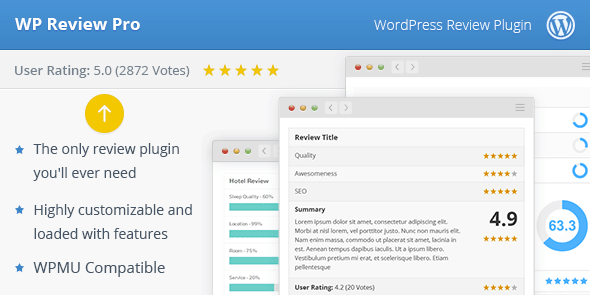 You asked and we have listened. We just released our WP Review Pro plugin and it makes creating a review site so easy, you can create one in under 10 minutes.
WP Review Pro is a premium WordPress plugin doesn't put any extra load on your site and it doesn't require any coding knowledge to get it up and running either. As with our other products, we put extra effort in making it load blazing fast and we also made sure it doesn't add useless, resource heavy tables to your database like other similar products do.
Not only that, WP Review Pro supports rich snippets and this will help you rank better in Google and other search engines. It will also increase your Click Through Rate (CTR) on search engines like Google and Bing which translates to increased traffic and revenue.
Still getting confused? Learn how to create a review website today!
Here are a few reasons to get WP Review Pro today:
Easy setup: You can get up and running within 10 minutes. You can also integrate the plugin with your WordPress blog.
No Coding Required: You don't have to code it in. Just install it like any other plugin and it will start working immediately.
Multiple Rating Styles: You can choose between stars, percentage, point and circle rating styles for your blog.
User Reviews: Your users can add comments and reviews to your blog posts/reviews as well.
Overlay on Thumbnails: With this plugin, you can show ratings over thumbnails to make them look attractive and effective at the same time.(Can be enabled on any theme)
100% Theme Compatible: Whether you use our themes or not, this plugin will work on your site.
Blazing Fast: This plugin is well coded and we put in extra effort to make it load very fast. It doesn't add any bulk to your Website's database either.
GUI Options Panel: You can easily change positions, colors, width and style of the review box.
Translation Ready: WP Review Pro can be translated to any language very easily without having any coding knowledge.
A lot of other reasons: This plugin is cross-browser compatible, works with all caching plugins, is developer friendly, fluid responsive and comes with a tabbed widget for adding reviews to your site's sidebar.