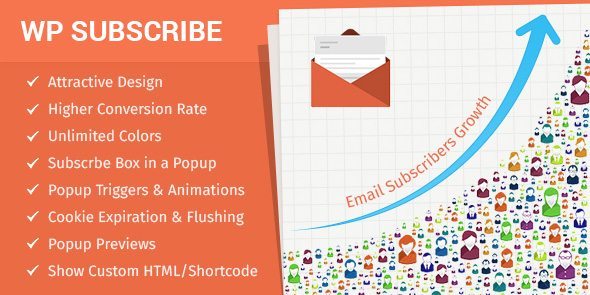 How many times have you worked hard on getting that valuable traffic only to find more than 70% visitors never return to your site? We have experienced this first hand and that's why we have been using a little something on our private blogs for the past 4-5 years. We have used this plugin to turn prospects into customers and bounced traffic into happy returning visitors.
Today, we are releasing it to the public and we are calling it WP Subscribe Pro. This plugin will make sure you never lose your valuable traffic to a competitor. With WP Subscribe Pro, you can show an email popup for visitors to subscribe to your WordPress blog or email list. Then, you can use autoresponders and followups to interact with the visitors to turn them into valuable customers.
WP Subscribe Pro is intelligent enough to sense when your visitor is about to leave your site and shows up at that instant. We have included a lot of other options for your to play with and truly make it your own. You can pair up the plugin with one of our premium WordPress themes which will help you engage your website users and make them visit your website again and again.
These features include:
No Coding Required: Everything's done using an Easy-to-Use Options Panel
Exit Intent: Senses when your visitor is about to leave your site.
Fully Responsive: Make the popup look elegant across all platforms.
Speed Optimized: Doesn't add any extra load to your website.
Integrations: It works with FeedBurner, Aweber and MailChimp. Support for others coming soon.
Popup Trigger Control: Choose when you want the visitors to see the popup.
Popup Animations and Unlimited Colors: Control how the popup looks on your website.
…and many other features.
Check the plugin page for more details and information: WP Subscribe Pro | Demo