One of our top selling WordPress themes, Spike, has just gotten a brand new update! We're proud to unveil the all new Spike, which includes 9 new layouts, new plugins, 3 single post layouts and much more.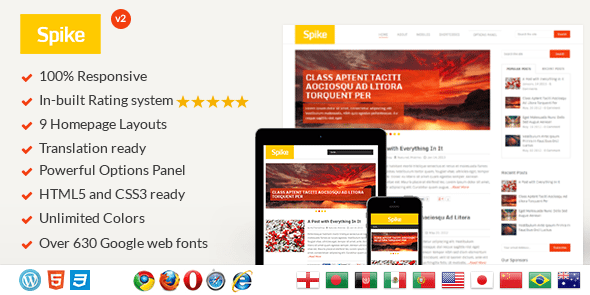 What's new in Spike?
If you want a bright and colorful WordPress blog theme, with multiple layouts, a user-friendly options panel, full customizability and tons of other great features, don't miss this update of Spike. It's translation-ready, features all new SEO optimizations to help your site rank higher, and it's built for an optimized user experience. So, pick up the update of Spike and take your site to the next level for just $9! You can also use the essential WordPress plugins along with this theme and increase the functionality of your website.
Changelog:
Moved Options Panel Link in Appearance Section of Dashboard.
New framework implementation, code and speed optimization.
Added Exclusive brand new Translation Panel.
Added brand new Typography Options with more than 600 Google Fonts.
Added Option to disable Responsiveness.
Added more than 350 font icons.
Added 9 New layout options for HomePage.
Added 3 New layout options for Single Posts.
Added improved slider script to reduce load time.
Added Schema for Breadcrumbs.
Added Ajax load more pagination (with load more button or automatic)
Added Ajax search in Search form.
Added Option to use 3 columns or 4 columns widget area.
Added Unlimited Sidebar Option.
Added Option to change header background color/image.
Added Option to change footer background color/image
Added Option to Select multiple categories for Slider and Featured Sections.
Added Option to hide Logo.
Added Related Posts Widget.
Added Author Posts widget.
Added Google Plus Badge Widget.
Added new Tweets Widget compatible with the latest API.
Added Brand new tabbed widget with Ajax feature.
Added Option to hide thumbnails for Recent, Category & Popular Posts Widgets.
Added Option to hide Date, Comment count and Thumbs for Tabbed Widget.
Added Option to disable Theme update notification.
Added Async loading for social sharing buttons to reduce loading time.
Added Option to move social media icons below or above the content.
Added Options to hide every element in Post Meta.
Added Separate Option to hide Post meta on the homepage.
Added Option to make navigation Floating/Sticky.
Added HTML Prefetching for lightning fast site loading.
Added Better Scripts and CSS files loading.
Added WP Review by MyThemeShop plugin.
Added Header and footer rainbow.
Added Option to remove header and footer rainbow.
Added Option to hide search form in the header.
In Author box now author name is linked to Author Archive.
Theme will show new update notification on the dashboard.
Removed MyThemeShop Dashboard Design Option.
Removed Contact Us page template due to security reasons.
Removed theme shortcodes and added our WP Shortcode Plugin.
Fixed double title issue in Feed.
Fixed Small bugs.
Replaced icon images with Font icons.
Small design improvements.
Made a few SEO improvements.
Optimized code for fast loading.
Added few words in .po file for translation.
See it live or Purchase it from here!