Minimal styles are still some of our favorite styles to use in theme design. For content-oriented blogs, it's hard to beat a minimal design that has a touch of color and plenty of space, since it creates a nice visual hierarchy without distractions. We put this concept to work in our latest WordPress Blog theme – Pureview.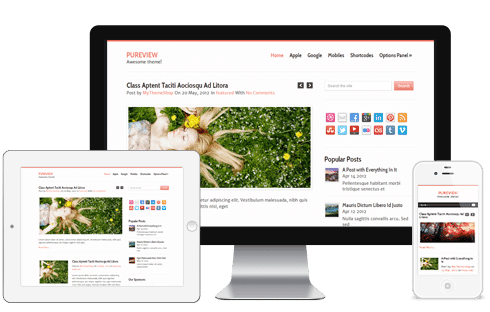 Pureview is a lightweight, flexible, and fully responsive WordPress theme with a minimal and clean style. But don't confuse lightweight and minimal with lacking features or design, because Pureview comes packed with our best features to help supercharge your blogging experience.
The options panel lets you control all the features and styling such as colors, fonts and backgrounds, and you can easily explore different options and displays. Pureview includes our WordPress shortcodes, lightbox and custom widgets as well, so you won't have to bother with tons of extra plugins.
But perhaps the best part of Pureview is the optimizations that are built in. You will be dominating the SERPs with the search engine optimization, and you'll be able to capture the latest flood of social media traffic, all while earning more revenue than ever before thanks to our ad management system that takes the stress out of advertising. The revenue and traffic gains alone make Pureview essentially pay for itself.
But don't take our word for it, because "seeing is believing" after all.