Lightweight, flexible and clean WordPress themes are usually the best for user experience, which in turn leads to more page views and thus higher advertising revenues. However, that doesn't mean that the theme should be lacking in features.
Split is our new minimal and clean Magazine WordPress theme that features a pearly white design with just a touch of color, great contrast and a unique layout. With a dual sidebar layout and dual post layout on the homepage, users can easily access content, while the post page is clean and direct to maximize user experience and ad clicks.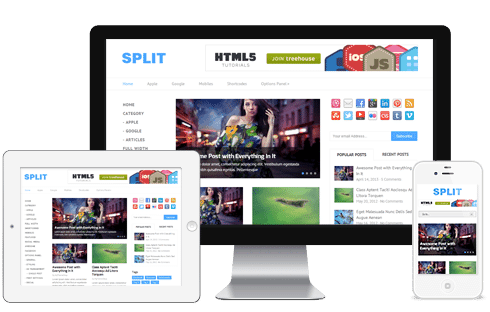 Split's features don't end at aesthetics, however. It is coded using the latest techniques in HTML5 and CSS3 so you'll be ahead of the curve for years to come, and it's 100% responsive, so it will work on any device or browser size. In the present scenario, we would always recommend you to use responsive WordPress themes only as 50% of the users have shifted to mobile and tablets.
Best of all, it's completely configurable, with included custom widgets and WordPress shortcodes to make building your site easy, and with the included options panel, setup and configuration is a breeze. You can choose from all of Google's fonts, as well as unlimited color and background options for your design.
Split includes all our best optimizations, such as social media integration, SEO and Adsense optimizations, as well as translation-ready features and our custom dashboard design.
Buy Split Theme | Spilt demo