Since our latest WordPress theme release and our new feature of theme packs, we've been hard at work again providing more themes for you to choose from.
Our latest theme is Swift. A fast loading, fully optimized, responsive WordPress theme that is perfect for any WordPress blog, magazine or personal site. With a perfect amount of contrast and just a splash of color, Swift has both looks and functionality.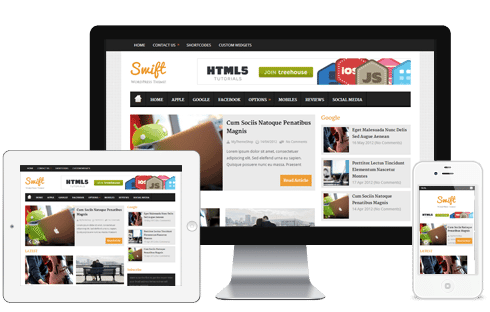 Of course, Swift comes with full SEO, speed and ad optimization to help you make the most of every potential visitor and reach the largest audience possible.
Not to mention, Swift is also fully customizable, so you can control everything from widgets to shortcodes, colors, fonts and backgrounds. Plus, it comes with full social media integration and the most powerful widgets on the web.
Learn more about WordPress in our free WordPress Tutorials
Swift is responsive and takes advantage of the latest HTML5 and CSS3 best practices as well.
But don't take our word for it, check the demo here: Swift Theme Demo
And now that you're sold, purchase it here: Buy Swift WordPress Theme
Thanks for your overwhelming support for our themes and don't forget to follow our blog to get updated on the latest themes.