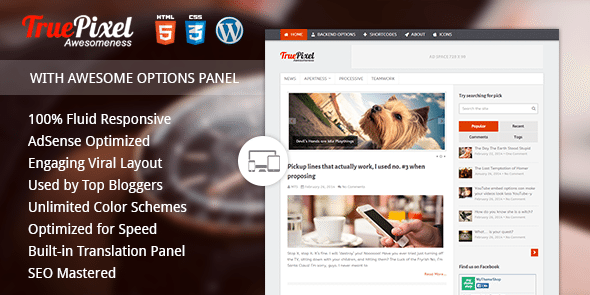 We hope you had a wonderful St. Valentine's day.
Our rebuilt, recoded and enhanced TruePixel theme is now ready for you to check out and it is better than ever. We have added a ton of great new features and enhanced the current ones to make TruePixel a theme you must-have in your arsenal. Our premium WordPress themes are meant to provide an exclusive experience to your WordPress blog users.
TruePixel has been one of our most engaging themes and this new update only makes it even more engaging. An enhanced options panel lets you change almost anything. We have also included two new homepage layouts! Now, you can use this theme along with our other WordPress plugins to give more functionality to your users.
Here's a list of all the features this update brings to the TruePixel theme:
Added two new homepage layouts.
Added drag & drop for single posts elements.
Added option to add custom slides on the homepage.
Added option to show full posts on the homepage.
Added advanced background options.
Added drag and drop for post info.
Added RTL support.
Added Option to create a child theme from the options panel.
Added WooCommerce support.
Added improved typography options.
Added thumbnail preview in the WordPress backend.
Added improved Sidebar options.
Added function to store post view count.
Added Contact page template.
Added Touch & Metro icon options.
Added Post Slider widget.
Added GitHub, Dropbox & Tumblr icons in Social Icons widget.
Added lazy loading for comment avatars.
Added Parallax and Zoom Out header effects for Posts and Pages.
Replaced flex slider script with an Owl Carousel script.
Replaced prettyPhoto.js script with magnify popup script.
Improved Mobile navigation menu.
Improved Ajax pagination, and search results.
Improved Breadcrumb code.
Improved Social Icons widget.
Updated FontAwesome script.
Removed Tab Widget and added the WP Tab Widget plugin.
Changed few thumbnail sizes (Thumbnail regeneration required)
Removed Google Plus widget.
Removed Subscribe Widget (Added WP Subscribe widget)
Optimized code for better loading time.