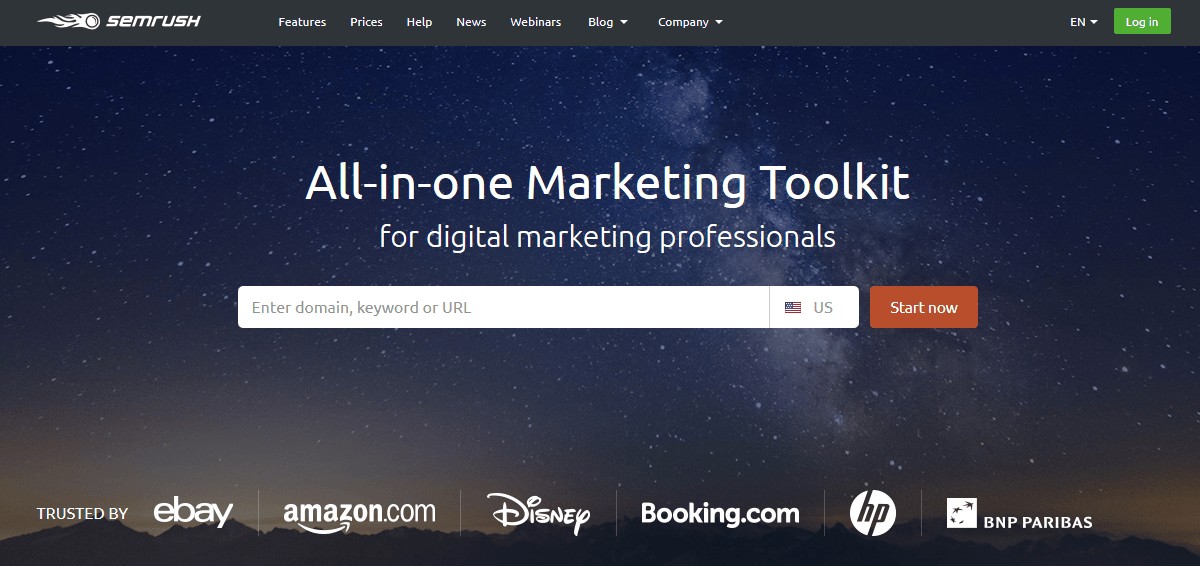 Ever wondered how you can get your website to the top position in Google without spending a fortune? Ranking a website to the top of Google requires concerted effort and wealth of SEO experience especially for highly competitive keywords.
Nevertheless, it is possible to effortlessly outrank your competition, when you build your SEO strategies based on competition data. Acquiring your competitors' ranking and keywords data; allows you create winning SEO strategies.
Your journey to the top position in search engine results depends on how you make use of the data you obtain from intelligence competition tools like SEMRush.
You can create content marketing, backlink, and social media marketing ideas that will help you rank better in search results and increase your traffic.
In this guide, we will endeavor to guide you step by step, on how you can enhance your website's performance and improve your online brand using SEMRush.
Just Looking For A SEMrush Coupon Code?

Click Below and Get the Free Trial of SEMrush for 14 Days!!
What is SEMRush ?
SEMRush is a powerful all-in-one search engine optimization and marketing suite that comprises of several tools that are very useful for digital marketing professionals.
You can use SEMRush for several tasks that include: Position Tracking, Backlink Analysis, Keyword Research, PPC Research, Site Audit, Social Media Monitoring and Content Planning.
SEMRush is the most complete SEO competition intelligence tool you will ever come across. There are many other SEO tools out there, but SEMRush is above board.
In this review, I will cover all SEMRush features in details, and also guide you on how to use each of its tools for specific tasks.
Pros
SEMRush provides users with the most detailed and innovative SEO and digital marketing metrics.
Very comprehensive SEO reports that are ideal for marketing agencies, clients, individual digital marketers and large organizations.
You can generate reports that can be sent directly to clients or for future reference – the reports are available in PDF and branded White Label reports can be created too.
You can generate up to 10,000 reports per day with the business subscription and you can have multiple logins. You can generate 3,000 and 5,000 reports per day respectively with the other subscription plans.
SEMRush Integrates seamlessly with Google Analytics and Google Webmaster console enabling you to track your site performance proficiently.
It comes with great customer support, a large community of users and a comprehensive knowledge base available to all subscribers.
SEMRush contains several SEO tools included in one suite and is accessible on all subscription plans. The difference is in the number of reports you can generate, the number of projects and other advanced features that are not necessary for basic subscribers.
The SEMRush team is continually improving and adding more features to enhance its performance.
Cons
Some discrepancies have been reported in SEMRush data.
The monthly subscription is expensive for digital marketers with a limited marketing budget.
Is SEMRush Right for You?
Whether you are running a small niche blog or a large corporate website, ranking high in the search results is the ultimate goal for every webmaster. For this reason, SEMRush resonates with the SEO needs of every site owner irrespective of the size or niche of the site.
You will find SEMRush to be very resourceful in generating content marketing ideas and improving your online brand presence.
Before we get into specific details of how each SEMRush tool works, here is a quick summary of its features and why you should consider it for your day-to-day digital marketing needs.
7 Features that Make SEMRush an Incredible SEO Tool
SEMRush is an great SEO tool since it combines all the features needed to create a solid SEO strategy. The following are some of the features you will find very useful in SEMRush:
1. Complete Site Audit – SEMRush allows you to quickly and accurately carry out an SEO audit of your site and easily find out where improvements are needed.
2. Competition Analysis – You can quickly identify your competitors and have an in-depth analysis of their strength and use this data to compete with them fiercely.
3. Advanced Keyword Research – Unlike other Keyword research tools, SEMRush keyword research tool is very comprehensive. You can not only carry out basic keyword research, but also find out which keywords your competitors are ranking for and their strength. You can also use the feature 'Related Keywords' to find new keywords in your niche that you did not know existed.
4. Tactical Organic Research – With SEMRush you can generate a detailed organic research report based on a keyword phrase or domain. This organic research has all the parameters needed to build a strategic search engine marketing plan.
5. Link Building like a Pro – Linking building never becomes easier than when you use SEMRush because you get to see all your competitor's backlinks. Instead of guessing your competitor's strength, you get the valuable backlink data and act on it. This backlink profile data not only saves you time but guarantees you success.
6. PPC Advertising Insight – PPC advertising can be very frustrating especially when you do not target the right keywords. The results can be poor, and you can sink thousands of dollars with little success. SEMRush allows you to peep into competitor's campaign ads keywords and use this data to your advantage.
7. Social Media Marketing – Social media can be a goldmine, and you can increase your traffic from social sites when you use SEMRush to measure your social media reach and match it with your competitors.
Start With Website Health & Off-Page Optimization
When you are working towards improving your organic ranking, it's helpful to begin by looking at your site's SEO health. Before you can start off-page SEO, ensure your on-page SEO is perfect. SEMRush site audit tool and the SEO ideas are the best tools to help improve your website.
With SEO ideas tool you can check how your site pages appear in SERPs on Google. You can compare your site with competitors using specific target keywords.
The recommendations given are very useful for improved optimization and make it easier to outrank your competitors. You can also discover new keywords ideas that you have potential to rank.
What We Will Cover In This Section
Creating New Projects & Managing Reports on SEMRush
There are three ways you can create a new project on SEMRush:
a) From the search bar – Use the Create Projects button to create a new project for a new keyword or domain. See the illustration on the image below:

b) From Project Menu – On the left sidebar menu under projects you can click to view existing projects as well as create a new project. Below is an illustration of how to create a new project from the sidebar menu:

c) From Tools' Menu on the Dashboard – You can use a tool drop-down menu like the SEO ideas or backlink audit to create a new project as shown in the mage below.

In this section, we will also cover the important steps you should take while using SEMRush to audit your site. Here is a quick summary:
a) Site Audit Tool – You can access the tool under – Dashboard > Site Audit Tool, you should then create a project and begin your audit. It's worth noting, the Site audit report should be the starting point and a future reference point. Also note that WordPress as the most preferred platform for building SEO friendly sites, comes with two different versions. We recommend you to use the WordPress.org version as it gives you more room to handle the SEO of your website.
b) SEO Ideas Tool – This is a handy tool that gives you meticulous insights on where you need to improve your on-page SEO. You can check for HTML validation errors, content ideas, semantic ideas and overall backlink ideas with perfect action plans. This is the most comprehensive SEO ideas suggestion you will ever come across.
c) Domain Profiling Tool – Very easy and quick way to determine how Google and other search engines view your site. This tool gives you the domain overview including backlinks, organic results and lists your main organic competitors. You can quickly make use of this tool to swiftly assess and analyze any domain.
d) Backlink Audit Tool – With this tool, you have every information you need to know about who is linking to your site. The backlink audit tool augments the role played by Google Webmaster Console, but it displays the data in a very easy format. You can use this tool to edit all the bad links pointing to your site.
e) Brand Monitoring Tool – This is a tool that helps you determine the strength of your brand depending on the number of social mentions. You can use it to track and analyze your social reach.
All these tools can be accessed on your SEMRush dashboard as highlighted on the image below: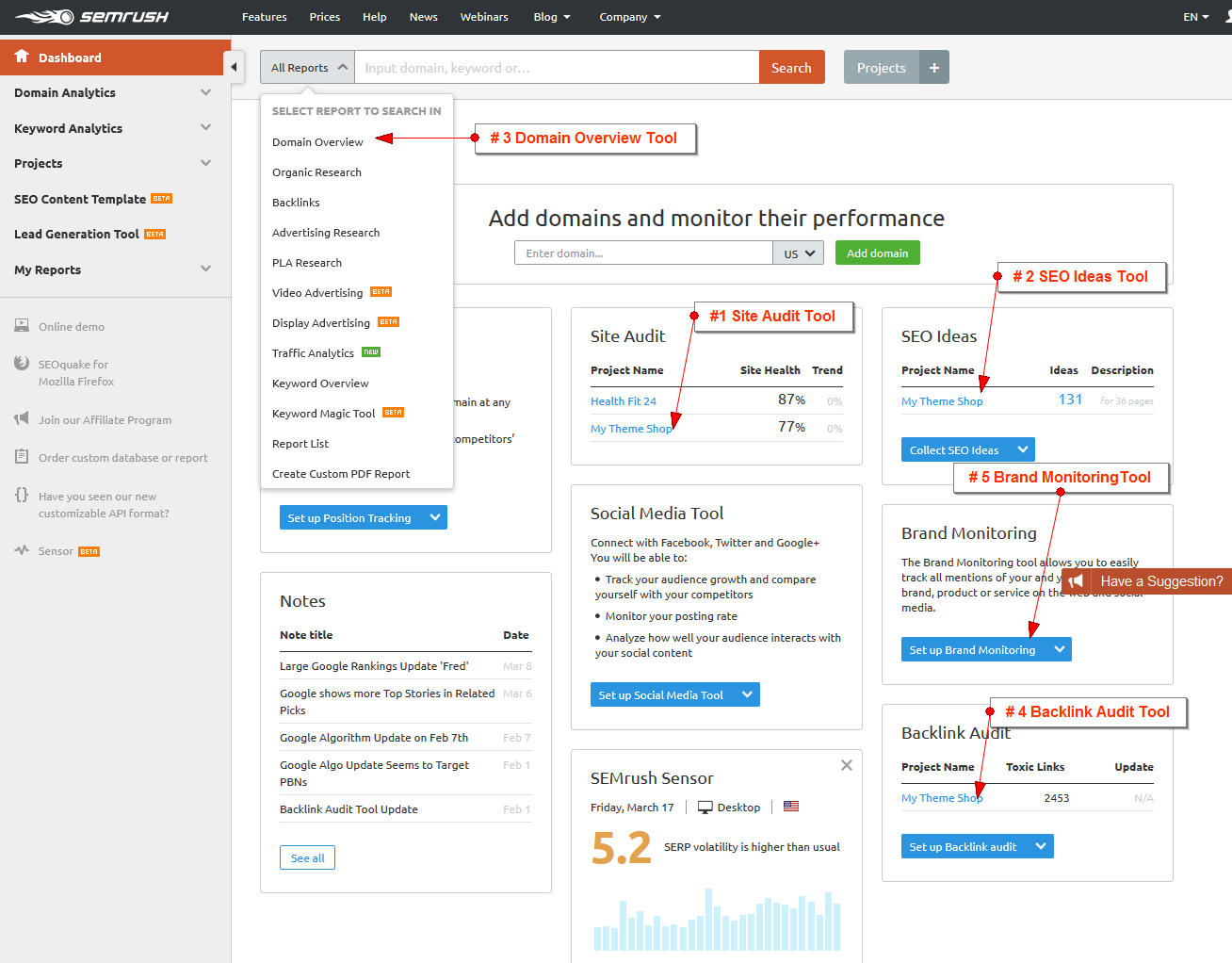 Collectively these tools can be used to help improve the general on-page SEO before you can embark on the off-page SEO.
1

SEO Audit Tool

The value of SEO audit of your site cannot be overlooked, the first step before you start ranking your site is to determine your current status. Nothing does it better than the SEMRush site audit tool. Here is how to access and use site audit tool:
Log in to view the SEMRush dashboard
Locate the site audit tool on the dashboard
Create a new project to get started: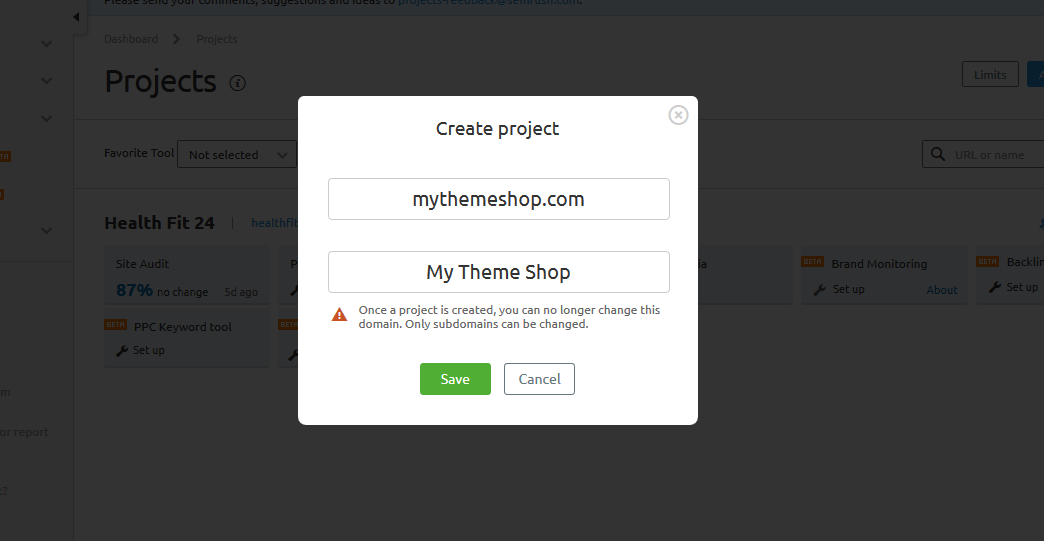 After creating the project, as shown above, you should now see a new screen that shows your new project and the site audit settings as shown below:
Click to start the site audit and wait for a few minutes to see the results. In the background, SEMRush bots will crawl your site and generate a report. This is a comprehensive report that you can save as PDF for further analysis and future tracking of your site's improvement.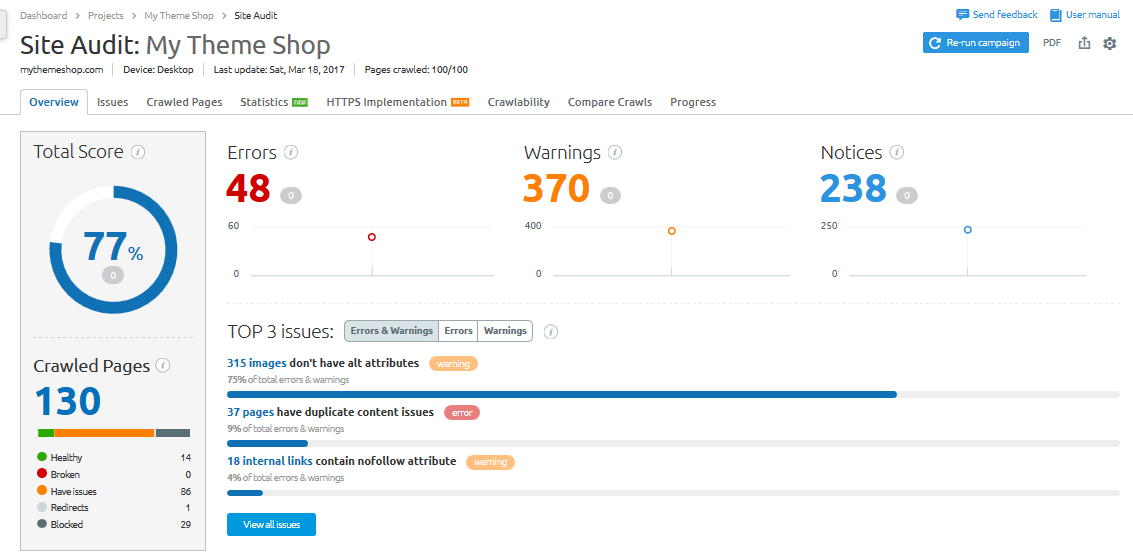 The report shows all the critical issues on your site like missing ALT tags, duplicate content, no-follow links, missing Meta descriptions and fundamental HTML errors like missing Doctype. You can certainly improve your website by looking at the audit report.
2

SEO ideas Tool

SEO ideas tool is similar to the site audit tool as it helps you identify potential ranking ideas for your site. Using this tool requires you to be logged in first, then navigate to – Projects > SEO Ideas. You can use the existing project you don't have to create a new one: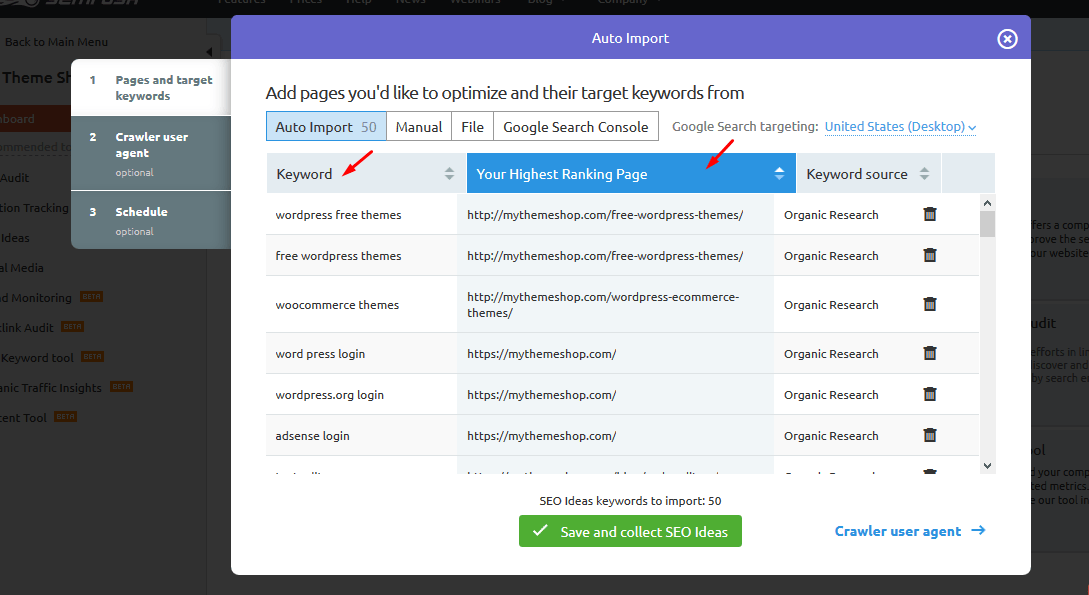 You can save and collect the SEO ideas, and this will give you a complete report on the potential keyword, your highest ranking pages and where you can improve. The report you generate should have the following details: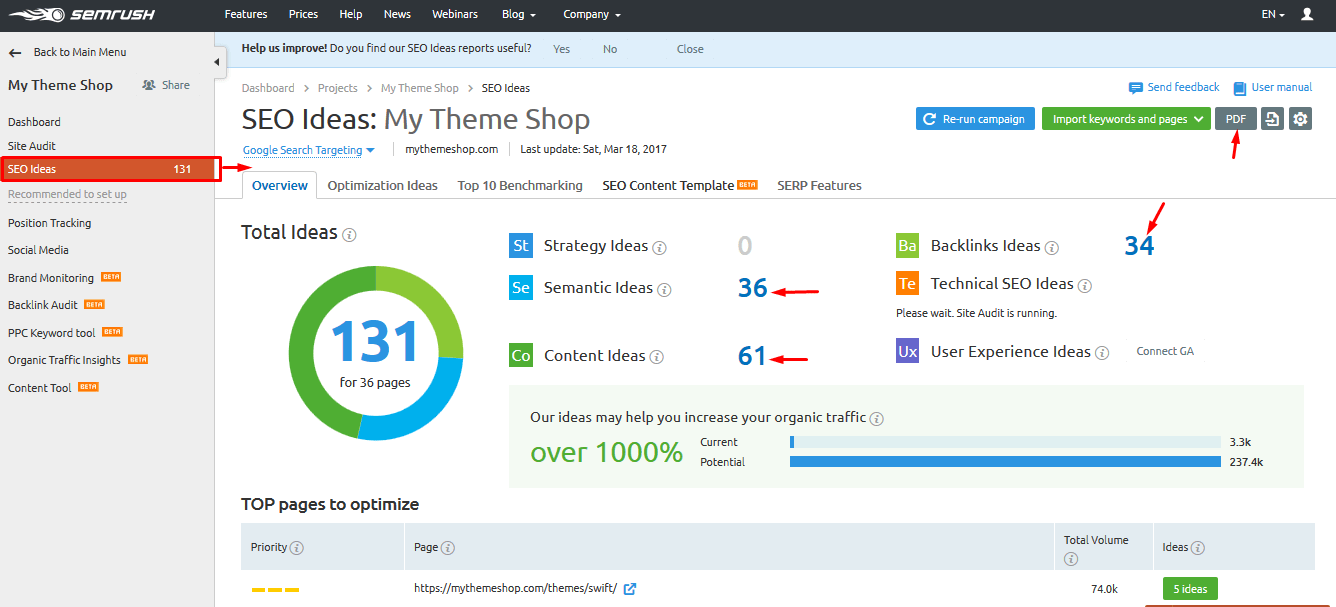 Potential Backlink ideas – this are broken down to a detailed report that entails very specific actions that should be taken to improve.
Content & Sematic Ideas – These are ideas that can be implemented to improve the content and the general structure of the site.
There is thorough page by page analysis with amazing results on what action needs to be taken to improve your on-page SEO.
3

Domain Profiling

SEMRush allows you to quickly determine how your site is performing using all ranking indicators. This combines your backlink profile, organic search, and paid search.

This is data you can quickly use for benchmarking and determining the necessary strategies to improve your SERPs.

To check your site, type the main site URL on the SEMRush search bar and select the option 'Domain Overview.'

The comprehensive results are as shown in the image below: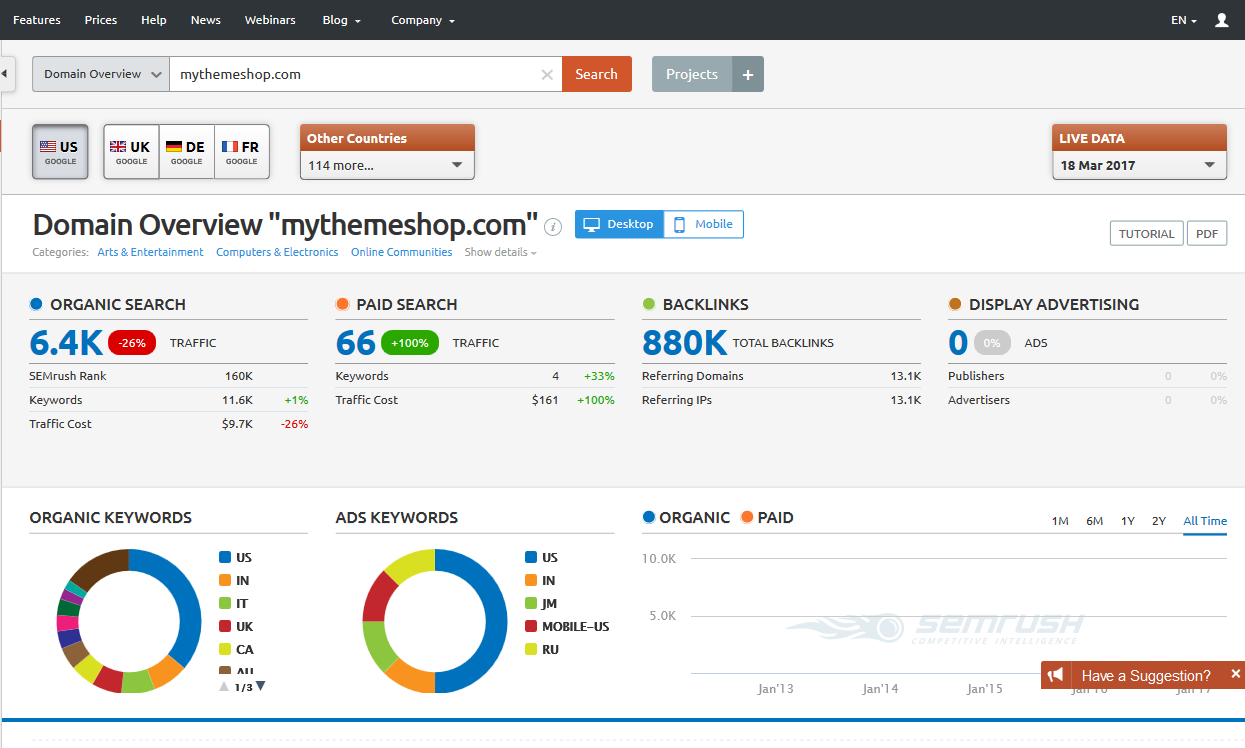 4

Backlink Profile Audit Tool

Backlinks remain one of the most important ranking factors that have not changed over the years. The number of backlinks and the quality determines how well your website ranks in search results.

SEMRush provides the best backlink audit tool allowing you to check and weed out backlinks pointing to your site. Bad links have been known to cause a negative impact on the overall ranking of a website.

To audit your backlinks, you should navigate to – Dashboard > Backlink Audit Tool > Select Your Project (on the drop down menu)

When you select the project you would wish to have a backlink audit you will be prompted to set your preferred settings.
You can set the scope of your audit, branding settings, choose a category for your domain and even target a specific country. The country targeting feature is ideal for local SEOs.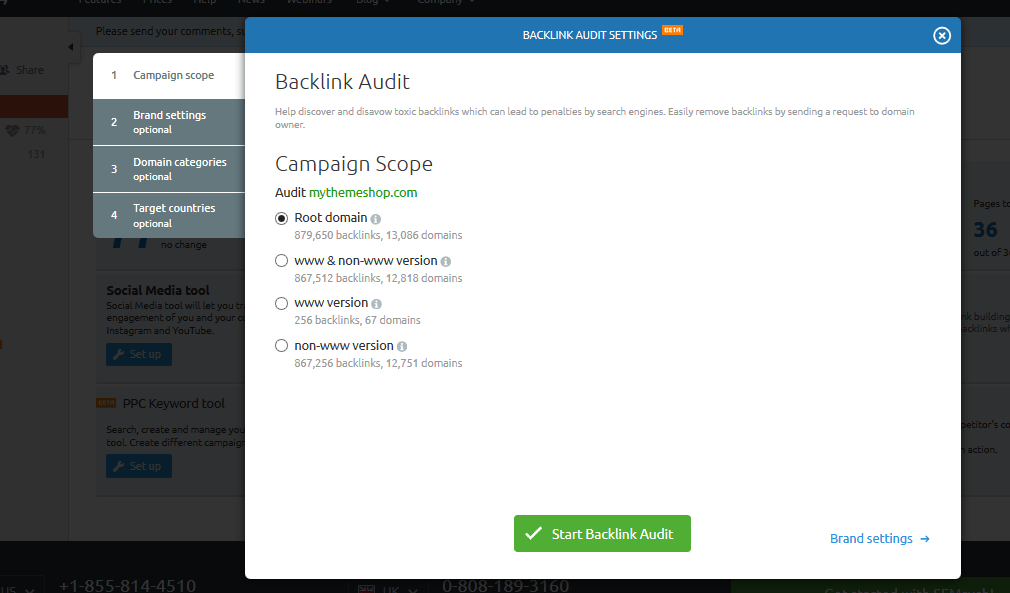 The results of this audit display all the information you need to find out which toxic links are having an adverse impact on your SERPs. Here are the results of my backlink audit: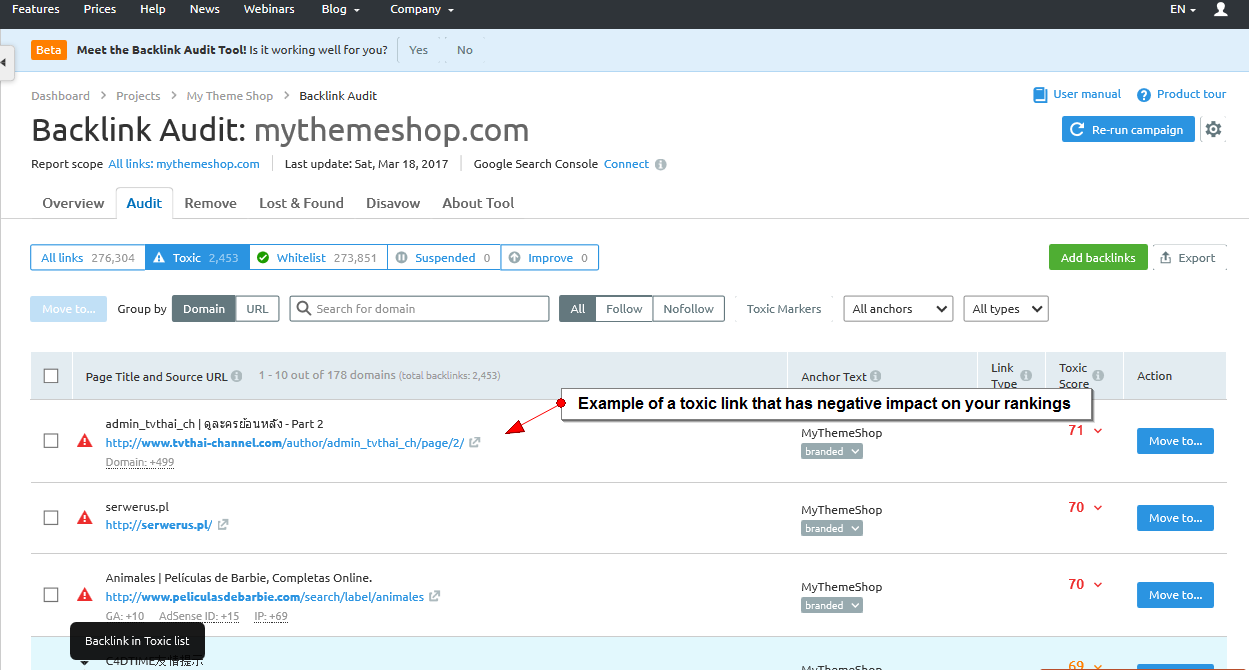 From the report, you can see there are numerous links that need to be edited in order to clean up the backlink profile. Cleaning this backlink profile will have a significant impact on the ranking.
5

Brand Monitoring Tool

Several SEO pundits concur with the notion that Google and other search engines are increasingly paying more attention to branding. A while ago the Google update that slammed exact-match-domains ranking sent shockwaves in the entire industry.

Beside the fact that search engines are paying attention to branding, a good brand stands to gain increased direct traffic. To audit or monitor your brand with SEMRush, you can use the Brand monitoring tool.

To begin monitoring your brand, you should navigate the SEMRush dashboard and select the Brand Monitoring Tool.

When you select the project you will get a prompt to fill in the details you would like to monitor. You can add keywords related to your brand, and you will get notified when there are brand mentions. You can also choose the option to get emailed every week with the report.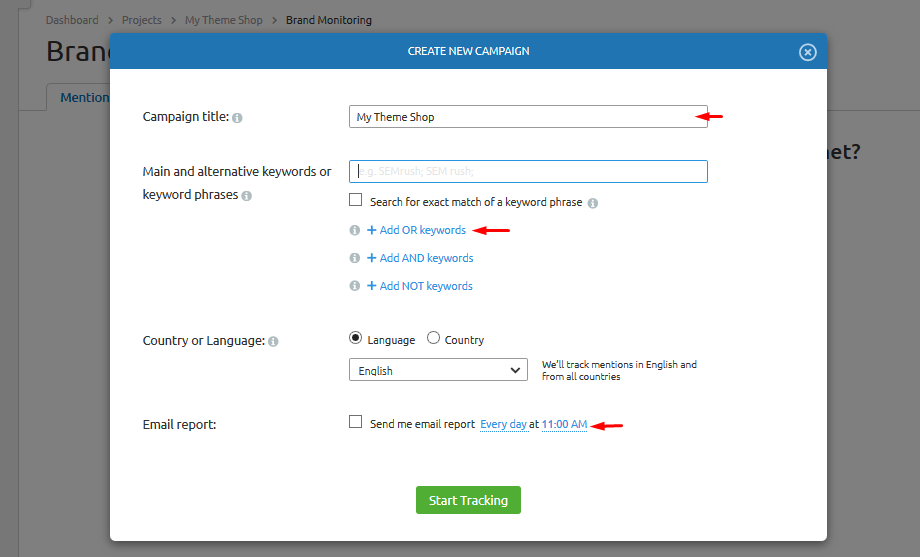 This brand monitoring tool can help guide your content marketing plan since you get the feedback on which content performs well.
Find Your Competitors and Outrank them
In a cut throat, SEO competition it becomes apparent that competitors' ranking data is all the power you need to outrank them. If you had a magic wand and got all your competitors' secrets, you would definitely outrank them.
SEMRush is that magic wand that serves you with all the competition data you would wish for. In a few steps, you can quickly determine your competitor's Achilles heel and when you attack you fall like thunder!
In this section, we will be looking at the different approaches of checking you competitor's strength.
Here are the basic steps that we will learn to implement in detail:
a) Find Your Competitors – This is the first step and can be implemented by expanding the main competitor's list on your domain overview report. This list can be exported to a PDF or CSV and slowly analyzed.
b) Check Organic Trend, Top Keywords, and Top PagesThe main aim is to outrank your competitors, in this regard you should look at their organic trend, identify the top keywords and pages they rank for.
You should use this information to build content on your site that is better than their top pages.
Here is how to spy, strategize and implement these tactics:
6

Identify Your Real Organic Competitors

Identifying your real organic competitors is the first step of competition analysis. You can check your competitors under the main domain overview tool, or you can click on organic search on the left sidebar to display organic search data.

To check the organic competitors, type your domain on the top search bar in your dashboard and select domain overview.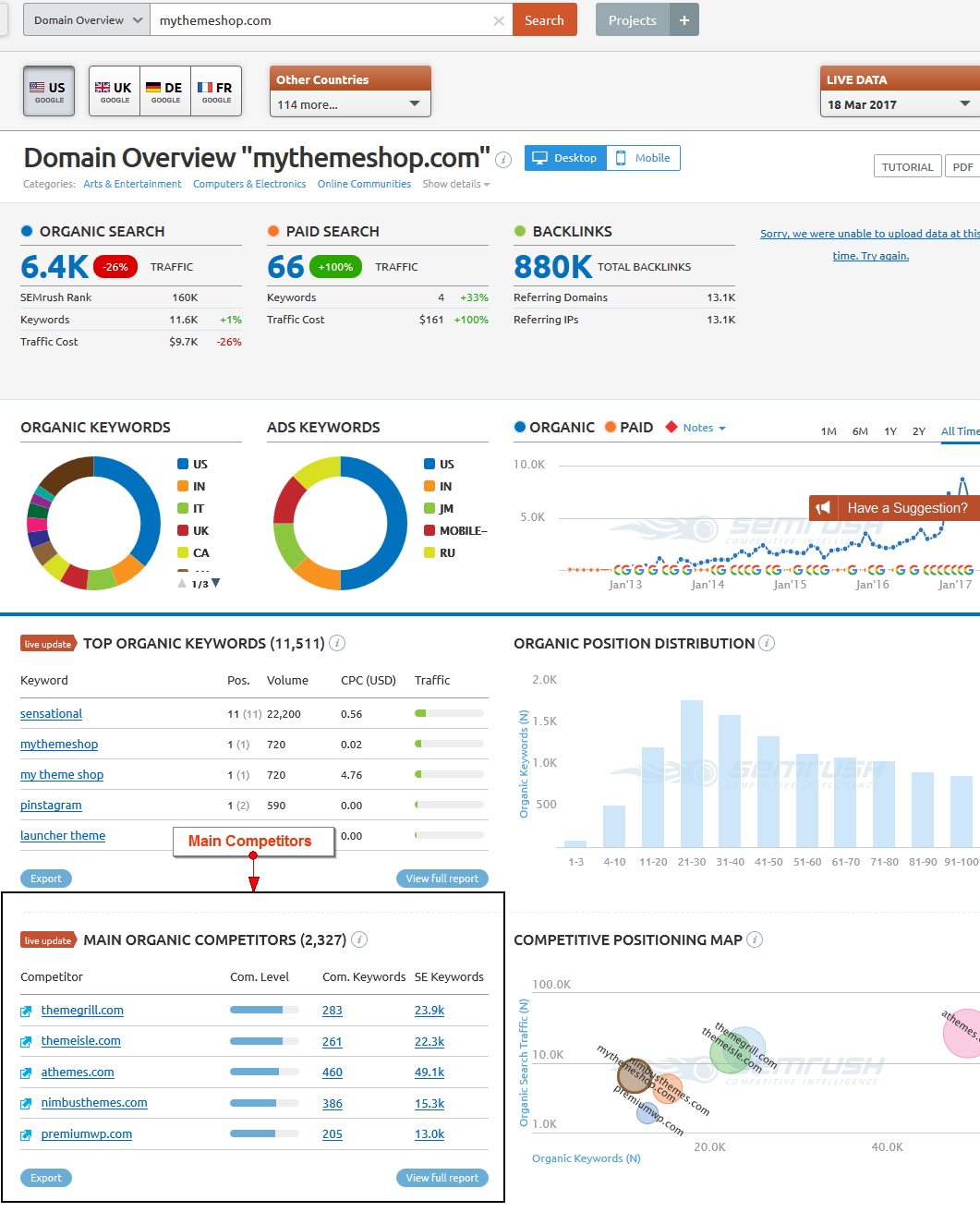 Below the top organic keywords you are ranking, you will see the main competitors section. You should now click on view full report to view the list of all your organic competitors. If possible, you can also export this list for further analysis.
As you can see the results above, the organic competition analysis is well illustrated. The competition level column scores your opponent based on a percentile. The more the bar is full, the higher the percentage.
7

Check Your Competitors Domain Overview Report

To determine the strength of a specific competitor, you can choose them from the list and check their domain overview report. The process is similar like you carried out on your domain on step #3.

The simplest way is clicking on the URL as listed in the report above and you will see all their organic data. You should now begin analyzing every section, paying keen attention to the backlink profile since it largely determines how sites rank.

8

Organic Search Trend

Equally important is the organic search trend that is directly below the domain overview. This trend should help you judge the age of your competitor, top keywords and both organic and paid keywords.

SEMRush makes it very easy to mine specific data since you can click on any link and generate a PDF report.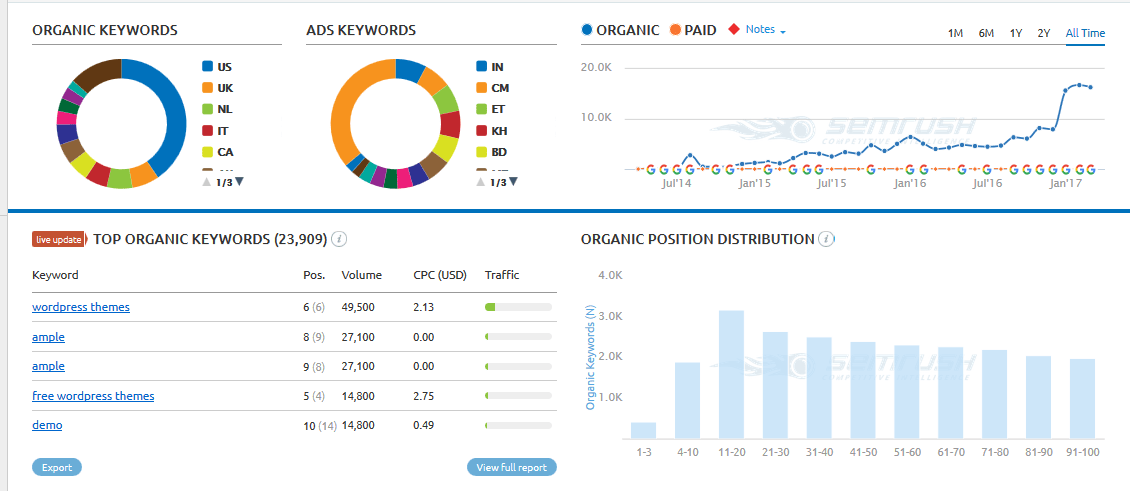 9

Top Organic Keywords

If you can identify the keywords they are ranking for; you can easily target the same keywords. Below the charts, there is a section on the top performing keywords that you can expand to view all your competitor keywords.

SEMRush is an awesome tool since it also shows you the approximate traffic they are receiving with a specific keyword. You can also see the position and the keyword difficulty.
If you have found an interesting keyword you want to rank for too, you can quickly click on the SERP to view the search engine results.
On the screenshot above is an example of a keyword I have selected and clicked on the SERPs to view how it appears in the search results.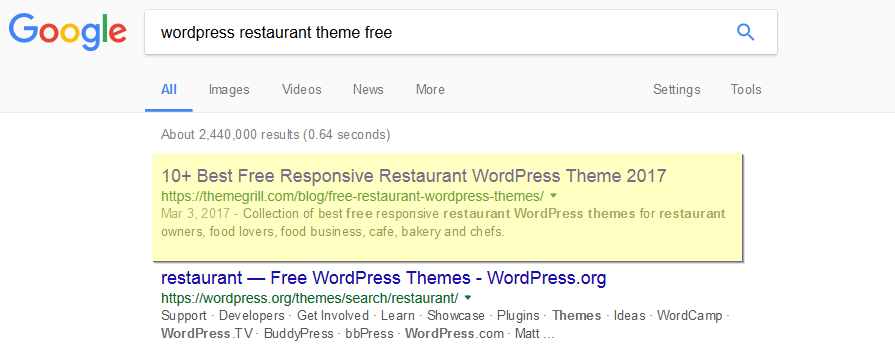 10

Competitor Top Ranking Pages

You can determine which pages your competitor ranks better. With this information, you can visit the page and see evaluate the content and implement on your website too.

To view the top ranking pages, navigate to Organic Research > Pages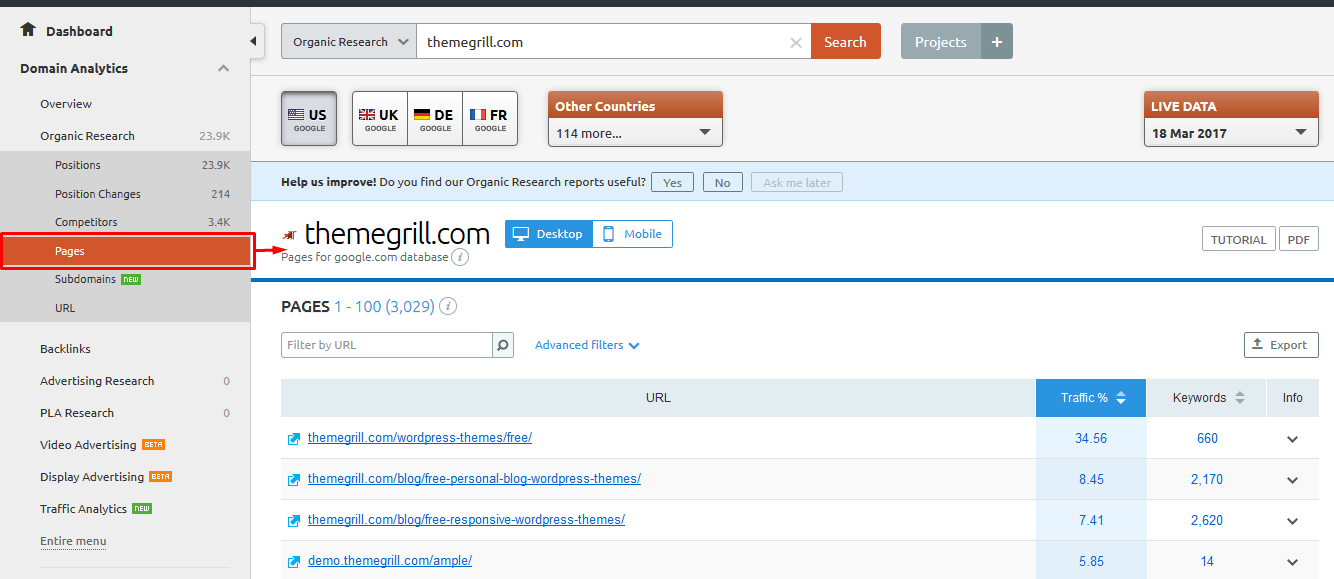 You can repeat this procedure for a number of competitors and find out their top performing pages that you can outrank.
It is advisable you begin by those offering you the least competition and build your stamina and strategy to tackle the fiercest competitors too.
Using SEMRush for Advanced Keyword Research
Keyword research is the first step for the success or failure of any SEO plan. The significance of keyword research cannot be overlooked especially for people starting new websites.
Keyword research techniques explored here are also very useful for an established websites since they can be used to develop new content ideas. SEMRush offers the most comprehensive keyword research tool. From basic keyword research to advanced competitive, SEMRush is simply a 'Swiss Knife.'
In this section, we will be covering nearly everything you need to know about keyword research using SEMRush. Let's look at the important points that we will be covering:
a) Keyword Overview – This section will give you the basic information that includes: organic search, paid search, trend, CPC distribution by country, related keywords, and quick organic search results. It will also show you some basic ads related to the keyword. This will help you to get a quick glimpse of the ranking data.
b) Phrase Match – In this, you will learn to generate the keywords list by volume, keyword difficulty, CPC, search results, trend and advertising competition.
c) Advanced Filter – This filter will allow you to delve deep into keyword analysis. This feature is available on all the tabs and helps to sort the keywords quickly based on the following parameters:
Volume
Keyword Difficulty
Results
Competition
Number of words
Specific words
Related relevance for related keywords tab.
d) Keyword Magic – This is a tool that you can use to quickly generate up to 1 million keywords and save in one single file.
e) Ads History – It shows the keyword data that has been used in PPC ads and the possible ad traffic price.
f) Mobile Keyword Research – SEMRush has this mobile feature that lets you view the same results for mobile traffic.
g) Reports Generation Tools – SEMRush has elaborate tools to help generate PDF, CSV and white label reports for advanced users. These tools work seamlessly and can be scheduled or directly emailed to clients.
Let's now dive deep and learn to use these features.
11

Basic SEMRush Keyword Research

The most basic keyword research using SEMRush can be done by typing the keyword phrase on the top search bar and selecting the keyword research option. Below is a quick illustration: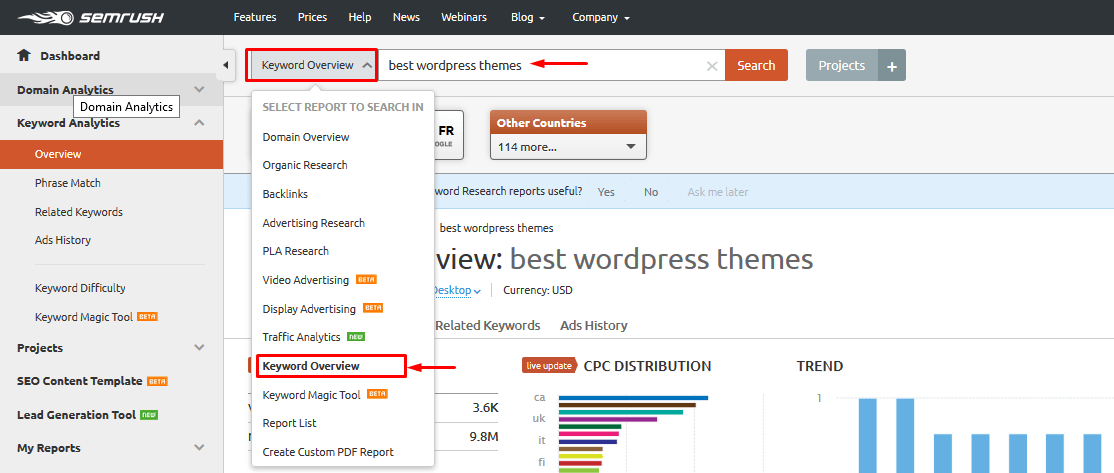 Alternatively, you can click on the 'Keyword Analytics' menu on the left sidebar and select overview. You can now type your keyword and check the results as shown in the image below:

You will now view the basic keyword data that include CPC, related keyword, keyword trend, paid search and organic search. This is a general overview of the specific keyword, and it gives you a rough estimate of the keyword data. There is also a tab for related keywords that is very useful for identifying other keywords you may also want to rank for.
In general, you get as much data as possible for a specific keyword from SEMRush. This allows you to make a quick decision on whether a specific keyword is worth your attention or not.
Finally, with the basic keyword research, it is possible to select a specific country. This allows local SEOs to find data that is relevant to their specific country. There are several countries listed, and you can select your preferred country and search the keyword data.

12

Keyword Magic Tool

On the left side menu under 'keyword analytics,' there is a menu for the magic keyword, which provides you with advanced keyword data. When you click on the 'keyword magic' menu, you will see a search bar where you can type and search

Keyword Magic makes research of the best keywords to be very easy. You can get extensive reports and has the ability to generate up to 1 million keywords within a single file.
The bulk research not only saves time but also delivers efficiency since the keywords can be arranged and grouped in different niches. For this reason, the tool does the magic like no other keyword research tool.
You can also focus on a single keyword within a group for deep keyword analysis.
The keyword magic tool has a top bar that allows users to sort out the keywords based on; words count, competition, keyword difficulty, CPC and SERP features. You can also choose to include or exclude certain words in the list that you generate.

On the sidebar, there is a list of matching words that you can use to refine your search results. From the keyword magic tool, you can add keywords to 'Keyword Analyzer' generate lists and save them as CSV.
The magic tool is tabbed at the top to allow users to add new keywords. The tabs allow for multiple types of research to be carrying out simultaneously.
13

Keyword Difficulty Tool

This tool allows you to estimate how difficult it is to rank a given keyword. This keyword difficulty tool is located on the left side menu under 'Keyword Analytics.' It works in four simple steps:
Type in the keyword you have in mind in the search box or more than on keyword each on a different line, then click the button to show the difficulty.
The results of keyword difficult analysis include; the volume, trend competition, and the SERP source. You can easily sort the keywords using the ascending and descending arrows on top.
To find out the domains used to calculate the keyword difficulty, you can click on the percentage in the difficulty column and reveal the domains.
Finally, you can export this keyword difficulty data using the export button and save as XLS or CSV.

14

Related Keyword Research

If you find that ranking for a certain keyword will be a daunting task, you can consider a related keyword that has a relatively large volume of searches and low competition. SEMRush will assist you to get millions of related keywords that can be the best alternatives.

The 'Related Keyword' tool is a smart tool that accurately produces a list of other keywords that are close to your seed keyword. The Related Keyword tool is located under the main 'Keyword Analytics' menu.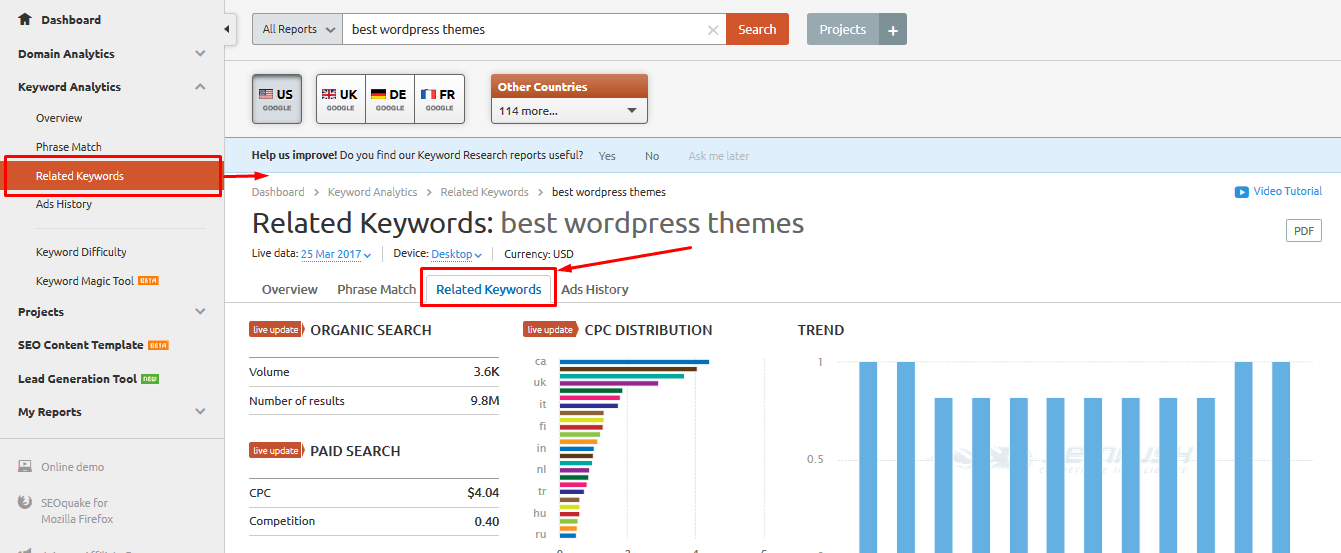 The results for the related keyword research as a column that indicates in percentage their relation. Other parameters are keyword difficulty, search volume, CPC, competition, trend, and SERP.
15

Find Specific Long Tail Keywords

Most long tail keywords tend to have low competition and attract valuable traffic. Finding the good long tail keywords is very easy with SEMRush. You can begin with a long-term phrase on the basic research tool.

Use the related keyword tab to find other long tail keywords that you can target for your campaign. Each of those keywords can be used to generate more specific long tail keywords. A more elaborate technique of using SEMRush to get long tail keywords is through the advanced filter.

Here are the steps to use advanced filter to locate long tail keywords:
The first option 'include.'
Second option select 'no of words' this will ensure you filter the keywords based on the number of words in the phrase.
The third option select 'equal' or 'greater than.'
Type in the number of words you want in the keyword phrase
This shows all the keyword phrases that have at least 5 or more.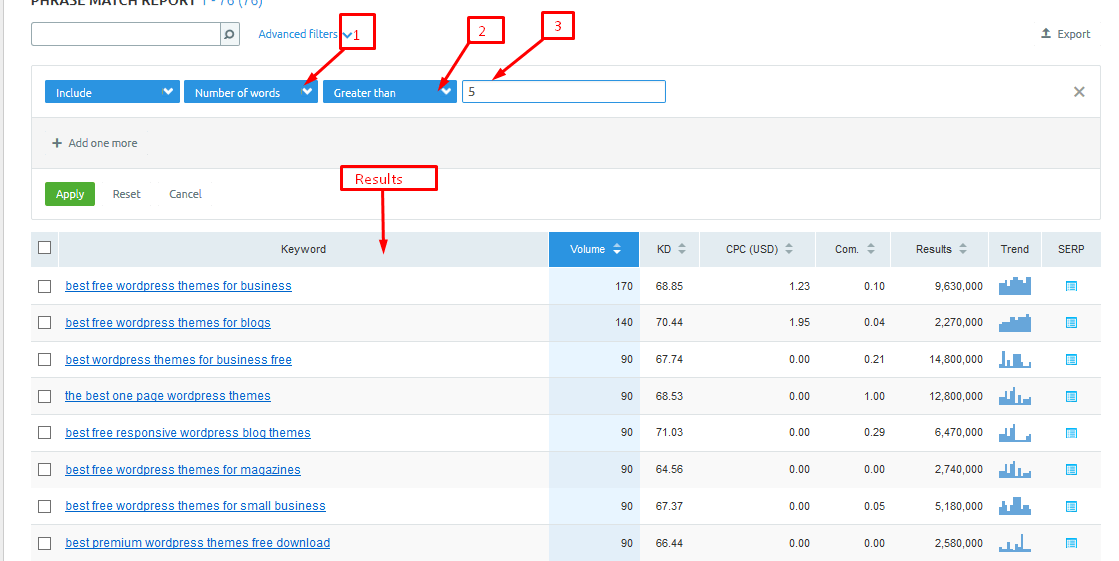 16

Find Keywords Competitors Use in Ads

Finding the best keywords for your ad campaigns on Google Adwords or other Pay per Click advertising platform should be very easy with SEMRush. Under the Keyword Analytics menu, there is a menu for Ad History. The ad history feature allows you to peep into the past keywords competitors have used in ads.

The ad history chart also displays the approximate ad traffic price in dollars.

To check a specific keyword for ad history, begin by searching the keyword normally. Navigate to the ads History tab to view the ad chart. Choose a specific competitor and click the URL to view the ads keywords they are targeting in their PPC campaigns.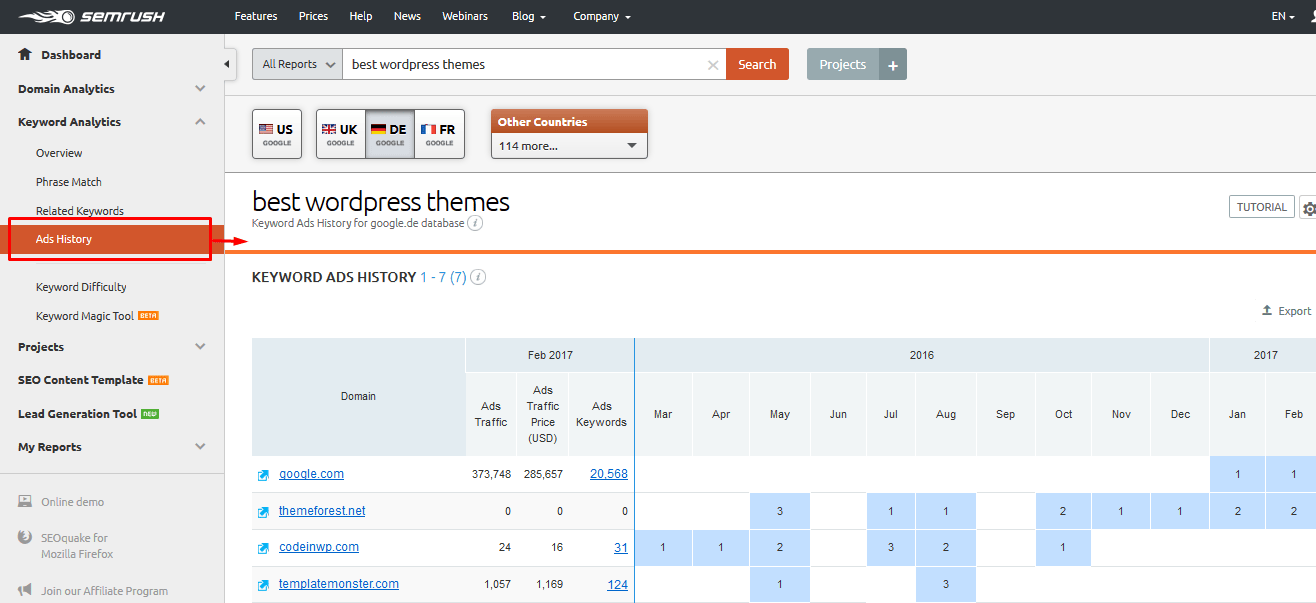 17

Find Keyword for Local SEO

If you are running a local SEO campaign, it helps to localize your Keyword research to your country. With SEMRush this is very easy. Under the country, tab selects the country of your choice as shown in the image below.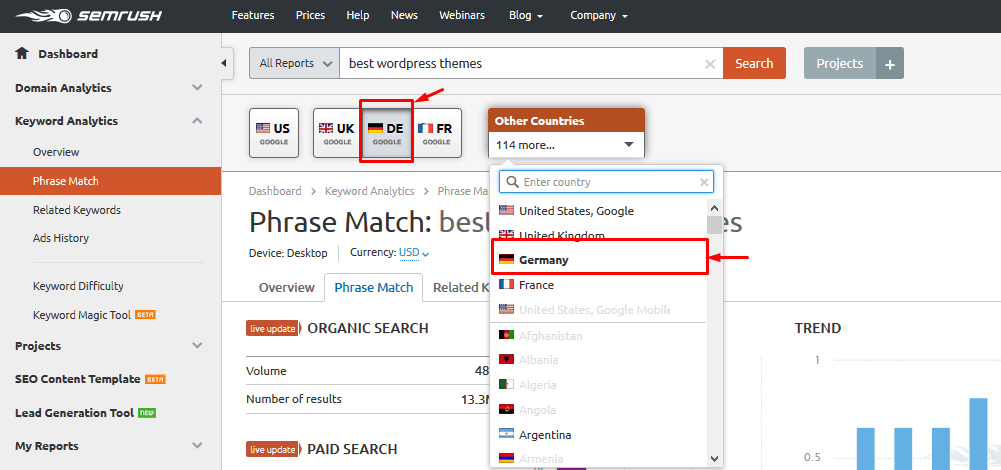 18

Mobile vs. Desktop Keyword Research

With the increase in the number of smartphones, more people are accessing websites through mobile devices. SEMRush allows you to filter your keyword research based on the gadget. You can compare the keyword data for mobile and desktop searches with one click.

The feature allows you to switch from desktop results to mobile results.
19

Find Keywords Based on Cost per Click

If you are developing content for a website that is monetized with CPC ads like Google AdSense, it is helpful to target your keyword research based on the cost per click.

As you may have seen in the images above, there is a prominent column for CPC value on the results. You can drill down to specific and set your own CPC. This allows you to quickly view all the keywords with a Cost per Click equal to your value, greater than your value or less than your value.

Below is an image illustrating how to setup advanced filters research parameters by on cost per click:

20

Search Keywords Based on Volume

Most times when ranking a keyword, it is advisable you don't go for a keyword with high volume. It is easier to rank for a lower volume keyword than higher volume.

In specific cases, you may want to target keywords with only a volume of 1000 and below.

SEMRush provides you with a very easy filter to get all those keywords within seconds.
On the advanced filter choose to 'include.'
The second option select 'volume.'
The third option select 'less than or equal.'
As you can see in the results below, this feature quickly sorts your keywords according to the volume.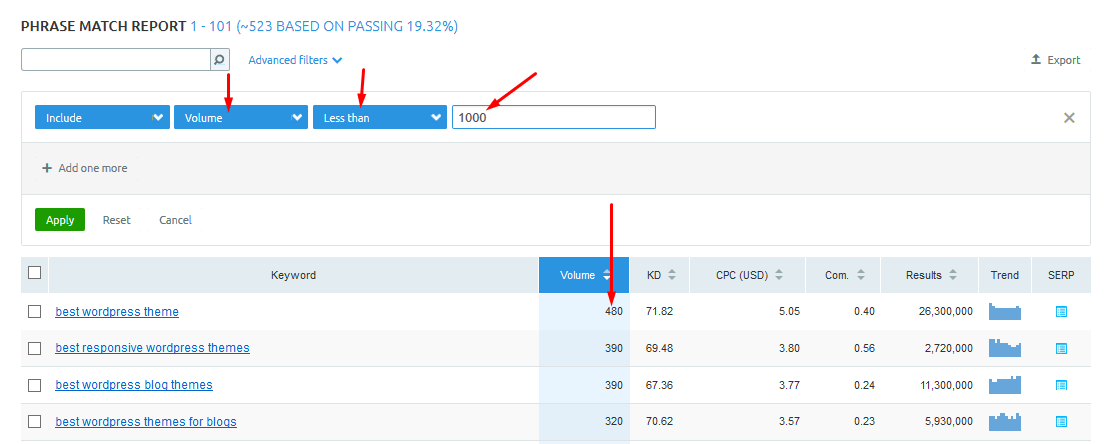 21

Find Keywords Based on Multiple Parameters

SEMRush leaves no room for guesswork since it simplifies your works and delivers results within the shortest time possible. One feature that you can exploit to get in-depth keyword analysis is the 'multiple parameter features.'

Under advanced filters, you can see a button to add more. This button allows you to pass to the filter several parameters and refine your keyword research results.

Example: You can search a keyword based on the number of words and combine it with the CPC budget, volume, keyword difficulty, results in the search engine and competition among advertisers.

Here is the example illustrated below: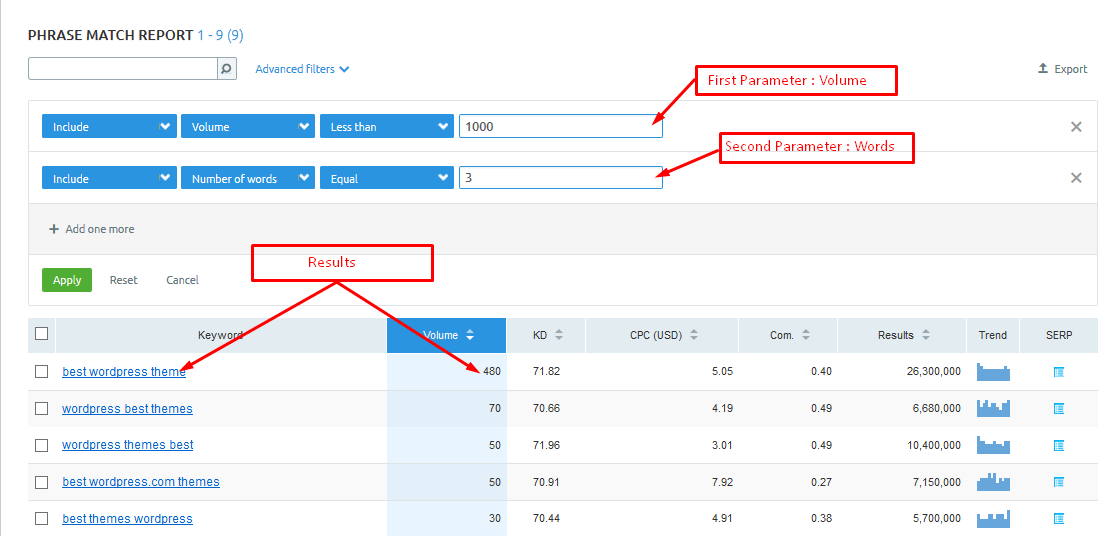 You can choose to combine two or more keyword parameters.
As you can see in the results above, the keywords are each 3 words in length, and each has a volume below 1000.
22

Include or Exclude Specific Word

With the advanced filter, you can choose to refine your results further by either including or excluding certain words. This feature is ideal for researching on exact match keywords

23

Sort Keywords by Keyword Difficulty, competition and search results

Sorting keywords by the competition for advertisers, select it 'com 'as shown in the image below:

Sorting keywords by keyword difficulty, you should select it in the second column as shown below:

Sorting keywords by search engine results select it as shown below:

Link Building like a Ninja! – Data Driven Link Building
SEMRush is among the best SEO tools that provide you with accurate and insightful competitor's backlinks data. Backlink data is helpful when you are trying to build links to your site that match with your competitors.
Viewing your competitor's backlink is the first most important step in outranking them. The backlink profile of competing sites can also be used to estimate the difficulty of ranking a competitor before you decide to take on a niche.
In this section, we will comprehensively outline the various tricks that will help you spy on your competitors' backlinks. Gathering this information will help you to plan a solid backlink strategy since you will get all the backlink data you need from SEMRush.
Let's look at some major points that we will be covering in this section:
a) Backlink Profiling Checking competitor's backlinks from SEMRush would be very easy in 3 quick steps, you will simply need to:
Type their URL or domain on the search bar
Click on the backlinks
Analyze the backlinks using the various parameters provided on the advanced filter.
b) Domains Backlinks Comparison Comparing your site with competitors will never get easier than using SEMRush. You can add up to 5 domains and compare them simultaneously.
Click on the Backlinks
Choose backlink comparisons
Type in your domains and click compare
Analyze your comparison data by clicking on each link on the comparison chart.
c) Sort Backlinks by Age, No-follow, Images & Sub-domains Nothing will save you a great deal of time than a quick SEMRush sort. This tool will help you sort the backlinks based on the number of factors that include; age, type, suffix, subdomain among others. It is recommended that you learn to use the advanced filter to effectively sort the backlinks.
Now, let's look in detail how to beat our competitors using these features on SEMRush.
24

How to View Competitor's Backlinks

Checking competing sites backlinks on SEMRush is very simple. You should enter the competitor URL or domain in the main search bar, and you will see the main page with all the organic ranking information.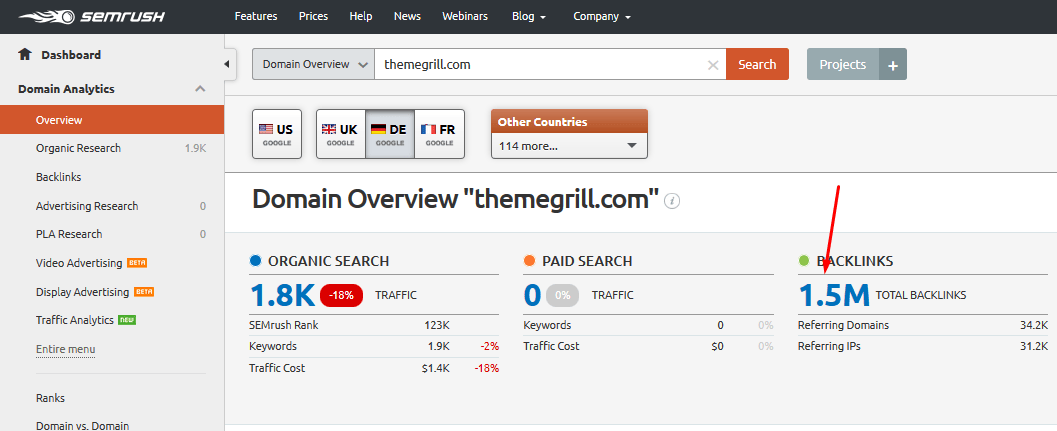 Click on the backlinks, and you now can weed out every link that is pointing to that domain. This report allows you to quickly build similar links to match with your competitor and outrank them.
25

Competitors Referring Domains

After checking your website's backlinks, it becomes easier if you navigate to the next column of referring domains.

The referring domains column helps you to weed out repetitive backlinks, and you can have a clear picture on which domains the links are coming from. The main objective is to find out the sites linking to competing sites then figure out how to create similar links too.

To begin your link by link analysis is helpful if you can export the backlink report on a spreadsheet.
26

Identify Subdomain Backlinks

Sometimes it is helpful to know the performance of the entire site of a competitor. You may want to also check subdomain backlinks especially in situations where such a subdomain is ranking higher than your site.

SEMRush allows you to not only check domain backlinks but also subdomains. To check the subdomain backlinks type in the search bar the full URL including the subdomain. Below is an elaborate image on how to check subdomain backlinks.

You can use this backlink information on a subdomain to create superior content on your site that attracts link baits.
27

Backlink Comparison for Different Domains up to 5 Domains

One of the most important tools I regularly use on SEMRush is the backlink comparison. This tool has no match in the industry; it allows you to quickly compare your site to the other competitors saving you time and helps you avoid guesswork in your link building.
Navigate to Backlinks > Backlink Comparison
Choose the domains you want to compare
Then click on Compare
This will show you color-coded results on the performance of each of the domains you are comparing.
You can also check on each of the links for in-depth analysis of each result. They are ranked from best to the worst.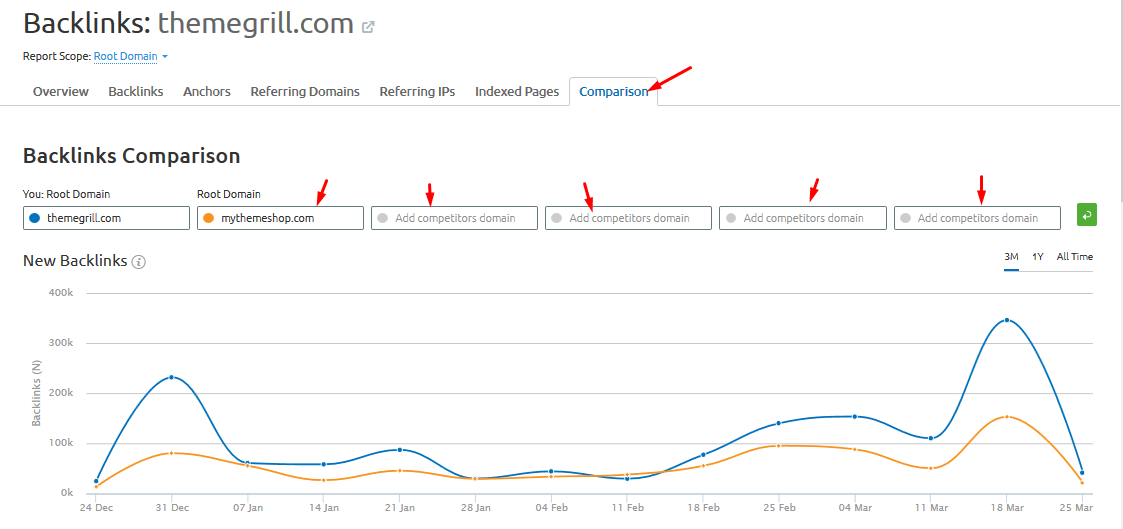 You can quickly identify your weakness and improve to gain better search engine ranking.
28

Age of Backlinks

In SEO the age of links matters and therefore knowing how old your competitor's backlinks is vital. Luckily SEMRush shows you the approximate age of a link in a column on the right. Though most industry experts argue that this data is not 100% accurate nonetheless, it gives you the best estimate of the link age.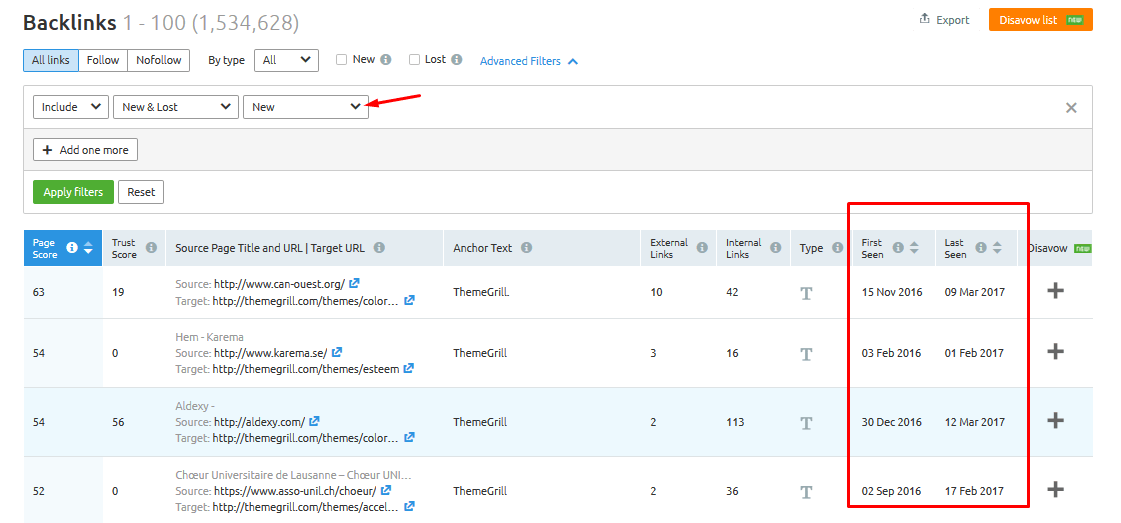 29

Competitor Anchor Text Analysis

The value of Anchor Text is SEO remains very important and cannot be overlooked. You can quickly check and know what anchor text have been used in backlinks and use them too. Though it is recommended that you do not over optimize the anchor text, this information can be a good guide. The anchor text can be viewed as shown in the image below: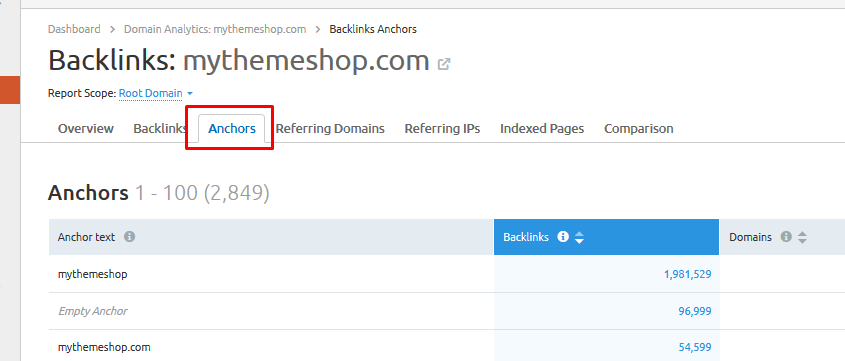 30

Take Advantage of Image Backlinks

Image backlinks are very easy to build, and they are preferred by a large number of SEOs. Finding a quality site with high domain and page authority to post images for backlinks can be a daunting task.

You can quickly use your competitor's data to find image backlinks and replicate them. In the search filter choose 'Include' then 'Type' then 'Image,' see the image below: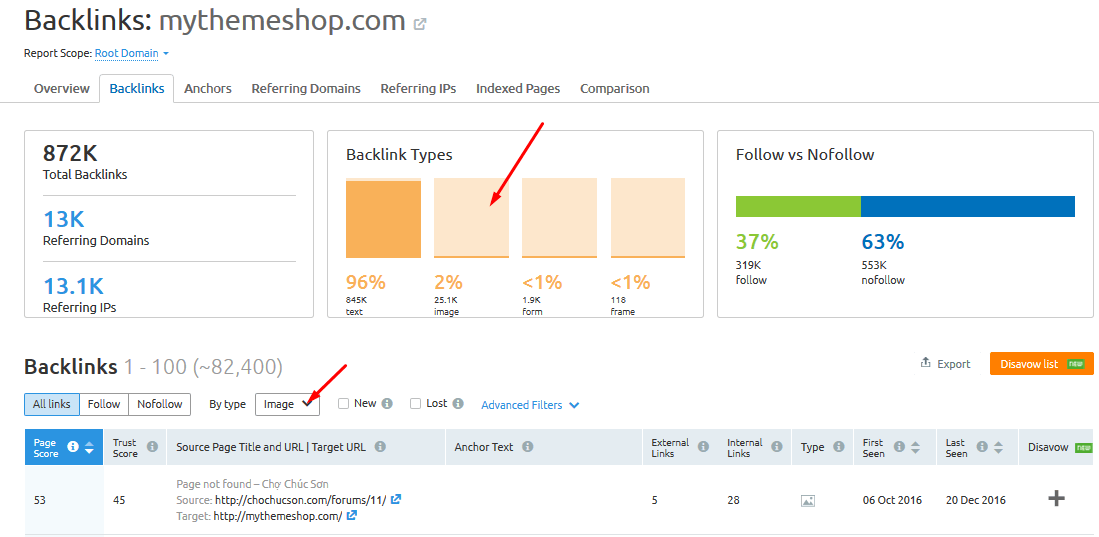 You can also choose to exclude all the image backlinks by choosing to exclude as shown in the image below:

31

Quickly Identify Dofollow Backlinks

When you are link building, you are certainly going to pay more attention to the links that are do-follow. It becomes more fulfilling if you can sort out the competition do-follow backlinks from the no-follow.

To quickly sort those out you have the no-follow choice. You should begin by 'Exclude' option, then 'Type' then select 'No Follow.' The results will exclude all the no-follow backlinks. Below is an illustration on how to sort the links: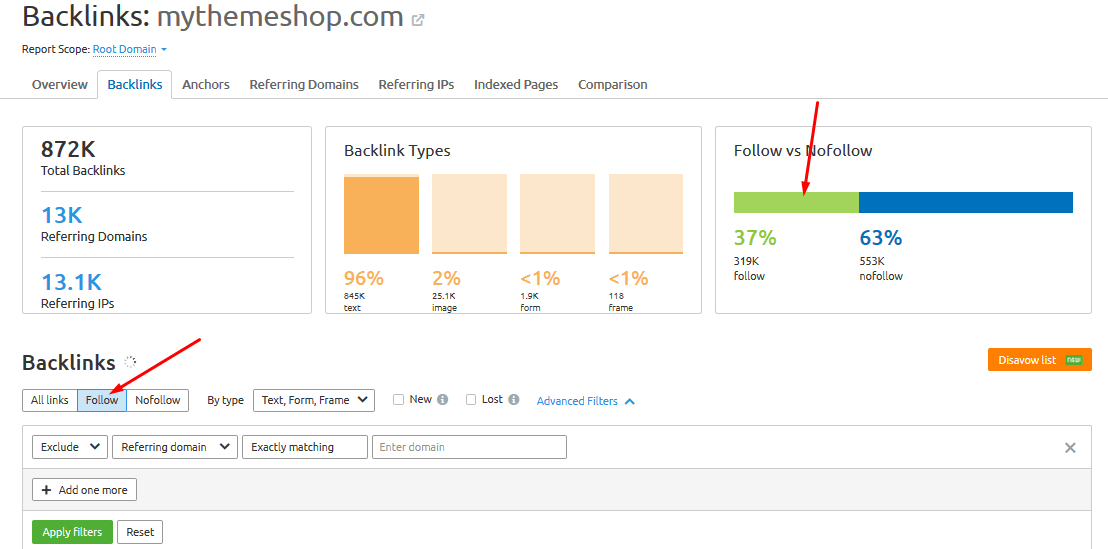 32

Find Backlinks from Specific Domain

You can easily sort links from a certain domain from the long list of backlinks using the exactly matching parameter on the advanced filter.

You can choose to either include or exclude, then select the option 'Referring Domain' followed by ' Exactly Matching' option then you type on the search bar to filter the results. Below is an elaborate illustration:

33

How to Sort Backlinks by Domain Extensions

This feature is very useful when you are looking for easy to link .edu domains. I often use this feature to quickly check where competitors are getting their '.edu.' or '.gov 'domains.

Under advanced filter, you should select to include or exclude then 'Zone 'as your second option and 'Suffix' as your third option. You can use the image below to guide you.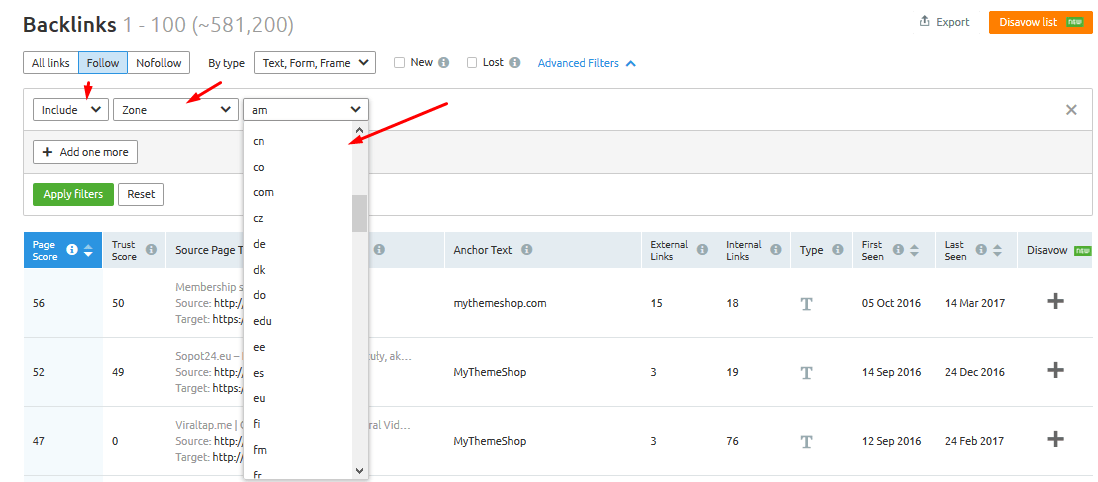 Paid Search Data Analysis
Many people have sunk millions of dollars in Pay per Click advertising since they operate with guesswork. SEMRush data on the paid advertising is the best guide you need to save you from headaches and frustrations resulting from failed PPC campaigns. This information can also help you save money that you would otherwise pay a copywriter to entice your audience with catchy headlines.
In this section, we will be covering how to use SEMRush for Pay per Click advertising.
Here are the main points to ponder in this section:
a) Find Your PPC Competitors Learn how to use the Domain Analytics tool under Advertising > Competition to determine who is competing with you for paid searches and their paid performance.
b) View Competitors Ads For insights on how to create your PPC ads, it never gets better than learning from competition. In this section, we will learn how to use SEMRush to see the ads they are running and identify opportunities to exploit and improve our ads.
c) New PPC Keyword Ideas There is no better place to find profitable keywords than your competitors PPC ad campaigns. These keywords that you will see on the ads will give you a better insight on how to develop your PPC keyword strategy.
d) Ad Titles & Ideas that Work You can get ideas on how to write your ad titles from competitor's ads. You can also check the history to see previous ads that have been tried and tested. This saves you time and the money you would otherwise spend on copywriting.
Let's learn more in details.
34

Identify Your Paid Search Competitors

Paid search competitors at times present a serious challenge since they may be targeting your keywords, but they are not certainly in the same niche.

To check your competitors, you should go to domain analytics, choose 'View Entire Menu' then select advertising and competition. You should now add the competing domain for the paid ads and see the results.

Paid search results will show you the following:
The number of keywords that you are competing for
The number of competitors for this keyword (in order)
The traffic that has been driven by the ad
The approximate cost that they are spending on the ad
The following is the illustration of how to check your paid ads, competitors:
You can choose to export this data so that you use it when you are creating your ads on a PPC network like Google AdWords.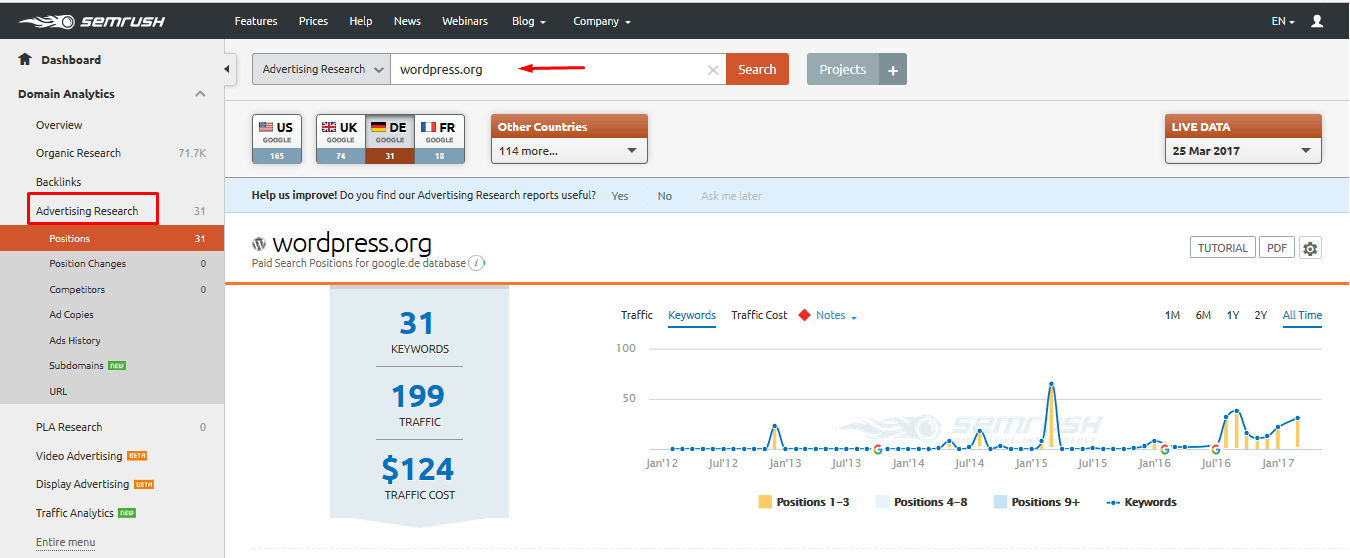 35

View Paid Ads that Competitors are Running

You can check the ads that have been displayed in the previous step one by one looking at the domain overview information. Check the section on the page >Sample Ads to see the ad sample as shown in the image below:

Click on the option to View Full Report button to check details of each of the competitor's ads.
36

Get PPC Keyword Ideas

Finding keywords that are profitable to use in paid advertisements can be very difficult but not with SEMRush. When you check your competitor's ads, you can get keyword ideas to use in your PPC campaigns too. Check for the relevant ads and click on it then check the drop-down menu as shown below:

You can see the results of the keywords that you can use in your PPC campaigns. These long tail keywords can be very insightful and can help you increase your paid ads conversions.
37

Write Catchy Ads Titles from Competitors Ideas

Good ad headlines play a very important role in determining if your ads get clicked or not. Most people will hire a copywriter to get the ads titles, nevertheless with SEMRush you can check the variety of competitor's ads and get title ideas. Here is an example of how you can repurpose competitor's ads to create your ad titles.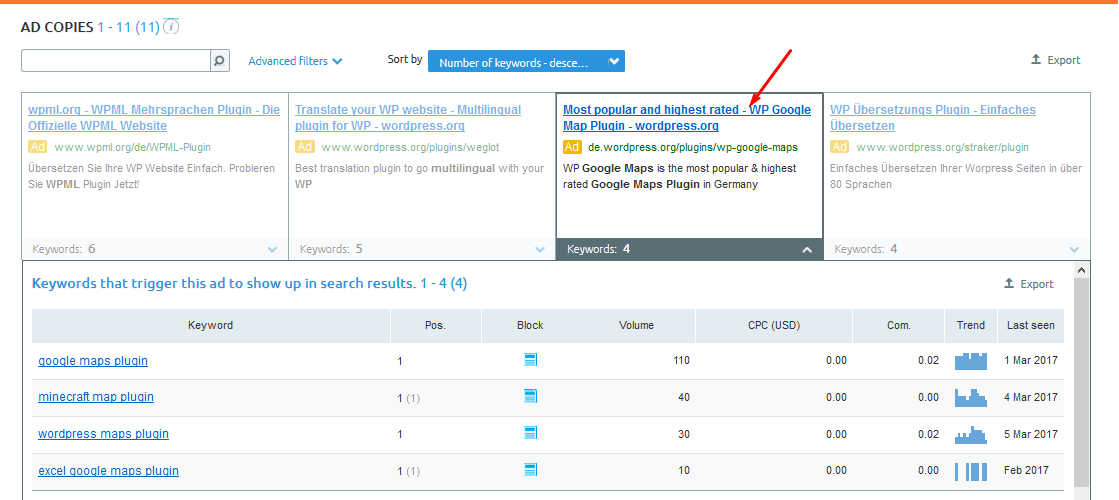 38

PPC Ads Tracking

Another common headache that plagues most PPC campaigns is tracking the performance of ads both own ads and competitors for comparison. SEMRush has an ingenious tool that is purposely made for ad position tracking.

You can easily use this tool to track your competitor's ads and understand their advertising habits. This can identify the best time to place your ads when the competition is low, and they have not placed the ads for maximum exposure.

To check the competitor's ads position changes, go to the main menu click on Advertising > Position Changes, you should see a chart like the one shown below:

The chart above shows the competitors advertising habits, and you can use it for competitive ads placement.
As shown by the chart key, the blue bars show new keywords while the red shows keywords that are becoming popular because of reduced exposure.
When you click on the 'lost' tab, you will see more keywords data that include: lost keyword, position, volume, CPC, traffic and competition that are important indicators of the viability of a given keyword.
With these results, you can identify the lowest ranking keywords that are easy to compete for. Ideally, the keywords should have enough volume, sustainable cost per click and low competition.
You should repeat this process with different competitors and mine for those 'gold' keywords and run a successful PPC campaign.
39

Check Ad History for Keywords and Title Ideas

I have learned that history can never be ignored, most importantly in PPC. Though not all keyword that has worked in the past will pass as 'Gold keywords' most do. Click on Advertising > Ad History to view the previous ads:

As you can see in the image above, the ads are displayed by the month, and you can get the keywords or and the title ideas too.
Take Social Media Marketing by Storm
Social Media marketing remains a thorn in the flesh for many internet marketers who have a limited budget to hire social media marketing experts.
With SEMRush you can track your social media growth, learn how to post content at the right time, compare your social media performance with competitors and intelligently reverse engineer the social media techniques that are working for others.
a) Step 1 – Here is a quick way to get started with social media tool on SEMRush
Go to Projects and click on the specific project
Click on the social media tool
Begin linking the accounts that you want to track
Once you have set up the social media tracking tool and linked the accounts, you should now get ready for the next step.
b) Step 2 – We will also be outlining the important steps you can take to monitor and grow your social media reach using SEMRush. Here are some of the important things that you need to remember about social media tracking when using SEMRush.
Setup of social media tracking – You need to start by setting up your social media monitoring and ensure you link up your accounts.
Monitor your social engagement – The report you get from this tool helps you to analyze social engagement statistics and take action to improve.
Social media comparison with competitors – You can find out how well your other people you are competing are doing on social media. This is particularly useful for those websites that rely on social media to drive traffic.
Know When to Post and Get Viral Ideas from Competitors – It has been proven that ideas that go viral work when they are replicated in a creative way. You can repurpose competitors' posts, titles, and images that have a high engagement for your social media marketing.
Now that you have seen the overview, let's dive deep to learn more in depth.
40

Tracking Social Media Growth

Tracking your social media growth is the best way to improve your brand online presence across all social media platforms. SEMRush provides you with important metrics that help you determine the trajectory your social media reach is taking.

You can track your audience for each social media platform and determine if the audience is growing or reducing. SEMRush also lets you track the activity you have on social media and the trajectory. You can also measure the activity of your audiences like the comments, mentions, and likes.

The tracking is done on a weekly basis and is reported in intervals of 30, 60 and 90 days, but you can also set your custom reporting period or dates. One of the most interesting facts about SEMRush social media tracking tool is the fact that the data is real time.

The data is presented in charts, and you can easily understand the social engagement figures and identify opportunities for growth.
41

Social Media Performance Competition Comparison

Growing a brand online is tough and requires you also compare your brand strength with what other competitors are doing. SEMRush the best tool you can use to compare your social media performance with other competitors.

To set up the competition analysis, set your competitors then update the report as shown in the image below: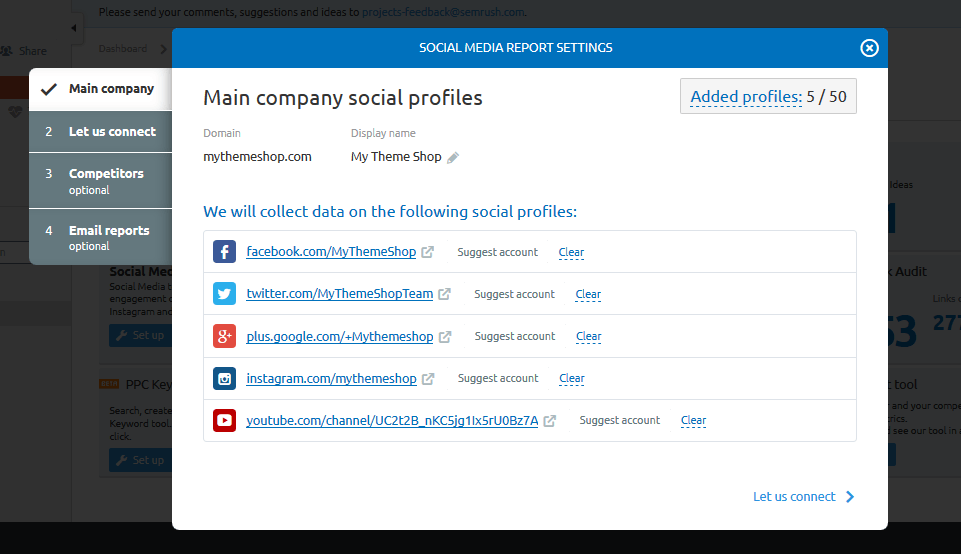 Important note, you should not use your competitor's social media accounts but the domain. This will show you the data of their connected accounts. With this comparison, you can track all your competitors' social media gains and use the same tricks to grow your brand's social media reach.
42

Get Content Marketing Ideas

Content marketing is the new way to promote your brand not only on your website but also on social media platforms. Content marketing requires strategic timing for maximum exposure on the social platforms. SEMRush social media tracking tool, helps you understand the niche dynamics and know when to post content for the best engagement.

To get content marketing ideas, you should click on the Activity Tab. Pay attention to the posts that have been performing well based on the total engagement and the rate of engagement. Adjust the date range so that you compare content, social engagement performance based on the time it was posted.

Follow all these posts to the respective social platform like Facebook and examine the Metadata. Check the time and date to give you a good perspective on when to post for maximum engagement.
43

Get Ideas on Social Media Marketing Titles and Images

When you evaluate competitors' social media engagement data and choose the best posts, check the titles and images used. You can now tell what strategies work for maximum engagement on a given niche.

You should take advantage of this information and reproduce your competitor's success by creating more valuable social posts with the same strategies.
SEMRush in Mobile Marketing
Mobile marketing is increasingly becoming important since more people are accessing the web via smartphones. It's no-brainer that SEMRush includes resourceful mobile tools to help you understand the mobile data in your niche. SEMRush mobile tools should help leverage your SEO and mobile marketing efforts.
Here is a quick summary of what you can achieve with SEMRush mobile tools.
a) Mobile Organic Data Research – SEMRush provides you with both the desktop traffic and mobile traffic data. You can switch between the two with one click. Mobile data gives you insights on how well you rank for mobile traffic.
b) Mobile Responsiveness – SEMRush helps you to check your site for responsiveness and also point out any validation HTML errors that need to be corrected.
Let's learn more about using mobile features on SEMRush.
44

Mobile Data – Organic Research and Keywords

You can get data for both desktop and mobile for every search you make. The most important data is the keyword research, and you can check the difference between desktop and mobile search data.

It is very easy to switch from desktop results to mobile, use the mobile button and desktop to switch in between. Below is an image illustration: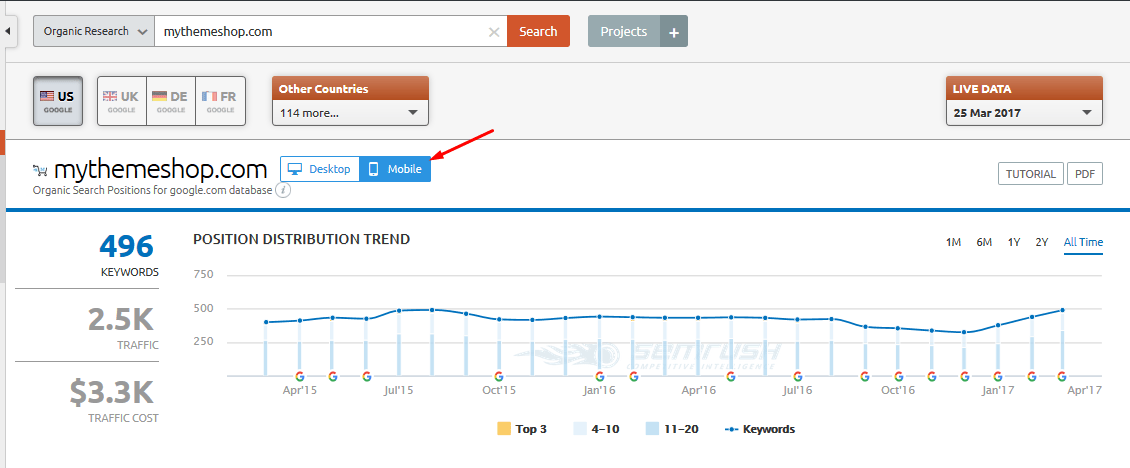 45

Mobile Responsiveness Test

Though there are dozens of tools out there to test whether your website is mobile friendly, SEMRush gives you useful data.

This is presented as a percentage of the pages that are responsive and those that are not mobile friendly. Click on the mobile tab to see the responsive or click on the percentage of the mobile-unfriendly results to see a comprehensive report:

You can click on every page that has text that is not mobile friendly and devises ways to improve the page.
Mining Tactical Organic Ranking Data
SEMRush is a handy tool for 'mining' organic research data to use in your SEO strategies. You can track the organic ranking of competitors for the entire site or page by page. This gives you the best information to identify the opportunities that you can exploit and rank for the same keywords.
In this section, we will be covering the variety of techniques to use when you are analyzing the organic research positions. This will include:
a) Comprehensive Site Ranking Research – This is the first step that includes analyzing all pages on the given site to find their ranking positions. Check the sidebar menu and click on Organic Research > Positions > Type the domain name without the 'www' or 'http' prefixes.
b) Checking Ranking for Specific Pages, Subdomains and Folders – SEMRush allows you to check the ranking position for every page, subfolder, and subdomain. This tactic can be very useful for finding the pages to improve on your site as well as the competitor's pages to outrank.
c) Sorting Organic Ranking Data using Advanced Filters – SEMRush advanced filters allow you to sort the results by specific position, suffix, and specific keyword. This specific data will give you an insight on how to outrank your competitors by improving your website.
Lets now learn how to track the important data of competitors.
46

Tracking Whole Site Ranking

With SEMRush you can track the whole ranking of a site even for large sites; this tool lets you track the performance of each page by the position and the keywords. To check the organic ranking data for a site, you should navigate to Sidebar > Organic Research > Positions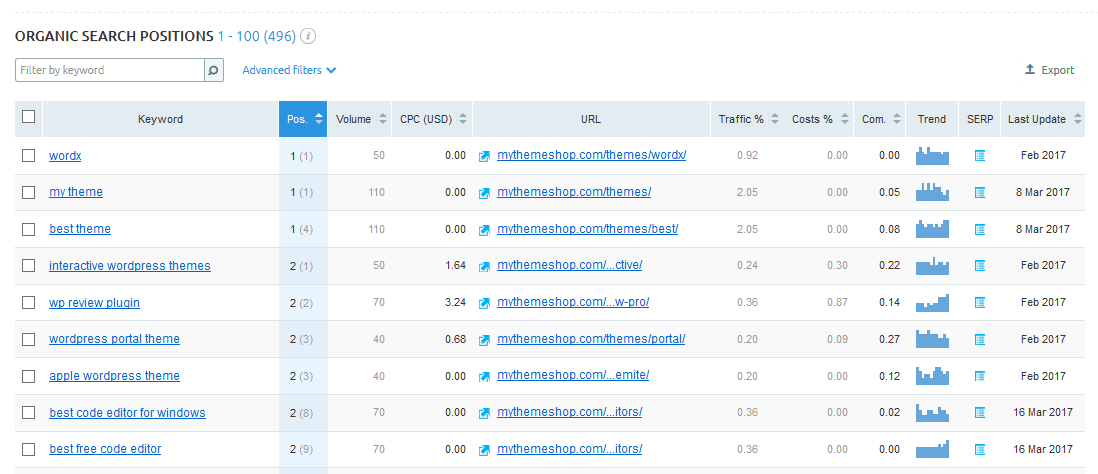 As shown in the image above, there is a list of keywords and the position your site is ranking as well as the volume of the keyword. You can check every keyword to see other sites that are competing for the same. SEMRush lists all the keywords you are ranking for unlike, Google Webmaster console the data is very easy to understand and make a quick reference.
47

Tracking Subdomain Ranking

You can use SEMRush to also check the ranking position for subdomains on your site. Most of these subdomains can be products that you want to increase conversions by ranking high in search results. To search rankings for a subdomain, use the advanced filters;
Select to include
Select URL for the second option
Select containing for the third option
Type your subdomain URL on the
Use the image below to set the subdomain organic research:
These tactics can also be useful for analyzing the ranking for competitor sites and subdomains.

48

Check Specific Page Ranking

For a deep analysis of a specific page ranking, SEMRush comes in handy. You can track the ranking of a given page as you build links to rank higher and increase page authority. Using the previous step, when you click on the specific keyword it leads you to the page that is ranking for that keyword in your site. You can also type the specific page URL on the main search bar, and you will see the same results.
49

Check Subfolder Ranking

SEMRush lets you to also track the ranking for a subfolder in your site. You can check the subfolder ranking by using the advanced filters; choose include option, URL, Containing then type the domain followed by the subfolder as illustrated in the screenshot below:

50

Check Ranking for URL with a Certain Keyword

Again, using the advanced filters options, you can find domains that have a given keyword and the ranking. Under the advanced filter choose Include > URL > Containing > Type the keyword as shown in the image below:
51

Finding Ranking for Pages with HTTPS protocol

This proves to be a little difficult to accomplish with SEMRush alone. You can do this by exporting the data to an excel sheet where you will analyze the data.
52

Checking Ranking by the Domain Suffix

Finding the ranking of domains based suffix is very easy with SEMRush. Use the same advanced filters as in the steps above to filter the ranking by 'Suffix.' Choose Include > URL > Containing > Type the suffix as shown in the image below:

53

Find Ranking Position of Specific Pages on Your Site

If you want to know the pages ranking on a specific position like '3' you can use the advanced filters as follows: Include > Pos > Equal > Type Number in this case '3.'

This trick can also work like a charm when you are spying on the ranking pages for your competitors.
54

Searching for Low Ranking Competitors Pages

You can use the previous step to check the pages that are ranking low on a given domain. Select Include > Pos > Less Than > Type the Position like in step above.

55

Searching for High Ranking Competitors Pages

As shown in step above, the procedure is the same, but you change the last choice to greater than. Select Include > Pos > Greater Than > Type the Position as shown in the image below:

56

Search Organic Ranking Data for Different Countries

As mentioned above in the keyword research step, you can set the data for different countries by selecting the country on the top search bar.

This also works seamlessly for organic ranking data, and you can switch the ranking data from country to country with this option. There are more than 20 countries listed on SEMRush as shown in the image below: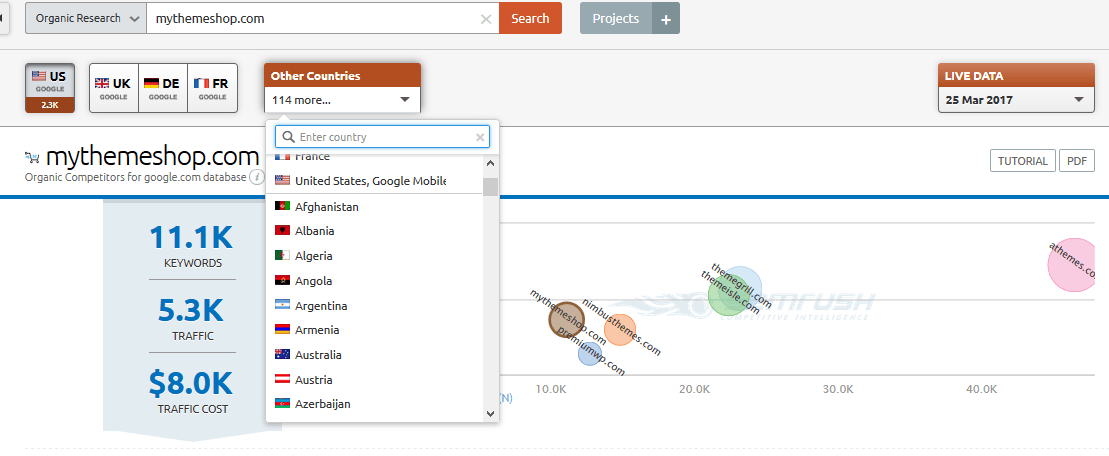 57

Check Bing Organic Ranking Data

Bing is the second biggest search engine and can be a good source of traffic for your website. You can check the same organic ranking data specifically on Bing. Not all countries have the Bing option; you are also likely to see a large drop in the volume compared to Google organic data.
58

Find Ranking Historic Data

I find the SEMRush historic ranking data to be a goldmine because you can easily determine the trend of a given niche by looking at the historic data. You should click on the live data to choose from the drop-down menu the ranking history based on dates.

Traffic Analysis Gets Better with SEMRush
SEMRush newest tool is the traffic analytics tool that allows you to check your traffic and make the comparison with competitors. This is a tool that is still in the beta version but is very useful and worth checking out.
Unlike the Google Analytics, SEMRush traffic analytic tool takes the game to another level. Though the traffic analytic tool is still in the Beta version, it has received rave reviews as a great addition to the existing SEMRush tools.Here is what you can do with this traffic tool:
a) Traffic Analytics – You can analyze the traffic on your site and generate reports of different traffic sources and use it to improve your site.
b)Traffic Comparison Analytics – You can compare up to 5 domains and view several traffic metrics comparison. This feature helps you develop better ways of driving traffic to your site.
59

Get Quick and Detailed Traffic Analytics

To check your traffic analytics on SEMRush, you should navigate to the left sidebar menu and click on Traffic Analytics as shown in the image below: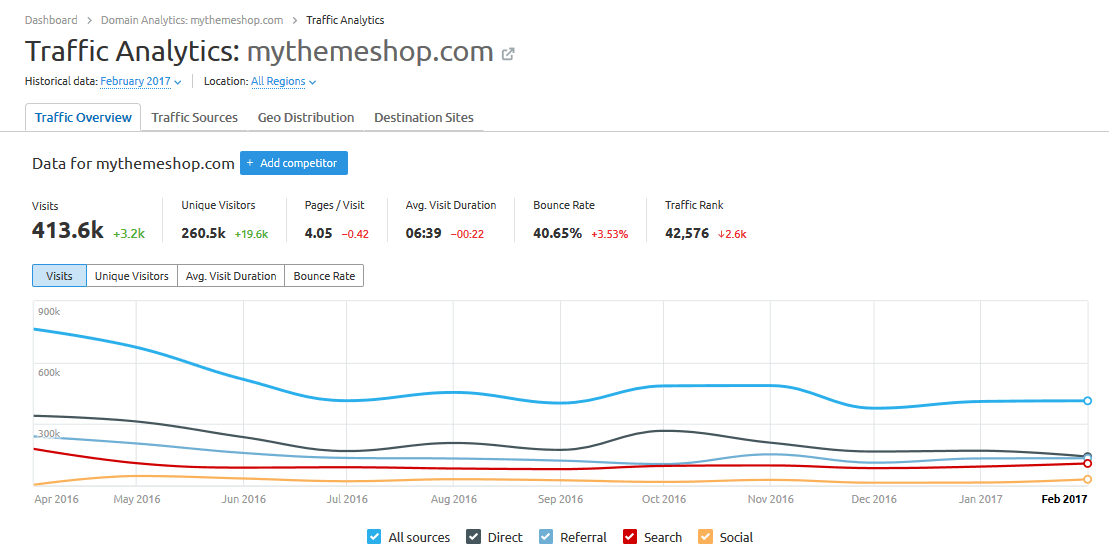 Type your domain name in the search bar to begin the traffic analysis. You should see the general overview of your traffic data that includes: visits, unique visits, visitors per page, duration of visitors among others, as shown in the image below:
SEMRush traffic analysis presents data in a very easy to read and understand format. As you can see you can quickly know the traffic, you get from search engines, social networks, and other referring sites. Additionally, on the section below you can see the traffic by the geographical location which is very useful for marketing.
60

Traffic Competition Analysis

Analyzing your traffic in comparison with your competitor can never get any better than using SEMRush traffic analytics tool. On the main overview there is a button to add competitors as shown in the image below: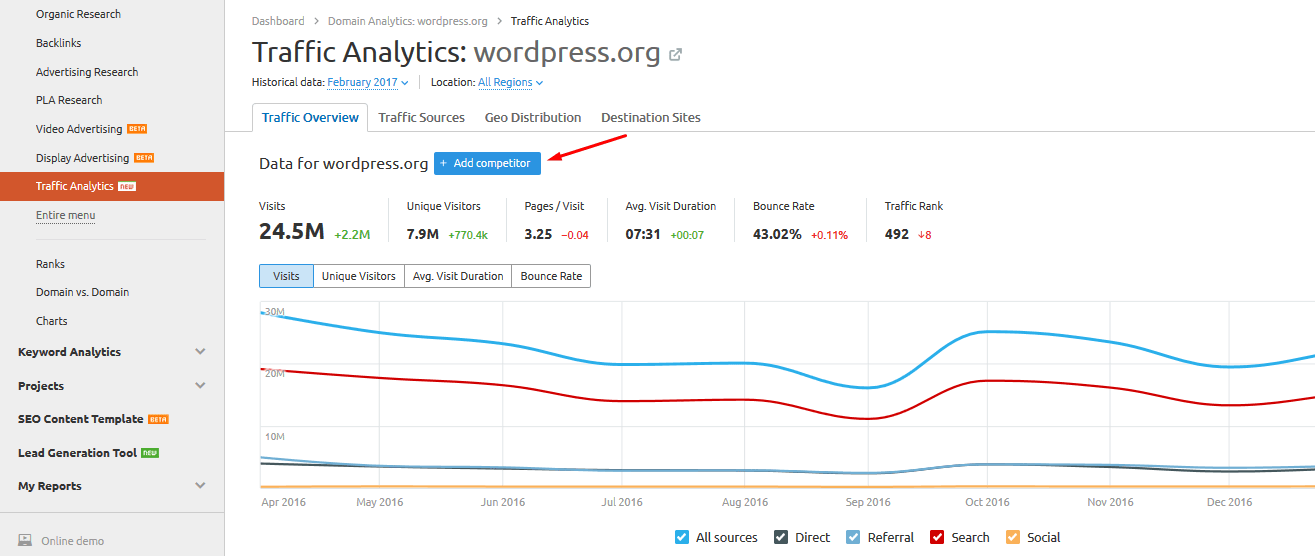 The results of the competition traffic analysis are spectacular since it shows the two sites in with traffic by month illustrated in graphs as shown in the screenshot below: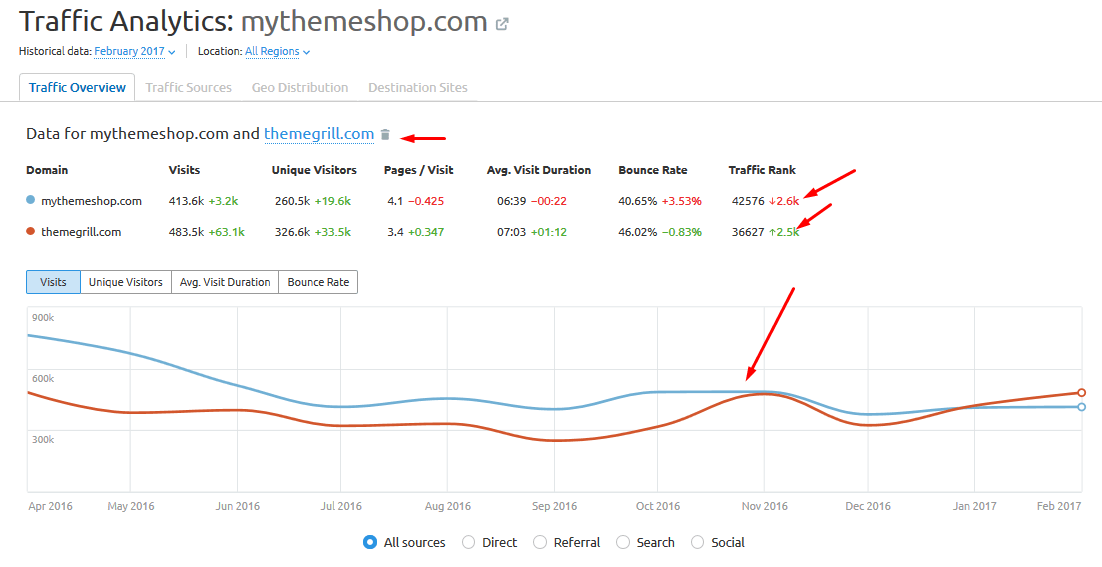 You can quickly know how your competitors are performing compared to you based on the amount of traffic they receive. It gets better since the traffic is also compared based on the country.
This tool not only proves useful for organic competition analysis but can be handy when you intend to by direct ads on competing sites. It is also worth noting that the advanced traffic analysis reports are only available on the advanced subscription.
Bonus SEMRush Tools that Take You to Next SEO Level
SEMRush has several additional tools that you can use to create SEO reports and also to improve your on-page SEO and for marketing.
a) SEO Templates – You can use this tool to quickly create and implement a well optimized on-page SEO template. You can incorporate your keywords and generate the well optimized template for your site.
b) Video Advertising Tool This tool helps you improve your video advertising by researching for competitors videos and the strategies they are using to rank better.
c) PLA Research Tool – This is an ingenuous tool for analyzing the Google shopping ads that appear in search engines results. You can get all the data you need for you to place a competitive ad in the Google Shopping Ads.
d) SEOQuake Add-on – This is a simplified version of SEO tools that is based on your browser allowing you to peep at the organic ranking date for every Google result.
Lets look in details at how to make the best use of these tools.
61

Create SEO Content Templates

SEMRush helps you create SEO content template that can be implemented on your on-page SEO for best results. These well-crafted templates are based on keywords and analysis of the top 10 ranking competitors for that keyword.

The tool simply analyzes the content on rival sites and helps you develop the best ideas for content on your site. Ideally, the tool uses your suggested keyword to analyze the top 10 ranking site for that target keyword and develops recommendations.
To create an SEO template, you should navigate to the main menu and select > SEO Content Template
Type in your keyword in SEMRush main search bar, select country and click on Create Template Button
Check the recommendations and export the recommendations to in a .doc file so that you can use them when building your content.

62

Video Advertising Tool

Creating an effective video ad campaign can be very challenging since video marketing is very competitive. With the Video Advertising Tool on SEMRush, you can quickly discover the strategies that are working for your competitors and employ them in your video marketing campaigns.

Video Advertising tool uniquely aggregates data from YouTube in-stream video advertisements as well as channels. You can use this data if you are a channel owner or YouTube advertiser.

This tool allows you to quickly see the videos and the keyword data and the top advertisers. To begin using Video Advertising Tool, you need to navigate to the main sidebar menu > Domain Analytics > Video Advertising Tool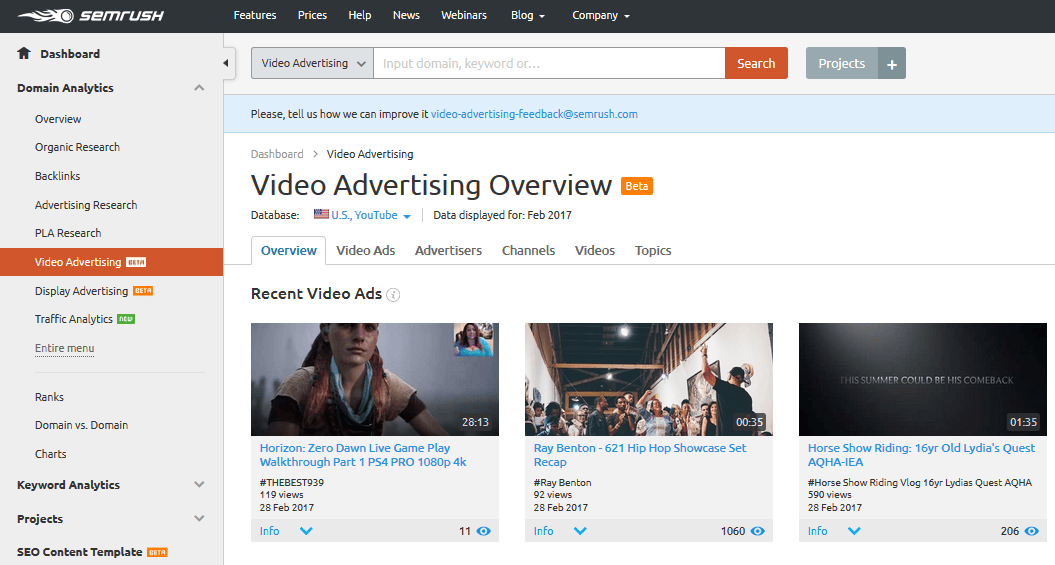 63

PLA Research Tool

SEMRush PLA research tool is an advanced tool that allows users to analyze the product listing ads data based on the performance of Google Shopping Ads. These are the ads that are displayed when some searches for a certain keyword and are listed under the shopping tab on Google. Below is an example of Samsung watch ads: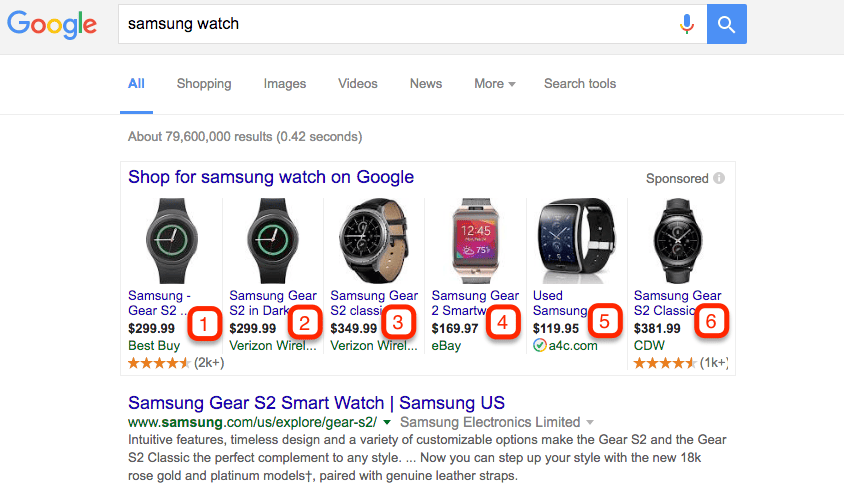 PLA research tools allow you to check the ranking of competitors for certain keywords in the Google Shopping Ads. The data from this tool is useful if you are placing an ad on Google Shopping and will be the best guide on outranking competitors for certain keywords. To access the PLA research tool, navigate to the sidebar menu > Domain Analytics > PLA Research, as shown in the image below:
Types on the search bar the domain you want to check the Product Listing Ads, like in this case I have used eBay and the following are the results: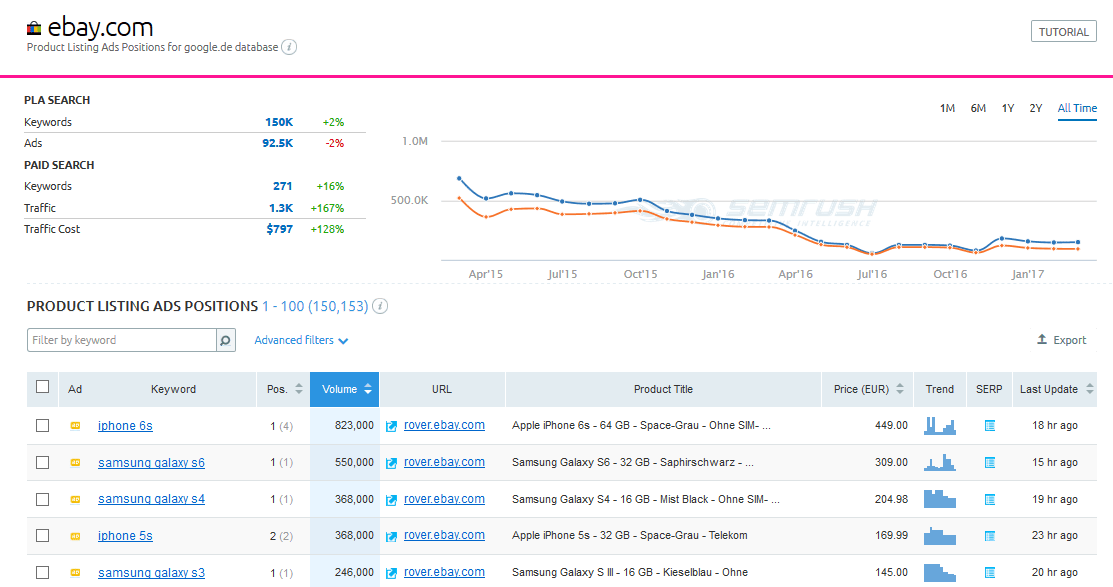 As you can see the product listing ads websites are displayed with the keywords and the position, volume, ad titles, price, trend, and SERPS. You can click on each of these columns to analyze the data further. This data also relates to the organic search for each keyword and it's very helpful for paid advertising strategies.
64

SEOQuake Add-on

One of the oldest tricks I have used to estimate competition of different sites is this little tool that is the same company behind SEMRush.

SEOQuake is an add-on on your browser, and it has proven useful for millions of SEO to quickly analyze web pages as you visit them. You can download the plugin on both Firefox and Chrome.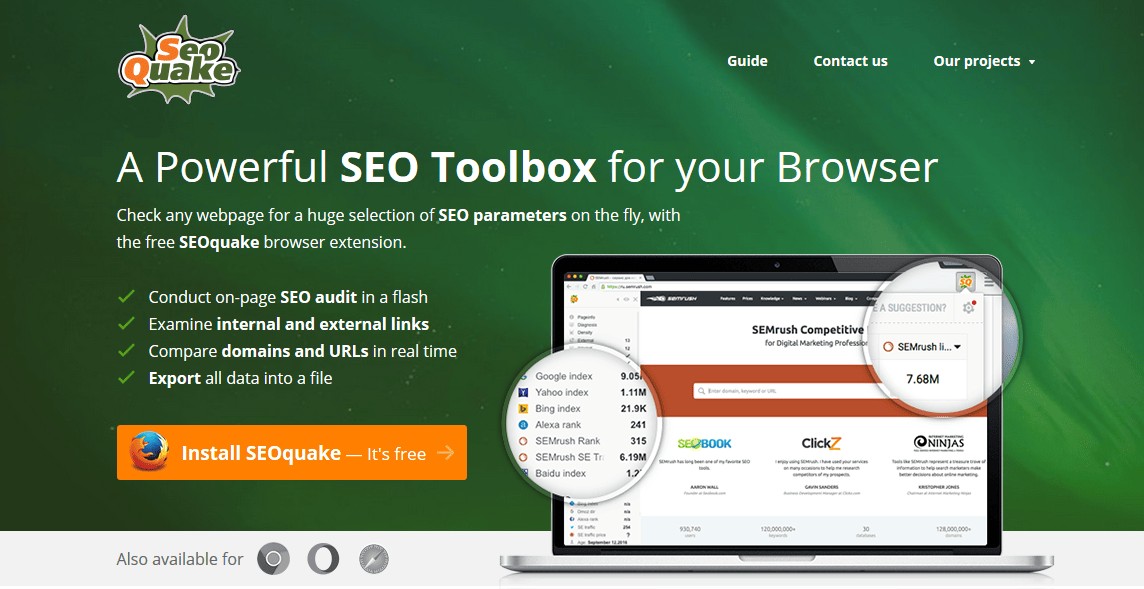 When you have SEOQuake enabled you can quickly take a glance at the variety of live data regarding a certain website directly on the search results.
SEOQuake shows you the following data:
Indexed Pages
Number of backlinks in Google and Bing
Approximate age of the domain from web archive
65

Reporting Tools

SEMRush makes it very easy for a marketing agency or independent SEO experts to generate quick, insightful reports for clients. Under My Reports menu on the sidebar, you can quickly generate SEO report; you will like this report generation tool.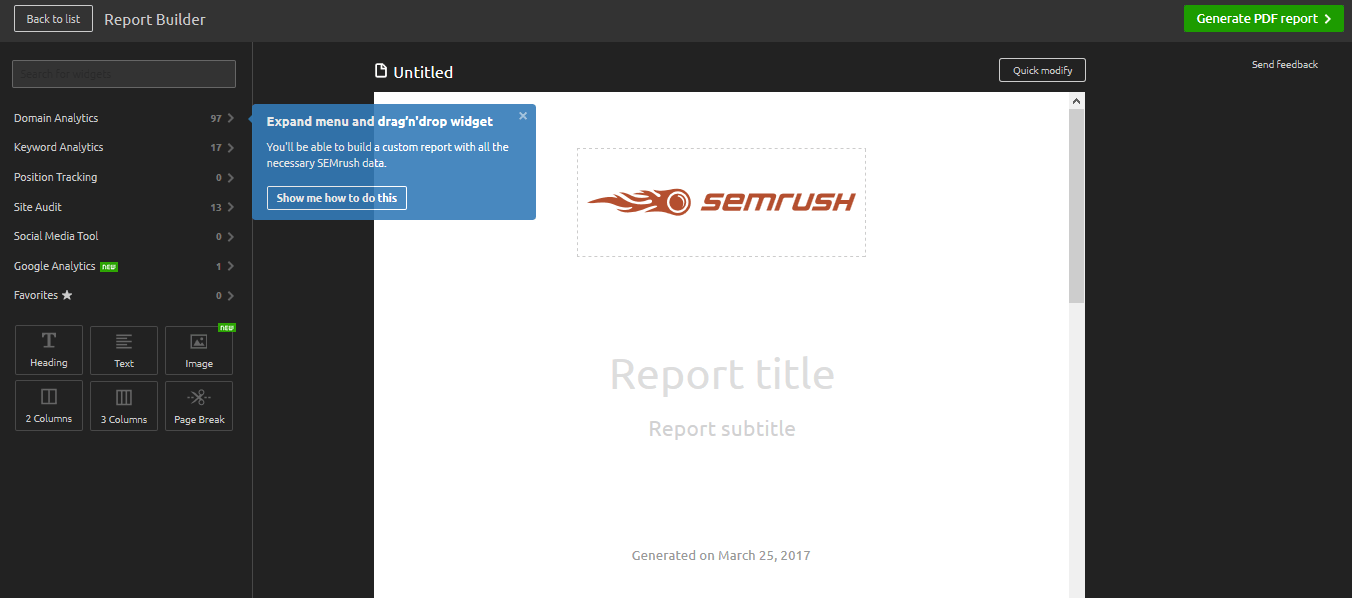 You can create personalized reports that that have a professional layout ideal for clients as well as SEO team with SEMRush. You have control over what appears on the reports, and the interface is very easy to use and to create detailed SEO reports within minutes.
You can also get reports in your email by scheduling email reports for specific data like keywords or organic ranking. The reports allow you to track the progress of your ranking and keep improving.
66

SEMRush Customer Support

Before you subscribe to any monthly subscription tool, it may be important to find out how it is supported. SEMRush is a very well supported tool, and this comes as a great benefit for all subscribers.

They are continually updating the tools to make them better. Not only do they create new tools, but also enhance the existing tools to make them better and improve data accuracy.

If you want to learn more about SEMRush updates and the changes on SEMRush, the team provides regular webinars and blogs to enlighten the subscribers. There is also toll-free numbers for US and Europe clients that you can call for support. You can also get in touch with SEMRush support team if you have any problems with your subscription.

Finally, there is an extensive knowledge base that you can use to find answers to the most common questions about SEMRush. This includes quick start videos that get you started quickly on how to use this incredible SEO tool.
SEMRush Plans and Pricing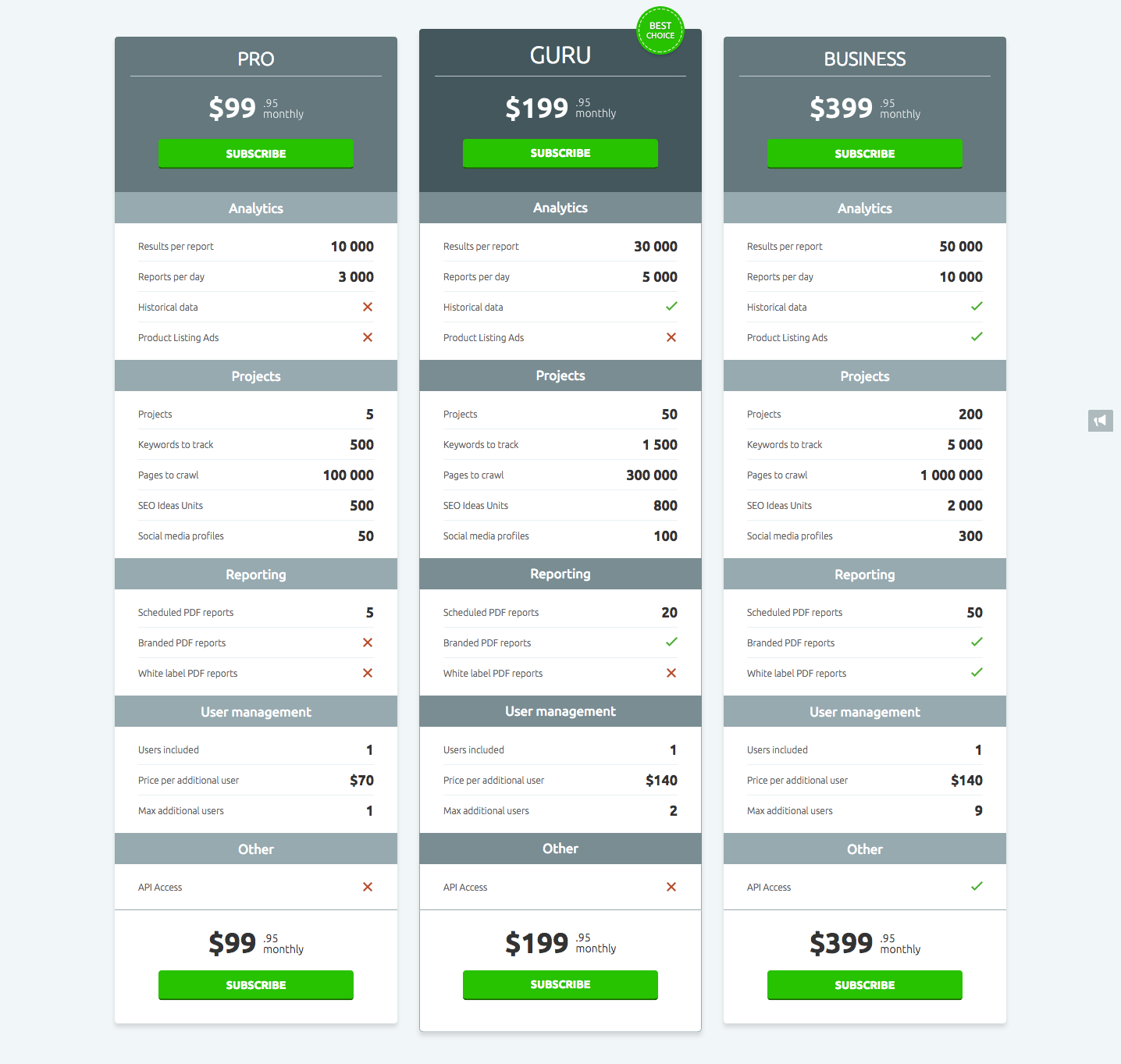 SEMRush comes in three plans that vary in features offered, the subscription plans are:
SEMRush Pro – For this version the monthly subscription fee is $99.95 and you can generate up to 3000 reports per day. This plan is ideal for starters or individual SEO experts and internet marketers.
SEMRush Guru – For Guru Plan, the monthly subscription fee is $199.95 which entitles you to generate a maximum of 5000 reports per day. This plan is the best value plan and is suitable for advanced SEO experts, marketing agencies and internet marketers too.
SEMRush Business – The business plan is the ultimate and allows you to have API access that is not found in the lower plans. You can also generate up to 10,000 reports per day and the monthly subscription fee is $399.95. This plan is ideal for large SEO companies and large online marketing agencies.
The annual billing saves you a few dollars since the annual subscription fees are $999.40, $1999.40, $3999.40 for respective packages.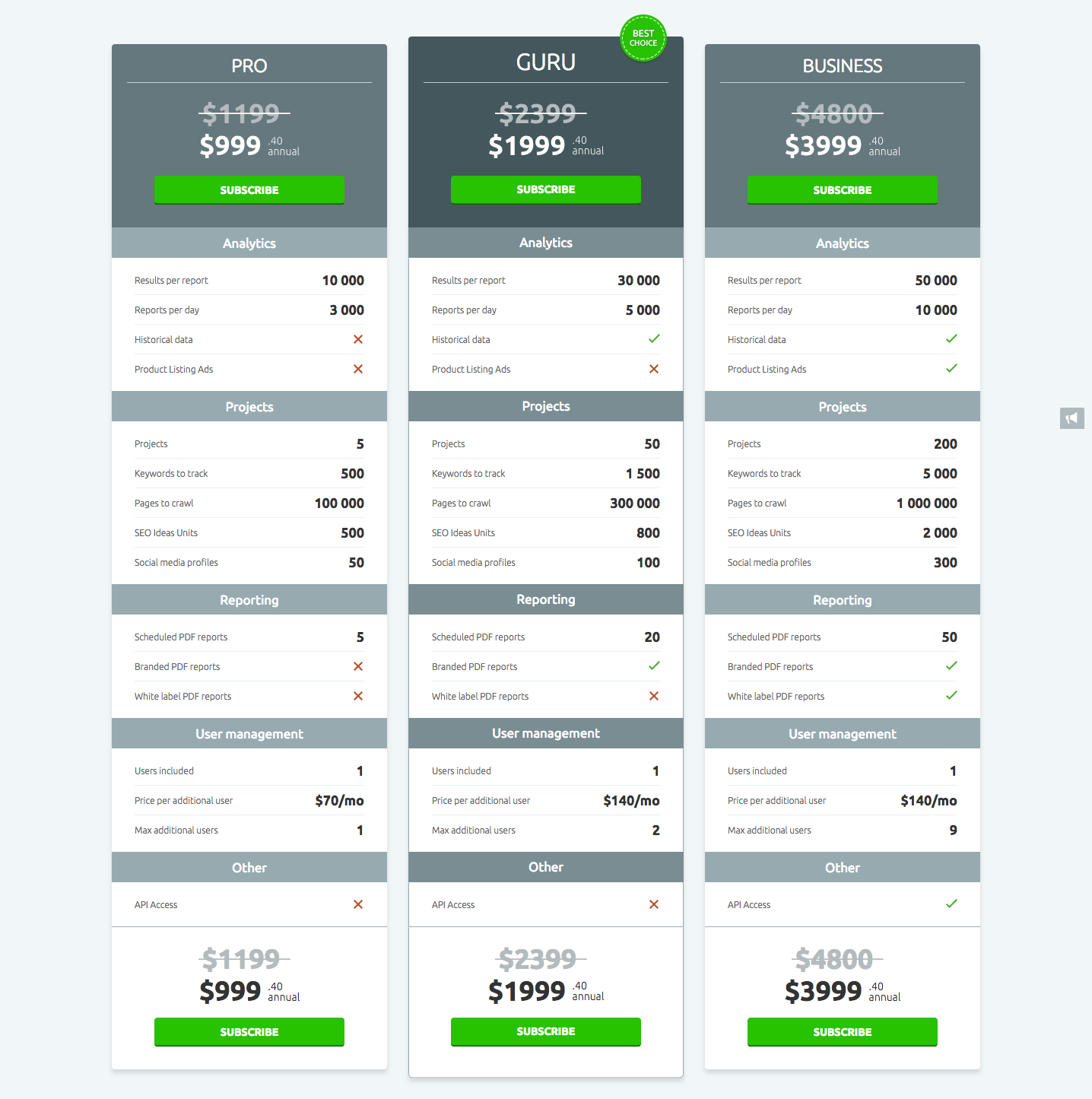 We have got you SEMRush 30 Days Free Trial to help you get started with all the techniques outlined in this article. You can sign up immediately, there are no strings attached, you can always cancel anytime by sending an email to SEMRush team.
Conclusion – Final Thoughts
After this comprehensive review of SEMRush, we can sum up this review in a few words – SEMRush is a 'Samurai sword.' It is hard to come across a tool that does all these SEO tasks and saves you money, time and energy like SEMRush does. Although SEMRush has many merits, there are a few things that people point out as its cons.
These are the monthly subscription plan, its sophistication, and some data is not 100% accurate. If you would like to get started with SEMRush there is a free 14 days trial that you can try to see how it works.