Time flies, doesn't it? Especially when you meet amazing people all the time. 4 Years ago, we started what would later become a well-reputed WordPress product brand. We started MyThemeShop.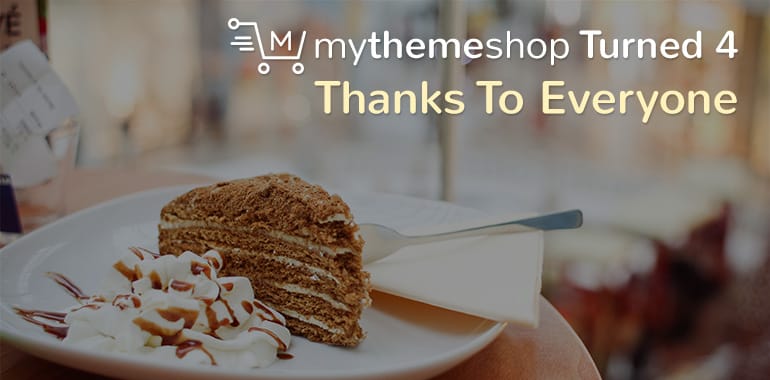 During these past 4 years we have met some amazing people. We have met people like you. People who appreciate our work. People who are willing to take risk with something new. People who always give us feedback that helps us improve. People who are always there when we need a helping hand.
Because of you, a loyal MyThemeShop family member, we are here today and have successfully completed 4 years of running MyThemeShop.
We have learned so much from you. We have listened to your requirements, your needs, your expectations, and your criticism. All this has helped us create better products that are beautiful, effective, and most of all – products that you like.
We have released 121 WordPress themes and plugins since MyThemeShop's inception and we have some amazing products lined up to be released in the next 12 months. We are also going to release a flagship product that we can't wait to share with you. It is going to transform the way you create websites.
We released over 30 products in last 12 months and we plan to release at least that many in the next 12 months, if not more.
Here are some of the main accomplishments that we are proud to share with you:
We have released more than 120 products that includes over 100 themes and 20+ plugins.
We crossed 340K users recently and we are really proud that our products are being used on over 2 million websites now.
More than 30 products released in last 12 months alone with over 100 product updates. That's almost one update every 3 days.
We believe in giving back to the community. That's why we released a free video series on WordPress to educate users on how to use WordPress properly. (Feel free to share the videos with anyone you think will benefit.)
MyThemeShop stands for quality products. This year saw multiple products from MyThemeShop being listed on

WordPress.org

repository. We wear it as a badge of honor because WordPress doesn't approve just any theme or plugin. They only approve the best.
Top internet marketers like ShoeMoney, Matthew Woodward, Zac Johnson use MyThemeShop products which goes to show the quality of our products.
We have now added Google and Facebook login options to make it easy for you to get your favorite MyThemeShop products. We received a lot of requests for addition of this option and our team worked tirelessly to integrate this feature into our current system.
Our product demo bar is now better than ever. Apart from searching for a product, you can test the responsiveness of a product before you buy it.
Last time we checked, our affiliate program was still the best in the industry with a whooping 70% commission rate.
We have added a store credit system to award your purchases with us. Premium theme purchase earns you $10 store credits and a premium plugin purchase gets you $8. Even signing up for a free account earns you $5 in store credits.
Once again, thanks a lot for being a part of our family and all these achievements wouldn't have been possible without you.
– MyThemeShop Team