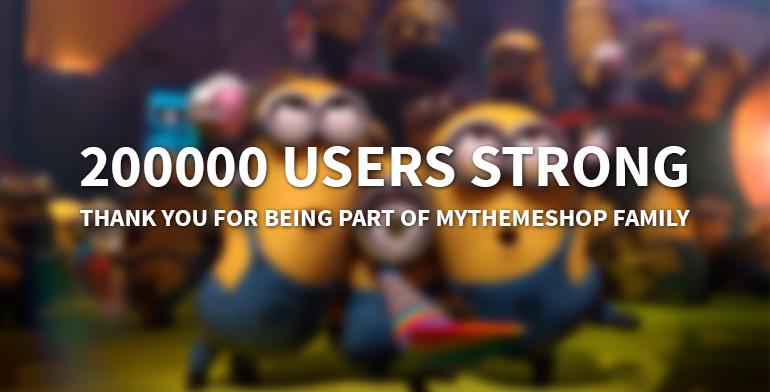 We wanted to take this moment to thank all our users for being part of our small MyThemeShop family. Our 'small' family is now 200000 strong and we are really thankful to everyone for helping us get to this milestone.
What started as a concept at MyThemeShop has now taken the world of WordPress by storm. More and more people are beginning to see the potential of our WordPress products.
We started MyThemeShop to solve a big problem in the industry. Simple themes were, well, way too simple and the good ones took ages to load. We changed that by offering astonishingly beautiful WordPress Templates that load blazing fast.
Not only WordPress Themes, our premium WordPress plugins have also helped our users achieve unmatchable potential from their WordPress blog.
There are a few big benefits of using fast loading products from MyThemeShop:
One: You keep your visitors happy. After all, no ones likes to be kept waiting while the website loads.
Two: You keep Google happy since they want their searchers to have the best experience and let's face it – a slow loading website only ruins that. A fast loading website is in turn awarded with better search rankings by Google.
Three (and this is important): Because your website loads fast and because it looks gorgeous at the same time – more people want to stick around and check out what else you have to offer.
Now, if you have been in the online world for more than a week – you know how big of a factor this is in determining the fate of a website. This small factor can be a difference between ViralNova.com and some-website-you-cant-remember.com
So, are you ready to take your blog to new heights? Don't get left behind and take advantage of our premium themes and plugins right now. To celebrate 200K users, we are running a limited time offer that gives you any theme or plugin for just $9.
Check this page for offer details.
Crazy, we know. But it won't last forever and you only have 72 hours to avail of the discount. After that, it will be discontinued.
Here's to everyone who gave us a chance to prove that speed matters and that hard work never goes waste. And here's another one to many others joining our enthusiastic family.