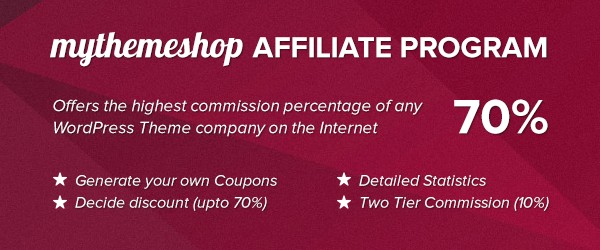 We are rolling out one of the most asked-for features to our affiliates today.
We are just finishing doing the final touch-ups to our coupon code generator and it is finally ready for public use. You can now generate a coupon code from inside your affiliate dashboard and then you can distribute it to your readers. If they end up purchasing any of our themes using your discount coupon, you will earn a commission. It is a win-win situation for you and your readers.
Apart from this, we are also increasing affiliate commission from 60% to an industry-leading 70%. You will now be able to make even more money from your current traffic.
Affiliates also get access to detailed statistics and reports. You can now see which of your blog posts are earning the most revenue and then you can concentrate on generating more traffic to those posts. This way, you will only spend your time and efforts on things that bring in the most revenue. We will also give you unlimited access to all our themes if you earn more than $300 commission in a month.
We are updating our pricing policy from today as well. Single wordpress themes are now priced at $49. We have also changed the price of full membership to $149, and a developer license is now $249. We have a rock-solid support team that is working round the clock to help our customers resolve their issues. We think that the updated price is understandable given the quality of support we provide to our customers.
New users can join our affiliate program here!
We always try to listen to what our users have to say and our decisions are made keeping the user's needs and requirements in mind. If you have any questions or comments, do let us know.