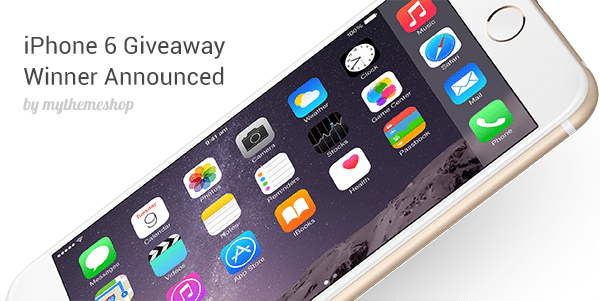 First of all, we would like to wish everyone reading this a Merry Christmas from everyone here at MyThemeShop.
Secondly, I would like to announce the winner of our iPhone 6 contest. A few weeks ago, we started a contest for our affiliates where the top affiliate would win an iPhone 6 (apart from the 70% commission on all sales we usually pay).
Our top affiliate and the winner of iPhone 6 is (drum roll),  Paul Thomas! (p.tho*******@hotmail.com)
Paul, congratulations for being our top affiliate. We have emailed you on the registered email asking for your address. Please revert back so that we can process the shipment.
If you made over $300 with us this month, you get one month access to all our Premium WordPress themes as well. For everyone else that participated but didn't win or didn't make $300, better luck next time. We really appreciate your efforts and you will get paid for the sales you made on January 5th 2015.
Once again, Merry Christmas and happy holidays. I wish you best of luck for the coming year.
Suraj V.
MyThemeShop Team