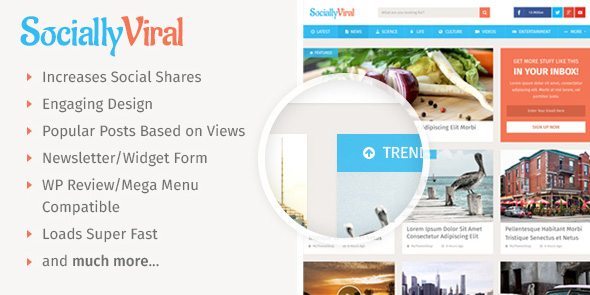 Yes, you read it right. The biggest buzz in the industry right now, ViralNova, uses our SociallyViral Wordpress theme and has reached unbelievable heights of success. If you haven't read the inspirational story, check it out here: BusinessInsider.com
The WordPress blog gets over 100 million unique visitors each month. There are a few reasons why they got so popular:
1. The owner gets things done.
Aside from producing his content, he also took action to do market his site, build a brand, SEO and more. The key point here is if you want to build a blog like ViralNova, read this article on Viperchill and then get started using our SociallyViral theme and take action!
2. Having content is great, but ViralNova also chose our theme for a reason.
One of those reasons is that SociallyViral (like all our themes) is lightning fast, which as you can see in this report is crucial for not only user experience, but also Google search rankings:

3. The enticing headline.
So, one of the ways to boost your views is to make your headline as enticing as possible. By writing a headline that is enticing, but not giving away what the secret or content is, you can coax the reader into clicking on the article and reading through it just to satisfy their curiosity. Here's an example from ViralNova:
When you read a headline like that, you are instantly curious about what item number 5 is, just like every other reader. And therefore, you're more likely to click and read it. Now, this strategy doesn't work on every post, but it does work pretty well for most posts especially in the age of social media sharing and viral traffic. You can also use Quizzes with effective heading to engage more users with your content. For more info, read our post on how quizzes can help you increase your website users.
Take away: It's worth experimenting with a strategy like this, especially since content alone doesn't generate views – it's almost always based on the title and headline that will capture your reader's attention.
4. Our themes are super simple to use.
You don't have to sift through page after page of documentation or watch a 4-hour tutorial in order to understand how to use our themes. You don't have to customize all sorts of files and change code, and you don't have to delete any existing content. Everything is set up from our central options panel, and you can use our custom widgets, shortcodes, menus and more and be up and running with your site in a flash.
Take away: check the live demo here and purchase from here
5. Use an attractive thumbnail.
Our themes have built-in functionality that will automatically select a featured image to show as the thumbnail of your article in the posts lists, and in sidebar widgets. A picture is worth a thousand words, so make sure to use visually appealing images to enhance your site. A thing to remember, always use Stock Images for your blog to avoid any copyright issues in the future.
6. Our themes are responsive and mobile-ready.
Mobile users are on the rise, with so many users browsing from smartphones and tablets, so it's important that your site works properly on those devices. With MyThemeShop's themes, you won't have to worry about your site not working on a specific device or screen size, because our themes are fully responsive and optimize automatically for the best user experience.
With this newly released updated version of SociallyViral, that has all these features and more, and that will help you build a successful blog like ViralNova. Let's talk about what's new in this version:
More control on layout, so you can create your own viral layout.
Whole new framework to be faster and more flexible.
New speed optimizations to boost performance.
Cleaner markup with updated, secured code.
New widgets that load faster and have better features.
New pagination systems implemented. (Ajax)
Built-in translation panel that only loads when requested.
All new typography options to help you customize your site and stand out.