Support -

10/10

Coding -

10/10

Design -

10/10

Usability -

10/10
This interview is part of our initiative to know our users take on our themes, web development and other things in general.
Today, we are interviewing Gily Ionescu. He started his first website more than a decade ago. He now blogs about vegetarian nutrition and is self-taught in web technologies.
If you wish to be interviewed by MyThemeShop, get in touch with us. Only requirement is that you must be using any of our free or premium products for more than 3 months.
Here's the full interview.
A. Who are you and what do you do?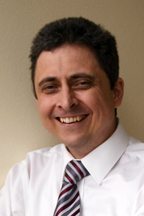 I am wearing many hats, but for the purpose of this interview, I am the webmaster for Vegetarian-Nutrition.info, which is a website presenting evidence-based, educational articles on issues related to vegetarian nutrition.
B. When did you start your first blog or website and how?
I started my first website, DrGily.com, more than a decade ago. I learned the basics of HTML from a book, then used online tutorials to get my hands wet in PHP, MySQL, JQuery.
C. How did you hear about us?
I saw an ad on Facebook. I was looking for a good looking, responsive template that would make it easy to spot new content and share it on social media.
D. Why did you choose MyThemeShop?
I liked the way the SociallyViral theme highlights the content of our site.
E. Which MyThemeShop theme/plugin are you using and why?
I'm using WP Review to allow visitors to review our articles. I also use WP Subscribe (together with MailChimp) to increase our newsletter subscriber base, and WooCommerce to list and sell a few books.
F. One thing that would make MyThemeShop better?
Have a solid anti-spam solution included.
G. One tool or website you can't live without?
Google.com
H. Please rate MTS on the scale of 10 for
Support: 10
Coding: 10
Design: 10
Usability: 10
I. Please share a brief testimonial about your experience with our products:
First of all, I have tried and looked at many WP themes before I chose the SociallyViral theme from MTS. It was not a choice I made on the spur of the moment.
I am very pleased with the quality of the SociallyViral theme. I have seen almost right away a spike of about 25-30% in traffic, mostly contributed by mobile/tablet devices, which was our weak area before, as we didn't have a truly responsive design before. I am also very happy with the solid performance of the product, and have absolutely no significant issue so far. Last but not least, the theme is very easy to use, the included sample pages and posts make it very easy to see how to build a site with it, and the degree of customization possible is simply impressive. Highly recommended!