As much as we try to make sure that everything in life goes according to plan, there are going to be days where everything just goes to pot.
When it comes to WordPress, for as wonderful as it is, there is a good chance that you're going to run into issues and many of them pop up out of the blue. One such issue that is rather common and blindsides many WP users is when, through what seems like no fault of your own, you get locked out of your WordPress Dashboard.
There can be a few reasons for this and scramble to figure out what on earth just happened can leave your brain feeling like scrambled eggs – not fun!
If you're in the middle of this crisis, just take a second to breathe and tell yourself not freak out. As I mentioned before, this is a very common issue on a WordPress blog, so there is a pretty simple fix.
There are a few reasons why this may have become an issue, however, if this issue pops up out of the blue or after you updated your plugins, then chances are that a plugin is a culprit.
We also recommend that you change the login URL of your WordPress site for keeping it away from the eyes of the hackers.
How To Fix Being Locked Out Of Your WordPress Dashboard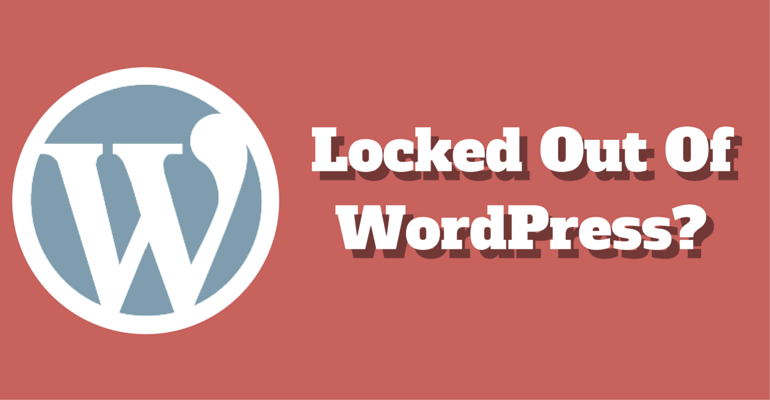 If you've been locked out of your WordPress Dashboard and can't seem to access anything, don't panic. There is indeed a fix for this.
As I mentioned before, the issue most likely resides within one of the WordPress plugins that are conflicting with something and needs to be deactivated or removed from your database.
Before I dive into the technical side of the issue, try to explore other avenues to access your dashboard.
For example, if you use managed WordPress hosting like Siteground, you can submit a ticket and they can resolve the issue. Also, on occasion, if you use a dashboard manager like ManageWP, there is a chance that you can use that to login to your dashboard without any issues to deactivate all your plugins.
If you can't find a way around getting your hands dirty, then sit back and roll up your sleeves because it's about to get slightly technical up in here.
You have two options for resetting your plugins manually:
Use your File Manager in cPanel
Use an FTP Client like Filezilla
For the sake of ease, I'm going to walk your through the quick steps of how to do this via the File Manager in your cPanel. However, if you're comfortable with using an FTP client, you can login into your site using that and follow the same steps.
Deactivating Your Plugins Use Your File Manager in cPanel
Here we go!
Login to your hosting cPanel.
Scroll down to the Files section in your cPanel.

Select File Manager.
From there, a new screen will open showing the files of your website. Scroll down to the folder that says wp-content and open.

After that, select the plugins folder, but don't open it. Instead, highlight it by clicking on it and then select the RENAME option in the top menu bar.

Rename your plugins folder "plugins.hold" and save. (Don't log out just yet as you'll need to do something else in a bit.)
After that, you will have deactivated your plugins and can open a new window tab in your browser and you should now be able to login to your WordPress dashboard.
Go ahead and do your happy dance! I won't judge.
Your journey isn't over just yet, though.
Now that you can login into your dashboard, you need to go back to your plugins folder in the File Manager and change the name of your "plugins.hold" folder back to just "plugins". This way everything will be the way it was before things glitched out and you won't be creating another problem to solve later.
Go through and activate each plugin one by one to see which plugin was causing the issue. If you activate one that creates the same issue, go through the steps again and then keep that one deactivated.
Also, it may be a good idea to contact the plugin's creator and let them know of the issue so that it can be resolved.