Google offers many great services on the internet. When you sign up for a free Google Account, you instantly get access to essential services like Gmail, Google Photos, and Google Drive.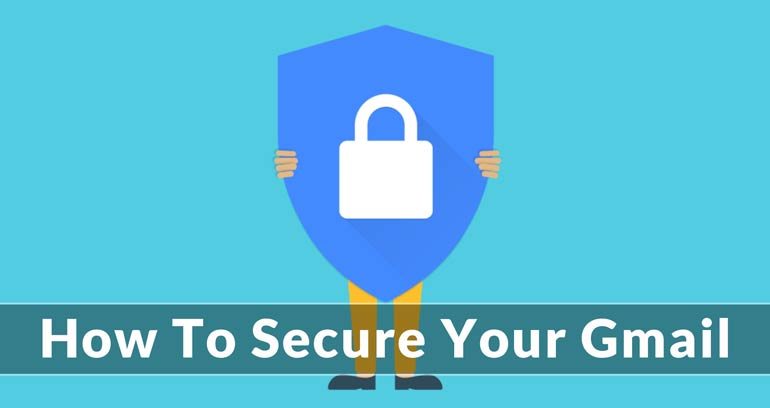 These services are useful for carrying out activities both in our professional and personal life. Thus, it is very important to secure your Gmail account from any unauthorized access.
Google provides you with amazing services that host your sensitive, private data, and require maximum protection against hackers.
Being an industry leader in Technology, Google has taken various preventive measures to keep your data safe and secure at the server-side but, it is your responsibility to take action from your end to make your account secure.
Google provides various options and features to secure your Gmail account. When you use these features, albeit there are some extra steps you need to go through to access your Gmail account, but in the end – it is all worth it.
In this post, we will go through each of these steps to help you secure your Gmail account.
1

How to Secure your Gmail Account?

Although Google takes all the primitive steps with the most powerful and secure system at the server-side, it provides various options to you so that you can enhance the security of your account.

The advanced security system of Google enables you to get instant information if there is any unexpected or irrelevant activity going on with your account.

This way, you can take immediate action to secure your Gmail account and even recover it in the case of any unauthorized access.

Let's learn in detail and know more about how to enhance our Gmail account security.
2

Google Security Check Up

The first thing that you should do is to use the Google Security Checkup for making your Google account more secure.
Click on Get Started which is located just below Security Check Up. After you login, you will be able to access five different options that you can use to secure your Google account.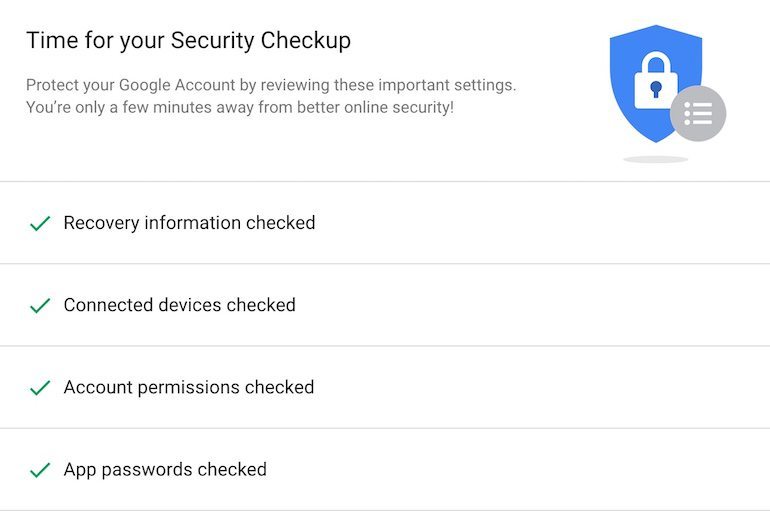 2.1

Recovery Information Check

The first section asks you to enter your phone number and recovery email. When you enter your phone number, you will be asked to verify it.

Just type in code (OTP) that is sent by Google on your entered cell-phone number. Once the verification is done, follow the same procedure for email and simply press Done.

Enabling the phone number for your Gmail account makes it more secure as Google will notify you on your mobile phone if there is any suspicious activity linked to your account.

2.2

Recent Security Events Check

In this section, you can get the information regarding any recent events related to your Google security. You can use this section to check whether there is any suspicious activity with your Google Account.

If you find any, just click on Something Looks Wrong and follow the instructions listed.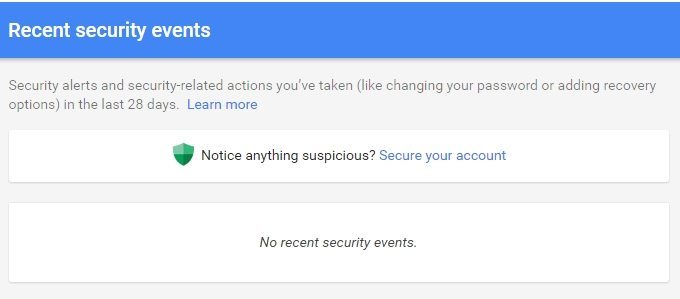 2.3

Connected Devices Check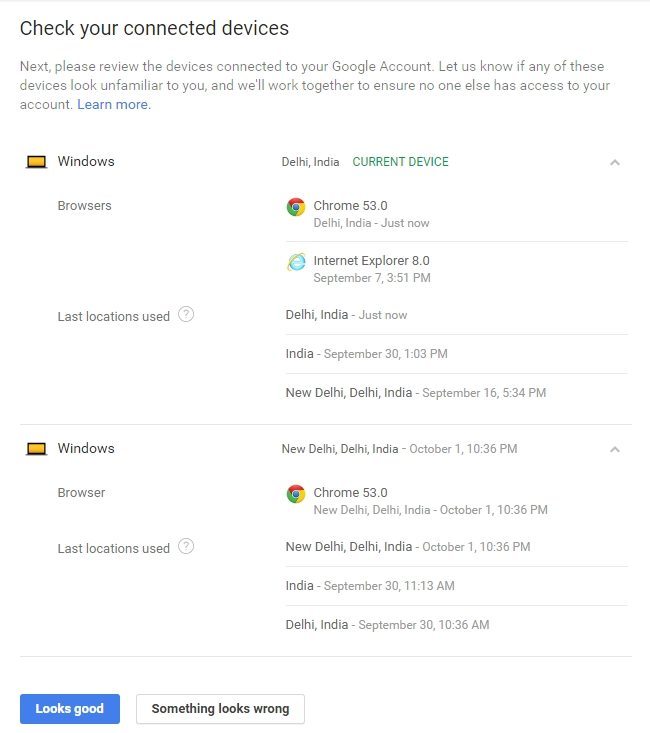 This section provides all the information related to the number of devices connected to your Google account.
Here you can view any unauthorized device connected to your account and remove them. The devices that are listed are the devices that you access your Google account with, including PC's, tablets and smartphones.
If you find something fishy about the connected devices, click on Something Looks Wrong and follow the procedure. If not, click on Looks Good to move to the next section.
2.4

Accounts Permission Check

Here, you get information regarding the apps and websites that have permission to access your Gmail account.

Here you can see all the apps and websites that you have accessed to date using your present Google account. You can remove an app that you find is not useful for you. Click Done after doing all the checks.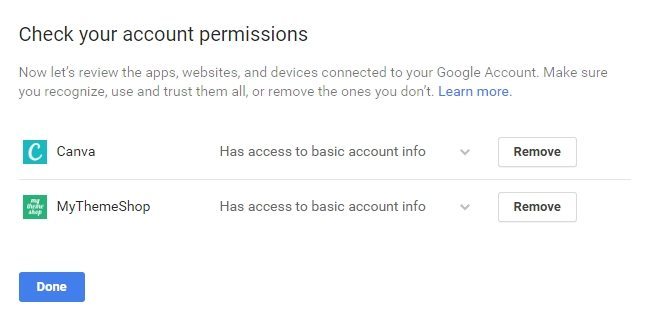 2.5

2-Step Verification Check

Once you are done with all the above sections, you can go ahead and activate 2-step verification protocol.

This function enhances the security of your account and makes it essentially fool-proof by prompting you to enter the security code every time you access your account.

What this does is, prompts you to enter your account password followed by the security code that is sent to your registered mobile phone after you enter your password correctly.

So, even if someone by any chance guesses the password of your account, they won't be able to access your Google Account, not unless they have your phone as well.

You can simply turn this service ON by following the instructions, entering your phone number and then verifying the number by entering the code that is sent to your phone number.

In the end, you will be asked to turn this service ON, once you do, your account will be 2-Step Verified.
So, these are the basics of how you can secure your Gmail account. You can go a step further in securing your account by knowing about the account recovery options. Setting this up will allow you to take your account back in case it ever gets hacked.
3

Account Recovery Options

The first thing you need to do to set up the Account Recovery Options is to Click on your account icon located on the top right corner of your Google Account. From there click on "Sign-in and Security" option.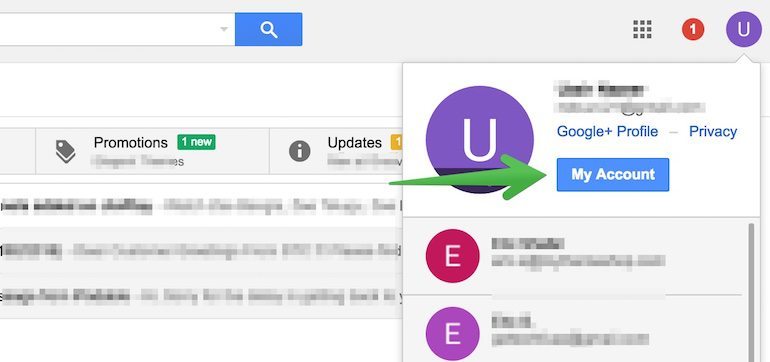 You then need to scroll down the page after which you will see an option for "Account Recovery Options" panel.
From here you can enter either your email address or your phone number or both. This will be used in the future to help you recover your Gmail account.
If unfortunately, you lose the access to your Gmail account in future, you can use the email and phone number you just entered to recover your account.
4

Track Account Activity

In case you are wondering whether your account has been hacked, one way to be sure about is to monitor your account activity and look for any suspicious activity.

When it comes to that, Google has done a fantastic job by providing Activity Information Panel which can be used to track activity on your Google Account.

To access this Activity Information Panel, all you need to do is, sign in to your Gmail account, and scroll all the way down. You will notice a small message reading "Last Account Activity # minutes ago."

You will then have to click on Detail to access all the details including access type, location and date and all other related information about your logins into the Gmail account.

You can also set the Alert Preferences which will allow you to get the notifications about any unusual activity on your account.
It is essential to check this Activity Information Panel whenever you feel there is something weird going on with your Gmail Account.
5

Check Gmail Accounts, Filters, and Forwarding

It is often possible that when your account is compromised, the hacker might have linked your account to any other email account of his.

In that case, whenever you will get a new email, the hacker will get a copy of your email without even giving you any clue about it.

To guard your account against this, you must check Gmail accounts, filters, and forwarding. To do so, Open Gmail from your Browser and access settings located on the upper right corner.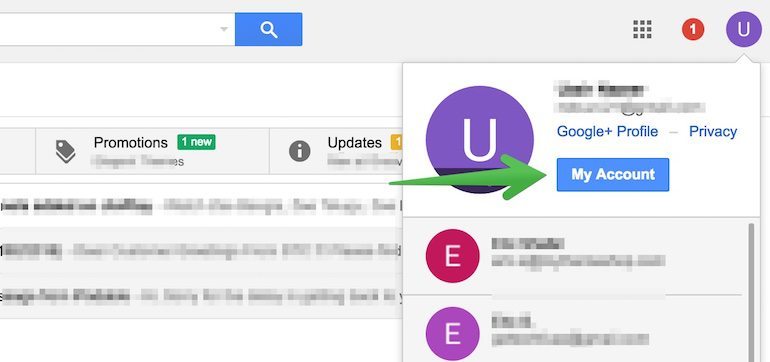 You then need to review the following tabs and settings:
From the Accounts option, you should remove any unknown accounts and secure the ones that you use.
From the Filters section, check whether filters have been put into action. If they have been set up to forward email elsewhere, remove them.
In the Forwarding and POP/IMAP option, clear any unfamiliar accounts where the emails have been sent to be forwarded.
6

Review App Access

An app that you download in the form of a Chrome Extension may sometimes ask for access to your Gmail account.

While some apps do use it lawfully, there are occasions when these permissions can be used as a masquerade to gain access to your Gmail account.

There are three usual filters that you can pass these permissions through to check whether they are trustworthy.
First, always make sure that the apps you download are from Google Apps Marketplace.
Secondly, look for a third-party review of an organization's practices and policies.
Finally, check if the app providers are trustworthy by running a little background check on the people/company that provides the app.
After you log in to your account, you will gain access to a list that shows every app with access to your Google account.
Look for apps that either "Has full access to your Google account" or "Has access to Gmail." To disable access, select the app then choose "Remove."
7

Create a Strong Password

If you are not a big fan of 2-step verification just because of its annoying nature, your password is the only thing that is protecting your Gmail account.

In that case, you will need to find a very strong password for your account to withstand brute-force attacks and other social engineering techniques of guessing your password.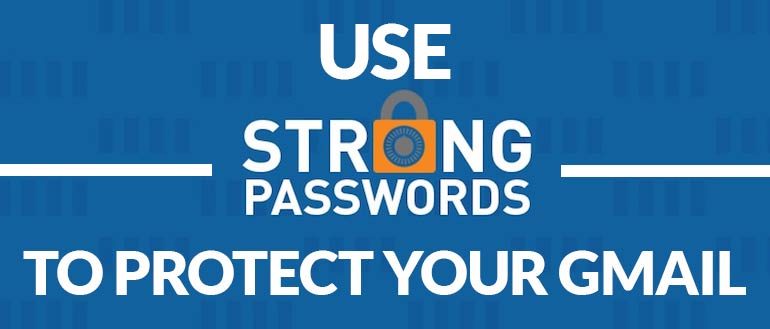 The first thing that you should keep in mind before creating a password is that you should never create an easy to judge password. There are three yardsticks that you can use to avoid weak passwords.
Any single word password. Example-a word from the dictionary.
A word only or a number only password.
A password that relates to your personal information that is easily accessible over the internet.
To create a strong password, it is essential that you use something complicated, but it is still easy to remember.
You can use the power of Mnemonics to do so.
To better understand what that means, consider you have a long password in mind, like Ihavealongpassword00623.
To make it more memorable and harder to guess for anyone else:
Take the first letter of every word. The result, in this case, will be ihalp00623.
You can further complicate the password by using an uppercase for every first letter.
You can then insert symbols like @,#,$ in between each letter to make things tougher, but do remember them.
Make use of them after each letter or interval.
You can always come up with creative ideas for creating a strong password but, it should be in such a way that it sticks to your memory.
When you are done, you can check the strength of your password by using the PasswordMeter and get a few pro tips for making your password more difficult.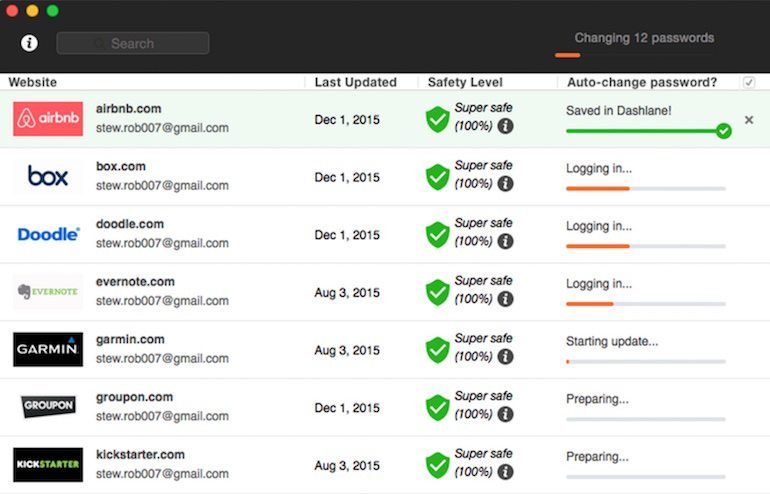 So, there you have it – a complete guide to secure your Gmail account.
Use the above techniques to make your Google account Hack-Proof.
Were you aware of any of the above techniques? Comment below and tell us about your strategy of making a difficult password.