Making money online. We all know the drill; whip up a website, get the traffic flowing and sit back duffle bags ready to collect the loot. Easier said than done.
While making it big online takes some effort, it isn't a pipe dream. It's doable albeit with some sacrifices, just like any other endeavor in life.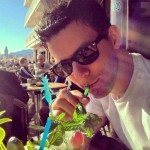 As a matter of fact, it is very much a reality for Scott DeLong, the guy who built ViralNova.com from the ground up to a $100 million dollar business empire.
This post revolves around Scott, and how he achieved a seemingly insurmountable feat in a relatively short span of time.
Before the end, we hope to equip you with the tricks you need to build an online blog empire even as a beginner.
In other words, we'll cover:
Okay, now let's drop the needle and dance.
Scott DeLong & ViralNova.com
Main Takeaway: Scott is your average guy, who saw an opportunity and grabbed it fast. He's a determined hard worker.
According to Erin Griffith of Fortune.com, "… the rise of ViralNova is the stuff of Internet folklore," and I tend to agree. One day, ViralNova was just one of the many ways Scott could have chosen to kill boredom.
A couple of months later, the site was making DeLong hundreds of thousands of dollars in ad revenue. The website grew from a little known blog to a multi-million-dollar, one-man empire without ever creating a product or its own original content.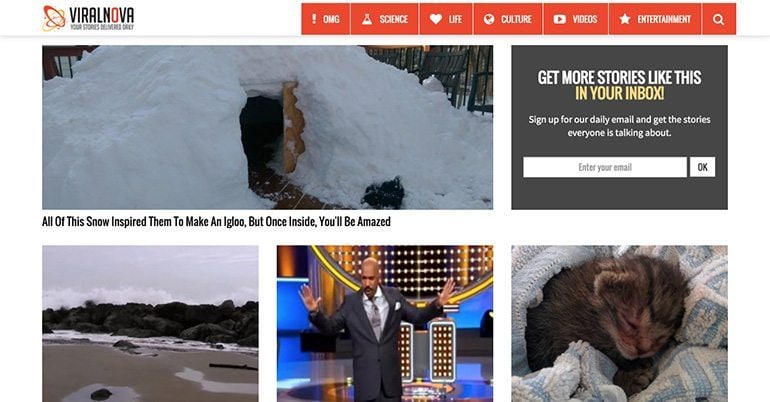 All Scott did was re-package content from publications such as Daily Mail, and take advantage of Facebook to spread the same to all corners of the globe.
Scott DeLong is a 30-something-year-old web entrepreneur from the small town of Uhrichsville, Ohio. He grew up with his stepfather, a trucker, and his mother, a homemaker.
Scott graduated from Kent State University back in 2004, barely a year after WordPress was born. He went on to work as an SEO for Karcher Group, a marketing outfit in North Canton.
The job paid peanuts, and as opposed to present times when he can afford a four bedroom house, he crashed at his parents.
Scott's Turning Point
Scott's turning point came in the summer of 2005 while reading SitePoint, a website dedicated to developers. He came across a for-sale listing for a dumpalink.com site that made $30 grand per month in ad revenue, an amount that was way bigger than Scott's annual paycheck.
A few weeks later, with renewed inspiration, Scott brought us Nothing Toxic. The website published jaw-dropping videos of car wrecks, skateboarding accidents and other bloopers sourced from around the Internet. The website picked up steam and was making $8,000 a month in ad revenue by December 2005.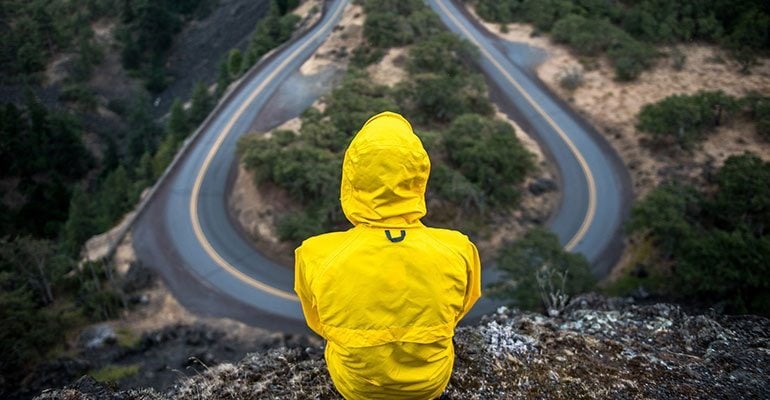 Soon later, Scott DeLong quit his day job and concentrated on growing Nothing Toxic all the way to 2007, when he sold 80 percent stake to a Russian company. A year later, DeLong and the company sold Nothing Toxic to Break Media for about $800,000. Not bad.
Between 2008 and 2013, Scott launched a slew of web companies with sites such as mywickedspace.com, celebparasite.com and godvine.com forming part of his repertoire.
Mywickedspace.com, which served outre decorations for MySpace pages, went the way of the dinosaurs when Facebook came along. Celebparasite.com reigned supreme until TMZ became the go-to source of hot celeb gossip. Scott sold Godvine, which served uplifting YouTube videos to devout Christians, to Salem Communications in the fall of 2012 in a deal valued at $4.2 million.
ViralNova is Born
In 2013, ViralNova was born as a better version of GodVine; a broader version without the religious tie. But for the first half of the year, ViralNova didn't perform as well as Scott had expected. Felix Gillette, who interviewed Scott for Bloomberg Business, noted that DeLong had worried he had aimed too wide when he went for a broader slice of Facebook's traffic.
However, something changed in September 2013. Traffic from Facebook shot through the roof after a photo post recycled from Daily Mail received 1.5 million unique hits in one day! The pieces started falling into place soon after with posts pulling millions of pageviews on a regular.
Scott, although unsure, attributed the sudden spike in traffic to algorithm changes at Facebook. A similar change would come back to bite his arse in terms of lost traffic just a year later.
Before Scott could enjoy his newfound fame, a flood of knockoffs hit the Internet hard with the likes of Viral Forest, Viral Viral Pictures and Viral Circus taking center stage. The competition was stiff, but most of the copycats fell off because of sheer unoriginality.
ViralNova's Evolution
In early 2014, Scott put up ViralNova.com for sale because, according to Alyson Shontell, "…the stress of running a one-person startup became too much…" for poor Scott.
She adds,
His website was running on a bare-bones version of WordPress; ViralNova had so much traffic that any widget Delong tried to add would break his site. And although ViralNova was netting Delong millions of dollars personally, he was working 16 hours every day, even on weekends.
Not healthy Scott. Not healthy.
DeLong received a number of offers including one by Sean Beckner, he who is a prominent New York City entrepreneur. Sean offered to buy a chunk of ViralNova, and after months of discussions, hands were shaken.
Sean Beckner became ViralNova's CEO. He brought on an executive team consisting of Shaun Tilford, a CTO, Jeff Geurts, a CFO and Ryan Elledge, the VP. Tilford went ahead and developed a custom CMS, which is now fondly known as Nova. Sara Heddleston, one of the beautiful freelancer writers was promoted to managing editor.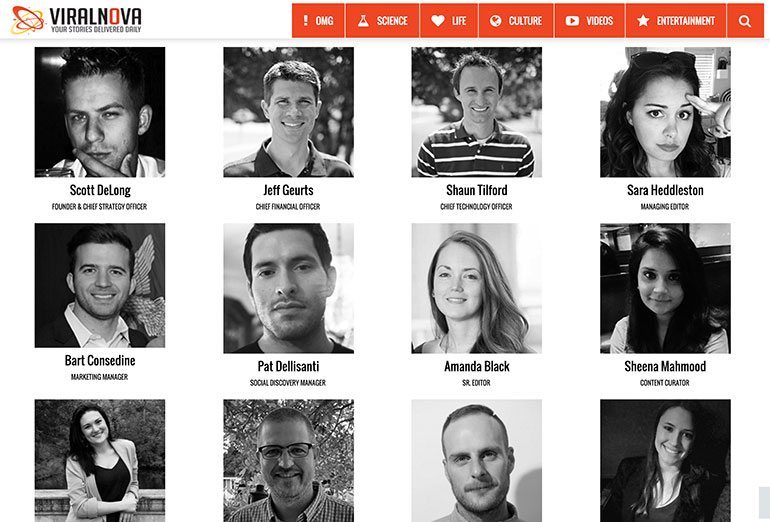 The company hired extra writers and a direct ad-sales team in preparation for a brighter future. Today, ViralNova employs 24 full-time creatives and, according to the CEO, it's on track to net $35 million annually.
In the early 2015, Zealot Networks, a digital media company built by ex-Maker Studios CEO Danny Zappin, acquired ViralNova in a deal estimated at $100 million in equity and cold hard cash. Although Scott DeLong could finally take a break and enjoy his good fortune without a care in the world, he pledged to stay on board.
ViralNova has grown in leaps and bounds since inception. The company is currently placing emphasis on creating its own original content as opposed to curating. After moving to New York as a way of getting serious about ViralNova, DeLong said:
We're are one of the largest websites in the world, and we want to grow it into an awesome media company.

Source: Fortune
Apparently, he's keen on transforming ViralNova from a clickbait viral site to a website you can visit to get a fresh scoop on the latest happenings.
But how did an average guy pull it off and even managed to remain afloat in a market teeming with ruthless, and often times better funded, competitors? How can you replicate his success and achieve your online dreams?
How Scott DeLong Built a Multi-Million Blog Empire
Main Takeaway: Start early, build a blog quickly using viral content, promote vigorously and monetize the blog.
Now that Scott DeLong doesn't sound like a fictional character, how about we go further and investigate how he achieved what will remain a dream for many? You want to make big money, right?
Launch a Blog
In one week, Scott built ViralNova and was publishing viral posts on a daily basis. He chose our favorite and most popular CMS, WordPress. As you will learn in a few, he also chose TruePixel, one of our premium WordPress themes, before moving on to a theme similar to SociallyViral, another one of our great themes.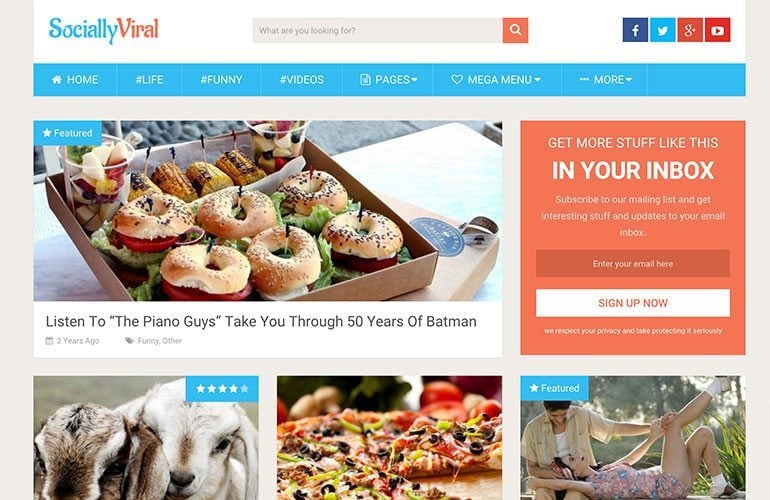 In this time and era, you ought to build a website in no time what with WordPress, themes and plugins at your disposal. You can have a functional website at the end of the day without writing a single line of code. How suave?
With the website in place, we need to find the hottest of stories to create a buzz around your brand.
How to Find Viral Topics
Much of DeLong's success ties back to the virality of ViralNova's content. Scott worked so hard to find the most popular of topics, at any given time, from websites such as BuzzFeed, Bored Panda, Imgur, Digg and Reddit among others.
DeLong would then rewrite the headlines to maximize the click-through rates. Even to this day, ViralNova's headlines are quite enticing, and since the content is optimized for social media, the posts are widely shared.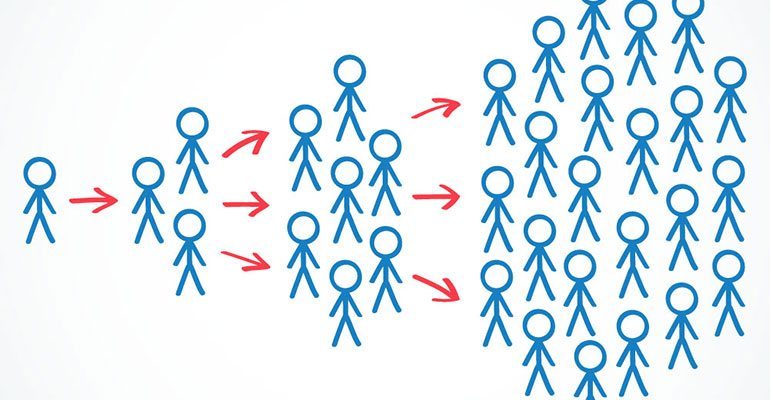 But hanging out at BuzzFeed and such sites doesn't guarantee you the best of topics. How then do you find a popular topic that will go viral and bring back social traffic in trawls? You have to stay on top of the latest trends – at all times.
Mining for popular topics on the Internet is pretty straightforward. You will easily get interesting stories on social networks and from search engine data. Let's dive a little deeper:
1). Social Networks
BuzzFeed, Delicious, StumbleUpon and Twitter just to mention a few make up the social networking universe. On these platforms, hot topics receive a lot of attention spreading the grapevine like wildfire. It's easy to spot the latest trends and hot topics just by working your Newsfeed.
For instance, you can easily tell what's hot on Twitter using their nifty little search box. You can check out the trending #hashtags sections as well for topic ideas and then capitalize on those that show real promise of virality.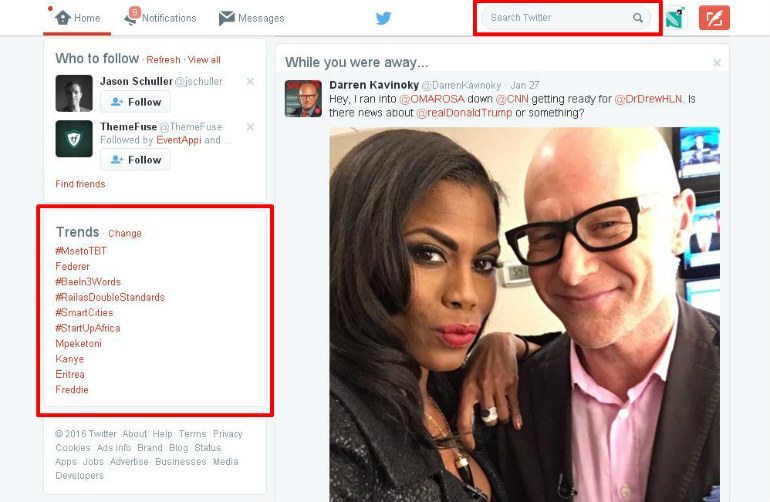 Remember you have to act fast because what's hot today probably won't be as hot, say, a week down the line. If you follow DeLong's footsteps, you don't have to spend hours on end creating content, which saves you the precious time that makes all the difference between success and failure. Just harvest the content you need, add some oomph and go viral.
You can visit each social networking site individually or check out all of them at once using a tool such as Popurls.com. This website aggregates stories from a wide range of websites not just social networks. It covers all topics under the sun making it a quick source of trending content.
2). Search Engine Data
When looking for anything online, you probably start off most of your searches on a search engine such as Google, Yahoo! or Bing. It goes without saying that if there is a popular story doing rounds on the Internet, you're bound to find millions of other people searching for it.
Getting your hands on this data can help you determine the hottest topic at any given time. But where do you start?
a). Google Trends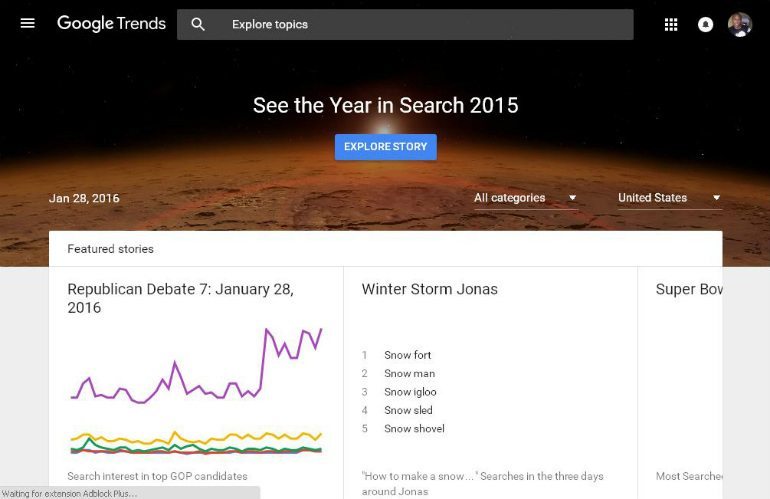 Google owns about 70 percent share of the search engine market, meaning the company offers a near-accurate "…representation of what people are currently interested in…" on a global scale.
Google Trends is one of their futuristic tools that lets you put a finger on the most popular stories and trends on a day to day basis. Using the tool is as easy as A, B, C – we don't expect you to run into any trouble.
You can work with a specific keyword and determine its "hotness" level, peak time, primary location and related searches, all of which make for extremely useful information. Other tools you might want to check out is Google+'s What's Hot and Google Keyword Planner.
b). Yahoo! Trending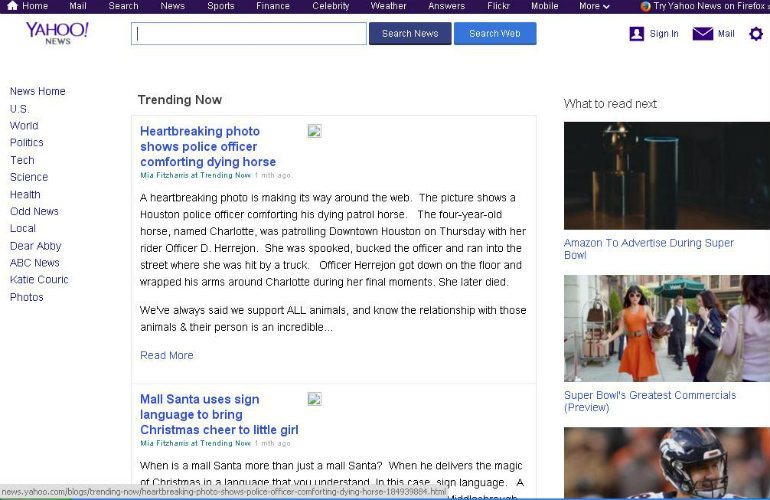 Yahoo! Trending is nothing like Google Trends; it's simply one of Yahoo!'s blogs covering trending stories around the web. The blog goes long periods without updates so keep that in mind when harvesting topics.
Moving on, let's now look at how to transform your popular topics into viral posts that dominate social media.
How to Write Socially Viral Posts
Finding the hottest topics is just the beginning, you need to write engaging posts that will send social media users on a sharing frenzy. This just means you will invest time, effort, and money in creating enticing headlines, gathering the perfect images and writing snappy, edgy and short articles that rule the Internet. What does that even mean?
Let's take it from the top.
a). Catchy Headlines
Take a look at the screen grab below: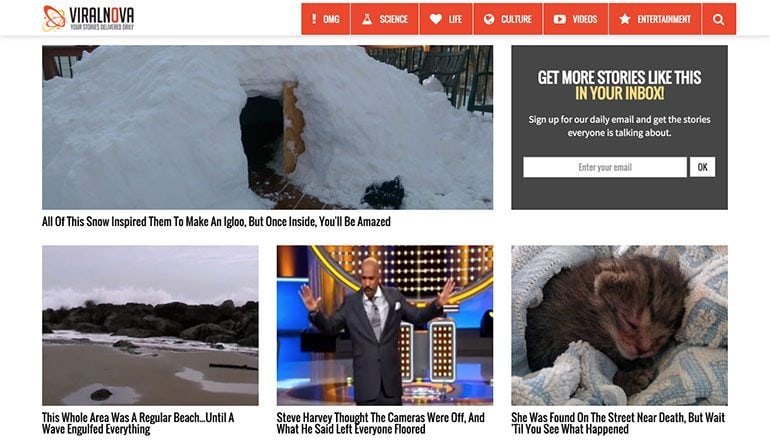 Notice anything about the headlines? Clickbait, clickbait everywhere. ViralNova's headlines are everything but subtle. Hyperbole and over-promise reign supreme here.
The headlines are shamelessly clicky you end up being sucked in whether you saw the post on Facebook, Reddit or elsewhere for that matter. I clicked a few myself when writing this post out of morbid curiosity.
You want to aim for the same style of headlines. You are looking to create content for social media users, but with so much competition, distractions and junk on the internet, how do you stand out? Catchy headlines is your answer.
When he started, Scott had so much to learn. He had to A/B split test headlines to determine the version that performed the best. Now, thanks to Tilford's Nova, he needn't test the headlines manually. Nova has a nifty tool just for that purpose.
What happens, though, if you don't have the wits to get creative or the money to spend on a custom-built CMS? Does that mean you'll have to A/B split test your headlines manually for as long as you run your business? The answer is a big NO. You can bank on a tool such as CoSchedule Headline Analyzer.
ViralNova's content succeeds because it's headlines have the annoying insistence of a friend tugging at your sleeve and saying "Dude! Dude! You won't believe who ran into this morning!" – Aaron Miles, ViralNova Sold for $100 Million, and You Won't Believe How it Happened.
b). Write Short & Snappy Posts
While hot catchy headlines will get readers to your website, it's your content that will get people actively reading and sharing. If it's interesting, chances are higher more people will share your content as opposed to, well, drab content.
Put emotion into your content, appeal to the readers' emotions and keep things relaxed and simple. No jargon please – just imagine you're holding an intimate convo with your reader. Viral content is usually short, so keep that way.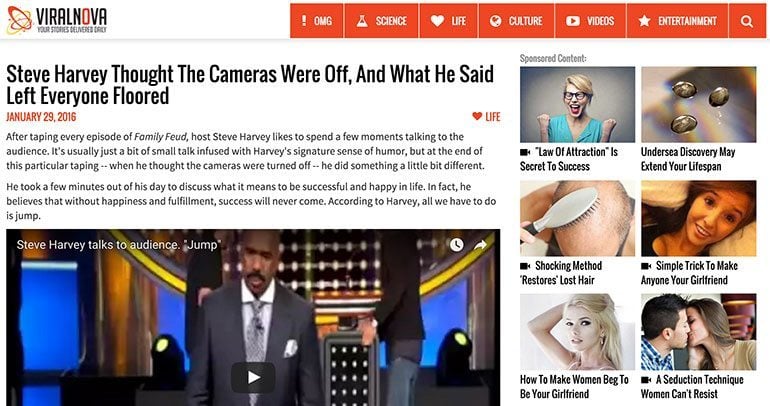 Be personal is more like it; throw a little human humor into the mix. If you go Scott's way, well, you just need to create catchy headlines and "borrow" content from elsewhere. Just remember to attribute the original creators lest you get served. All in all, your content needs to be visually compelling material regardless of how you source it.
Good enough was never good enough for him (Scott). Every single video had to be amazing. He is 100 percent a perfectionist. – Brian Warner.

Source: Bloomberg
On matters of volume, there's no shortage of hot and clickbait topics on the Internet. When he started, DeLong would post 8 to 10 articles per day. Nowadays, the site posts about 15 to 20 stories per day.
If you want to create a viral site, you need to create an actual viral site with more stories than your readers can probably consume at any given time. Exact number of posts doesn't matter. do your tests and settle for a figure and content that produces the most engagement.
c). Optimize Your Images & Videos for Social Media
Creating graphic content for social media consumption requires a slightly different approach. You definitely want to stay lean. Use tools such as Pixlr Editor and Adobe Photoshop among others to resize your images and/or create memes, GIFs and animations for social web.
You can transform your videos into vines and gain traffic when they go viral. Just make sure your graphic content doesn't slow down your site because that's just bad for business.
Moving on…Now we just have to promote your posts and monetize your site, and you have a winning formula.
How to Promote Your Viral Posts
Scott DeLong did not stop at creating content. He went ahead and actively promoted the posts on Facebook. He targeted just Facebook due to its massive traffic potential. I mean, why build when you can rent?
Scott launched ViralNova.com when ads on Facebook would cost next to nothing. As such, he was able to build a strong brand page without breaking the bank. Today, ViralNova's Facebook Page has over 2.5 million likes. This page sends Scott 90 percent of his traffic. Felix Gillette says:
Along with a handful of other publishers, such as Upworthy and Distractify, ViralNova has perfected a new-fangled techniques of traffic metallurgy; it extracts large amounts of attention from Facebook using little more than cheap ingredients available to anybody on the web.

Source: Bloomberg
Nonetheless, you can't depend on a single source of traffic for long, seeing as you can burn when the third party changes their policies, as DeLong did when Facebook updated their Newsfeed algorithm.
Any time you're dependent on piggybacking on another site for success, there's no long term plan there. Viral media, as we understand it now, probably won't exist soon – somebody will have to reinvent it. – Neetzan Zimmerman, Senior Director, The Hill.

Source: Bloomberg
Which is why DeLong diversified his traffic sources and now gets readers from websites such as Pinterest among others.
Facebook pages come with an insights section that lets you track how your social posts are performing, and determine when to post for extensive impact. Moreover, you can use social media analytics tools such as Hootsuite, Google Analytics, Buffer and Moz Analytics amongst others to see what's working for you.
How to Monetize Your Blog
This is the most fun part. After working hard to drive traffic to your site, you can't wait to see the stats transform into real coin. But how do you go about monetizing the traffic? Better question is, how do you think Scott makes hundreds of thousands of dollars each month?
The answer is easier than you think. ViralNova started out with Google AdSense. It's an excellent program that lets you show Google ads on your site and get a portion of the ad revenue paid by the advertisers. The site also uses Taboola and direct ad-sales.
These revenue streams have made DeLong & Co. stinking rich on autopilot seeing, apart from direct ad-sales, the other monetization methods are automated. There are many other monetizations methods out there including affiliates sales and sponsored content among others. Go for methods that work for you.
How I would Approach This
If you don't have the time to read the longer version above, here's a shorter tutorial to help you replicate Scott DeLong's success:
Step 1: Choose a Simple Brand Name
Your brand name can be anything under the sun, just make sure it's catchy and available since you'll be using it for your website as well as social media pages. Bored Panda is a great brand name, for instance, but sadly that's already taken. If you're struggling to come up with a great (but simple) brand name, consider checking out these tools.
Step 2: Launch Your Site & Set-Up Your Facebook Page
With a brand name in hand, the only thing you need is a reputable WordPress host, and you have a website. I won't go into the finer details but you can check our recommended web hosting.
Ensure though that your host offers scalable packages, since you don't want to move your site when traffic reaches the tipping point.
Creating a Facebook page is rather straightforward. Start with the basics; a cover page pic, profile pic and a couple of updates without links.
Step 3: Beat The Competition
You needn't reinvent the wheel here, just go see what your competitors are doing; the kind of stories they are sharing. We have peppered this post with a couple of examples so you ought to be sorted in this regard.
Now dig deep into their archives and pick the hottest stories the Internet has already forgotten. Dig deep into the past, but make sure you pick the most popular stories and revive them.
Step 4: Set-Up Facebook Advertising
Not to be one-sided but you should concentrate your efforts on Facebook since most of your viral traffic is likely to come from the giant social network. Without a doubt, other platforms such as LinkedIn and Twitter offer advertising, so you're not limited in terms of options.
I've had my fun with Facebook Ads, and between you and me, they actually work! You can buy Facebook Ads in terms of page likes for as little as $5 per 1000 likes, meaning you can rock the world with about $500 for starters. Setting up the adverts is straightforward so we don't expect you to run into any trouble. If you need a hand though, feel free to check out this PPC case study by Viperchill.
Step 5: Track, Test, Rinse & Repeat
The only way you can put a finger on what's working and what's not is tracking how your viral site performs. With enough content, you can tell which posts garner the most attention, and the flops that don't perform well.
Of course, you want to concentrate on the posts that show promise of virality. With time, and assuming you've built a following on Facebook, people will start sharing your posts across social media, which means you don't have spending money on Facebook advertising.
At the same time, test different angles as opposed to settling on the "perfect" means of generating traffic. A/B testing can reveal flaws as well as opportunities to improve your offering.
The only thing left is rinsing and repeating the process keeping in mind it could take a couple of months to realize tangible profits.
Does Your Design Impact Overall Strategy?
Main Takeaway: While content is still king, the design of your WordPress site influences your overall marketing strategy. A great, responsive and easy to use design will favor conversions.
To make money with your blog, your design need to be in top-notch form. Of course, we can't dispute the fact that some viral blogs are ugly to the max, but don't forget design plays a big role in conversion. Which begs the question: If Content is King, What's The Design For? Well, the design is its throne.
As we mentioned a few paras ago, ViralNova initially used TruePixel, a responsive and beautiful WordPress blog theme crafted right here in our stable. It spots a rating of 4.6/5.0, is easy to set up and comes with more features than you'll ever need for a tiny price of just $59 bucks.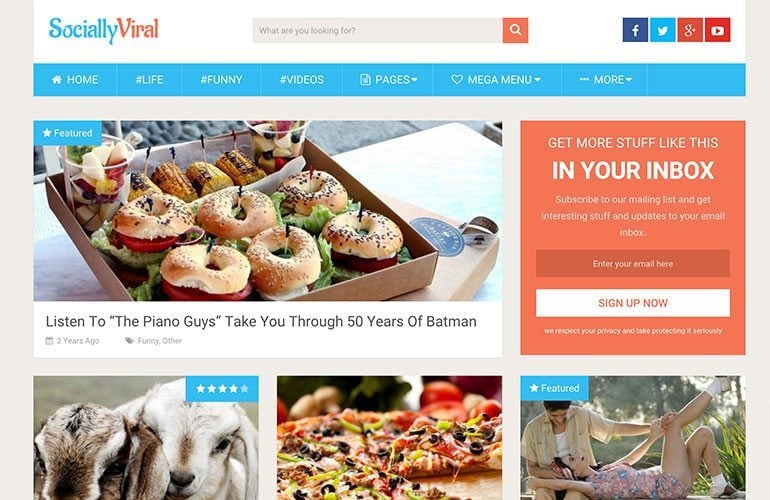 Then they moved on to a theme just like SociallyViral, before finally settling on the custom-made Nova 2 theme. Just between you and me, ViralNova's homepage looks every part like SociallyViral. Could Nova 2 be a child theme of SociallyViral? Story for another day.
Your design should be responsive so you can reach your readers wherever and on whichever device they have. Go for a WordPress theme that guarantees top speeds, better SEO scores and maximum ad exposure. It should be visually appealing as well.
All that is left is testing, tracking, rinsing and hitting the repeat button over and over. Oh by the way, don't forget to pick a simple brand name, a dependable web host and make time to read up on DMCA if you'll harvest someone else's content.
Final Words…
Making it big online is hackable. Scott DeLong and many other people have done it inspiring stories of legends who ventured into unchartered territories and sang veni, vidi, vici all the way to the bank. You too can hack it and be on your way to great fortune in no time.
The big question to all of us then, is, what the hell are we waiting for? Ponder on that until next time. Have a question, suggestion or just want to share your thoughts? Let us know in the comments below.
Ad astra!