Support -

10/10

Coding -

8/10

Design -

10/10

Usability -

10/10
This interview is part of our initiative to know our users take on our themes, web development and other things in general.
Today, we are interviewing Alex. He is a Financial risk analyst and a hobby blogger. He created his first website in February last year and was introduced to our free Point theme. He now uses our Splash theme on his blog.
If you wish to be interviewed by MyThemeShop, get in touch with us. Only requirement is that you must be using any of our free or premium products for more than 3 months.
Here's the full interview.
A. Who are you and what do you do?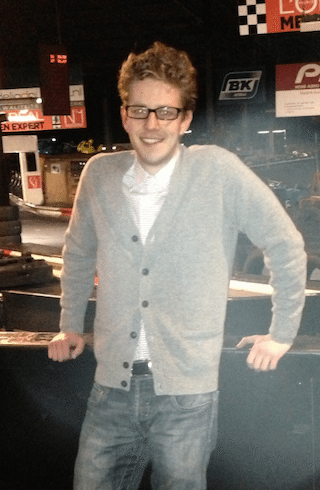 I am Alex, Financial Risk Analyst and Hobby Blogger.
B. When did you start your first blog or website and how?
I started my first blog with a simple WordPress set up Digiconomist.net in February 2014, intending to promote risk awareness among Bitcoin and other crypto-currency users.
C. How did you hear about us?
The first time I got to know about MTS was through DailyDoge.org, a user of the free MTS theme Point.
D. Why did you choose MyThemeShop?
I started out with the Point theme myself because of its unique combination of speed, clean design, strong advertizing options and the amazing fact that it was available for free.
E. Which MyThemeShop theme/plugin are you using and why?
As the blog started to grow, so did the desire for more customization to optimally deliver the site's content to the target audience. This is where the true strength of MTS lies, as it offers a broad selection that makes it hard not to find what you are looking for. The best part is that you can rely on an excellent quality for each of them, and that you can have access to all of them for a very fair price. You are unlikely to get more value for money elsewhere. I ended up using the Splash theme,  a blazing fast and beautiful modern simple theme.
F. One thing that would make MyThemeShop better?
Even though the themes are responsive and thus perform well on mobile platforms, it would be nice to have more themes for mobile websites. Responsive designs simply cannot beat the speed of themes focused on
mobile platforms.
G. One tool or website you can't live without?
In order to stay up to date on the latest developments in the crypto-currency world I am a frequent visitor of CoinDesk.com. It is the number 1 on my list.
H. Please rate MTS on the scale of 10 for
Support: 10
Coding: 8
Design: 10
Usability: 10
I. Please share a brief testimonial about your experience with our products:
Before I found MTS I struggled to find the right theme to start my WordPress blog with. Free themes are often slow, but this is also a big risk for most commercial ones. You simply need speed to help get your search engine rankings up and avoid annoying long loading times that can cause a loss of visitors. Apart from the previous, you still need the design to fulfill your personal needs. At MTS I found a broad selection of blazing fast themes that actually made it hard not to find the right one.
Thanks a lot Alex, for sharing with us.
If you wish to check other interviews, you can check here.