Support -

9/10

Coding -

8/10

Design -

8/10

Usability -

7/10
This interview is part of our initiative to know our users take on our themes, web development and other things in general.
Today, we are interviewing Espen Høgli from Norway. He is a football fanatic and runs a Football Manager website. He created his first website in 2008 and is self-taught in CSS and HTML.
He uses multiple MyThemeShop products on his websites. Currently, he uses Splash theme because it is fast, efficient, elegant and wishes to make the switch to SociallyViral soon because of the fresher style and even faster load time.
If you wish to be interviewed by MyThemeShop, get in touch with us. Only requirement is that you must be using any of our free or premium products for more than 3 months.
Here's the full interview.
A. Who are you and what do you do?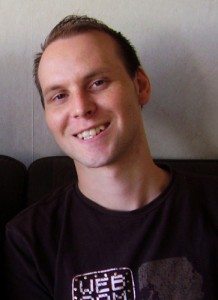 Hi, my name is Espen Høgli. I'm a 33 year old Norwegian blogger who is a football fanatic and passionate Football Manager addict with the interest of Search engine optimization and webdesign. At the moment, I'm the owner and founder of Passion4FM – a website about the wonderful world of Sports Interactive Football Manager.
B. When did you start your first blog or website and how?
I have been blogging about my passion for Football Manager since 2012 using my long time experience of playing the series, as I first got acquainted with Football Manager at the age of 12-13 (1993-1994), but the first website was created in 2008 – a minor webshop which sold accessories and sporting goods. It was created by learning HTML and CSS on my own reading tutorials and resources online, building the foundation for my current SEO interest and skills in regard to webdesign.
C. How did you hear about us?
I got acquainted with MyThemeShop when I decided to move my website from a free Blogger.com platform to the vast amount of opportunities with using the WordPress.org platform, searching for premium themes which was cost efficient, reliable and lightning fast.
D. Why did you choose MyThemeShop?
I chose MyThemeShop because of the affordable premium themes and the ability to use the themes purchased  on unlimited amount of sites for a one time fee. Here, I should also mention the customization codes and the support MyThemeShop offers, including bug fixing, is really helpful.
E. Which MyThemeShop theme/plugin are you using and why?
I have bought three premium themes at an affordable price. I'm currently using the Splash Theme, but I have also bought the Schema theme which is fast, but not quite the style I want at the moment. With Splash, I have customized the theme to my preference removing a lot of codes in order to make it faster.
For 2015-2016 I have decided to look into the SociallyViral theme moving away from a standard blog home page to a more flexible home page with the ability to select latest posts from specific categories and many loading effects. Hopefully, it will also be even faster than Splash with its lightweight design and codes.
F. One thing that would make MyThemeShop better?
Even more focus to improve all published themes to make them as fast as possible plus the ability to remove specific features for a theme, such as the review system or other unnecessary features which increases load time at purchase – perhaps having an option of full scale theme and a basic theme with less features – since users often download plugins.
G. One tool or website you can't live without?
That must be Twitter which provides me with lots of information about everything from SEO to football.
H. How would you rate MyThemeShop on the scale of 10 for
Support: 9
Coding: 8
Design: 8
Usability: 7
I. Share a brief testimonial about your experience with our products:
With MyThemeShop I would not need to be an expert to PHP or webdesign to setup my WordPress theme. With their range of qualitative premium WordPress themes I can focus on content creation rather than spending weeks coding. It  gives me a range of features which lets me quickly customize the theme according to my preferences. It's fast to setup the website by selecting color schemes and text styles easily.
I'm very satisfied with the affordable prices of the range of premium themes which caters to all my needs. As a happy customer, I will not look elsewhere for premium WordPress themes as the support and dummy data provided gives me all the help I need to style and update the layout of my website letting experts provide the foundation for a successful website.
Thanks a lot Espen, for sharing with us.
If you wish to check other interviews, you can check here.