Are you looking for a reliable easy to use migration plugin to move your website from one host to another? You are at the right place.
Moving WordPress websites could be tricky. You need to carefully move all your website files, including images, databases, files, themes, and plugins.
You also need to make sure that your SEO rankings do not get hampered and all the SEO value gets transferred from your old website domain to the new one (in case you are doing a domain level migration).
To make the migration process smooth and straightforward, WordPress has a lot of reliable and useful plugins which can help you perform this task efficiently.
Though, before jumping to the main topic, we would like to tell you a little about different types of migration.
1

Types of Migration:
Domain Migration: This is when you want to move to a new domain name. The website design, structure and appearance stay the same.
Host Migration: This is when you migrate from one hosting company to a different hosting company. For eg: Migrating from Bluehost to Kinsta.
Design Migration: This is when you revamp the design of your website while keeping the same content and structure as you had previously.
2

9 Best WordPress Migration Plugins

We carefully analyzed over 20 different migration plugins and shortlisted the nine best WordPress migration plugins amongst that.

Our main intention was to choose only those plugins which are easy to use, utilize less space on your website, and are regularly updated by the developers.

Time to get into detailed reviews.
2.1

Duplicator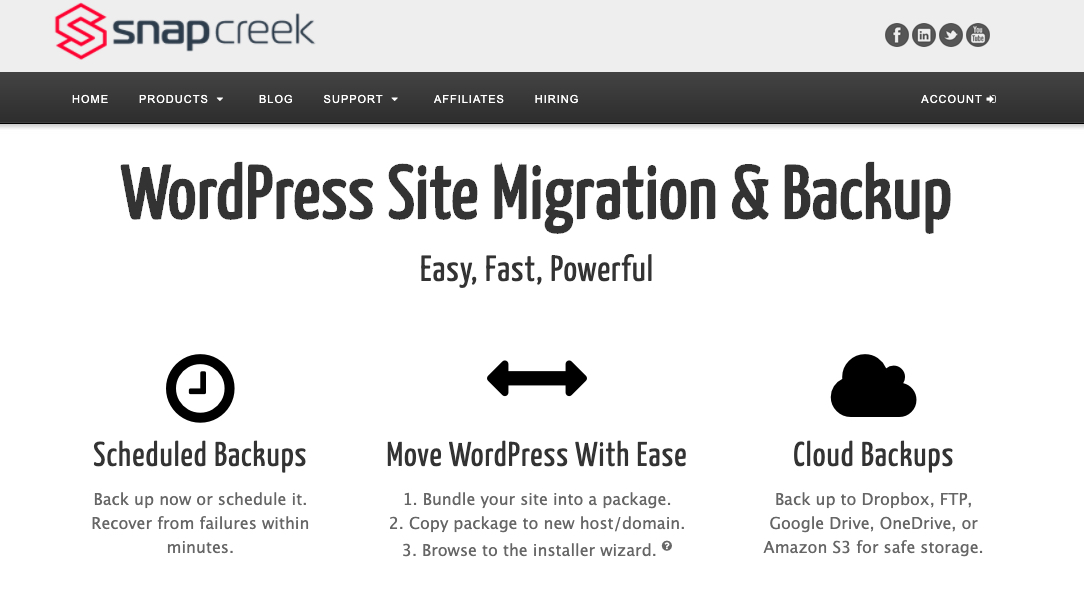 With over 2600 5-star ratings on WordPress, Duplicator is undoubtedly a handy plugin when it comes to migrating websites with ease.
It is one of the best WordPress plugins to move or clone a WordPress site between different hosts and domains with nearly zero downtime.
You can also takedowns a live site and install it on a local server to test different functionalities or changes that you would probably want on your live website.
Pros
With more than a million installations, it is one of the most trustworthy migration plugins in the market.
You can manually take backups of your whole website or, certain sections of your website.
Bundles up the entire site into a package that could be utilized in different forms, such as setting up on a local server, different domain name, or hosting.
Zero struggle for newbies and non-coders as you can export/import all those messy SQL scripts with ease.
It also supports multisite migration for WordPress
Cons
You might need to take external help if you are using an FTP
for the first time.
2.2

UpDraftPlus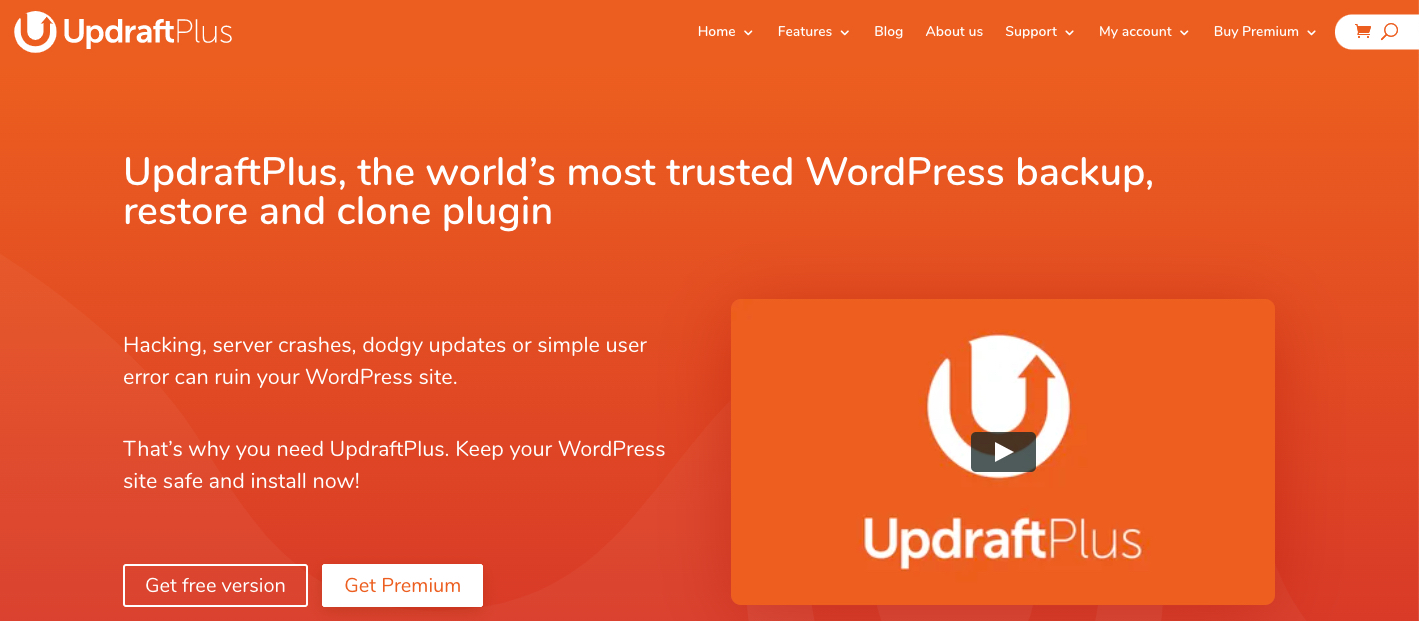 UpDraftPlus is another top-rated WordPress migration plugin that is highly used for WordPress CMS. It is a highly comprehensive WordPress plugin when it comes to its features.
The plugin has got a million-plus installation and has been tested on different niche websites. Due to its massive audience size, you can expect regular updates with new features and builds.
Pros
It could be used for easy restoration of the site as well as complex migrations.
Utilize cloud storage as the plugin is compatible with multiple cloud options like Rackspace, Dropbox, Amazon S3, Google Drive, etc.
It uses very less server resources for its working.
Schedule automatic backups to save the latest version of your site.
Cons
Setup needs a Jetpack subscription and an account on WordPress.com, which makes the process quite lengthy.
2.3

WP Migrate DB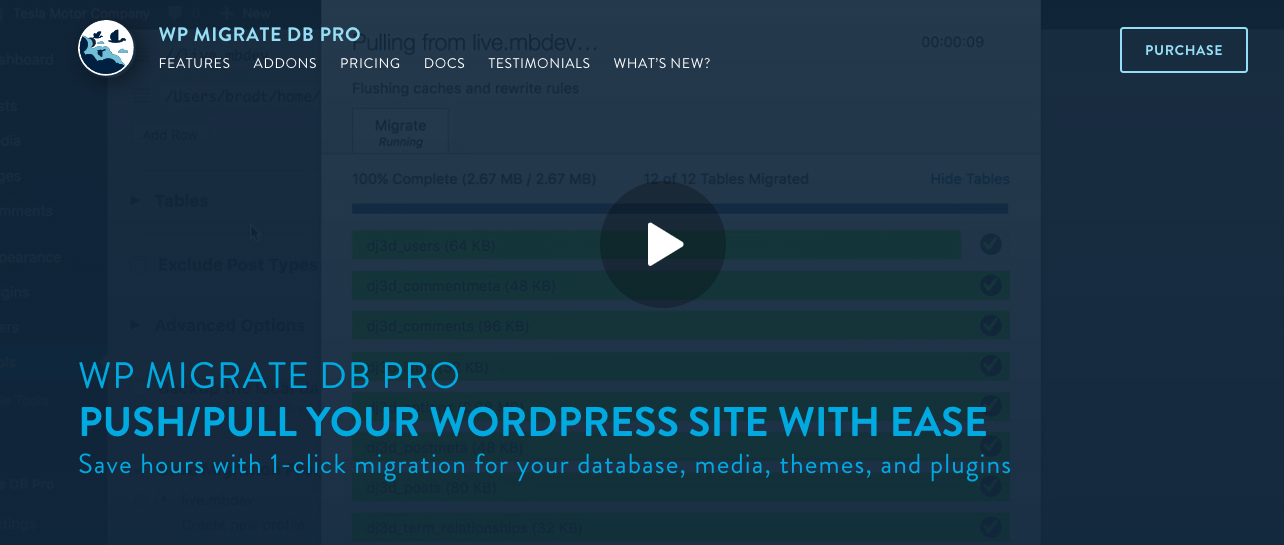 The WP Migrate WordPress plugin offers simple and straightforward website migrations in a few steps. Migrating a site involves just three easy steps:
Finding and replacing the important and essential data that you want within the WP Migrate DB.
Export the website SQL scripts.
Importing the same into a new database using an FTP or phpMyAdmin.
Pros
Fully supports serialized and unserialized data.
Offers a quick WordPress site migration.
Easily find/replace any text in your database.
Works perfectly for complex and large websites with TB's of data.
Cons
The setup might be confusing for a total newbie or someone who doesn't have any hands-on experience of database and FTP.
You'll need additional addons for complex migrations that will cost a considerable chunk of money.
2.4

All in One WP Migration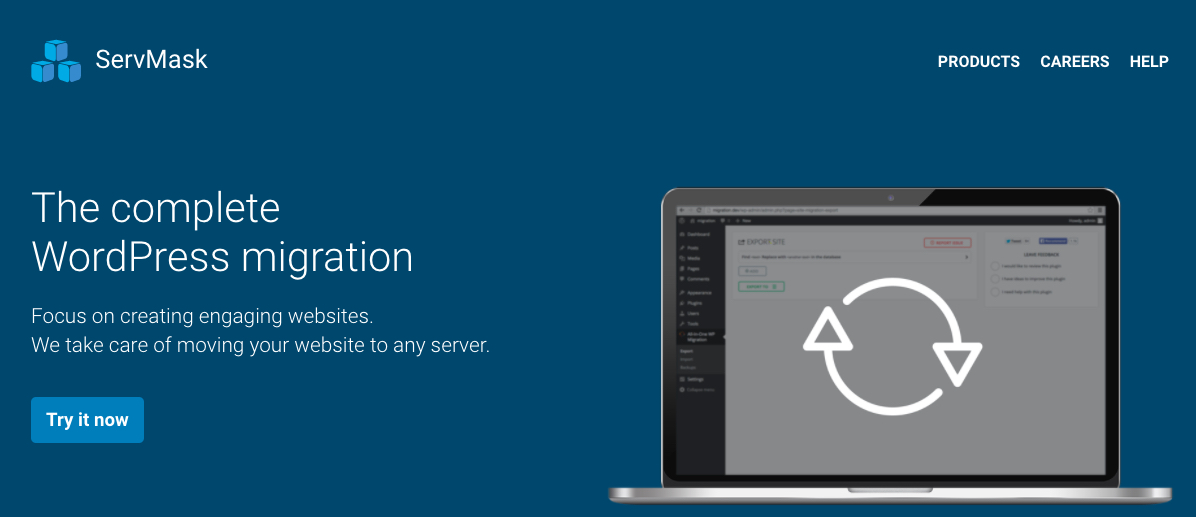 Moving next, the All in One WP Migration is one of the first few plugins to offer a truly mobile experience with the WordPress versions 3.3 and above that.
The plugin comes with zero limitations on the operating system, which means it works well on Linux, Windows, and macOS.
Pros
No restriction on file upload size.
All in One WP Migration works smoothly with all PHP versions from v5.2 and above that.
It supports extensive support to MYSQL.
A highly active developer team makes sure that the plugin supports new WordPress versions.
Use premium extensions to migrate to cloud storage services like Dropbox, Google Drive, Mega, OneDrive, and whatnot.
Cons
Limited import size in the free version – 512 MB
You'll have to install WordPress manually on the new location.
2.5

WP All Import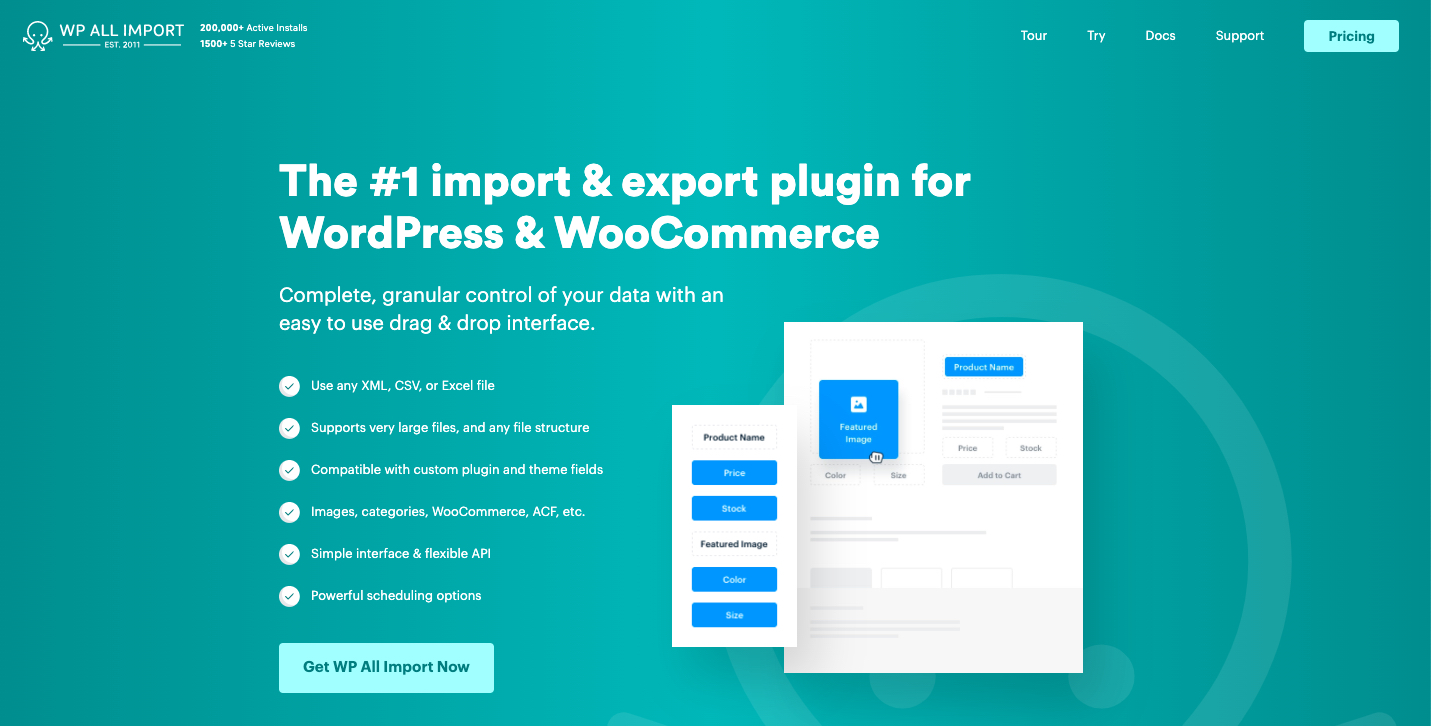 WP All Import is a premium WordPress Migration plugin. The plugin has more than 200,000 installations and 1500+ positive reviews from webmasters across the globe.
Since it is a premium plugin, it comes with a list of exclusive features that you won't find in a free plugin.
The best part, it supports migration for huge media files and different file structures. Also, it is compatible with WooCommerce as well, which would ensure that you migrate your large online stores to a new domain or host with ease.
Pros
You can use any CSV, XML, or Excel file.
It is compatible with custom theme fields and plugins.
The simple interface enables fast and easy migrations without much of a hassle.
You can easily schedule regular backups.
Get lifetime free updates.
Trusted by top organizations like Microsoft, Uber, Macy's, and Accenture.
Cons
Only the paid version available.
Different import and export packages.
2.6

VaultPress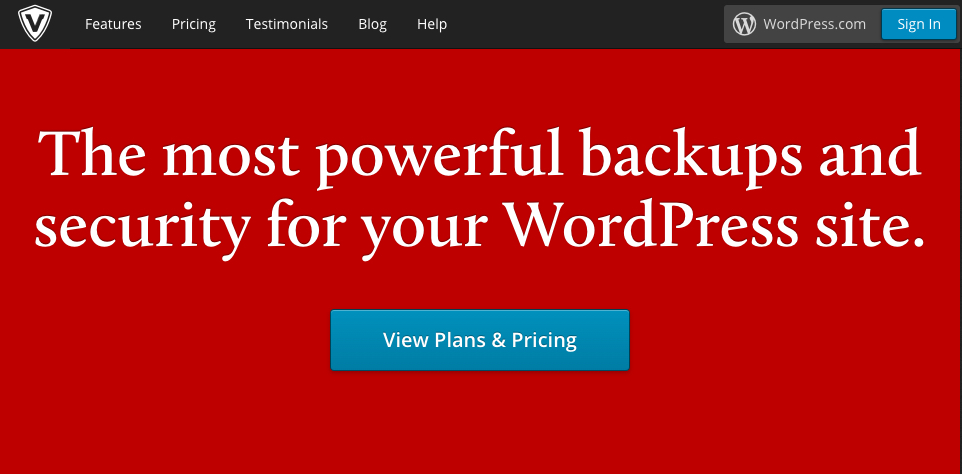 If you are in Working in the WordPress space for long, you might have heard about the Vaultpress plugin. If not, we are going to tell you why you should use this migration plugin for your WordPress migrations.
Vaultpress is a renowned name when it comes to taking easy and efficient WordPress backups. The plugin comes with a lot of features, which makes taking WordPress backups a breeze.
Pros
Schedule automated backups for your WordPress site.
Transfer the site from one host to another or duplicate your website over a local server.
Handle malware and other related dangerous threats easily.
Supports easy restoration of the website during unprecedented times like hacking or being attacked by malware.
Block spammers and safeguard your website SEO.
Cons
You'll need a Jetpack subscription and an account on WordPress.com, which might make the whole process lengthy.
2.7

Backup and Restore WordPress
Coming back to the free migration plugin segment, we have the Backup and Restore WordPress plugin by WPBackItUp, which is also widely used for doing website migrations and switching from one hosting company to another.
You can use this WordPress migrator to do simple migrations without using any complex codes and FTP access. You won't even need a cPanel or MySQL or any technical knowledge.
Thus it is an excellent plugin for newbies and webmasters who do not want to get into the deep technicalities and just want to accomplish simple, secure migrations.
Pros
One-click easy backups for your WordPress site.
Take fast and secure backups for your website.
No complicated setup required.
You can cancel your backups anytime.
The free version includes support for large file migration as well.
Works well in a shared hosting environment utilizing low memory.
Cons
Do not support complex migrations.
Can't restore the website to a different WordPress version.
2.8

BackupBuddy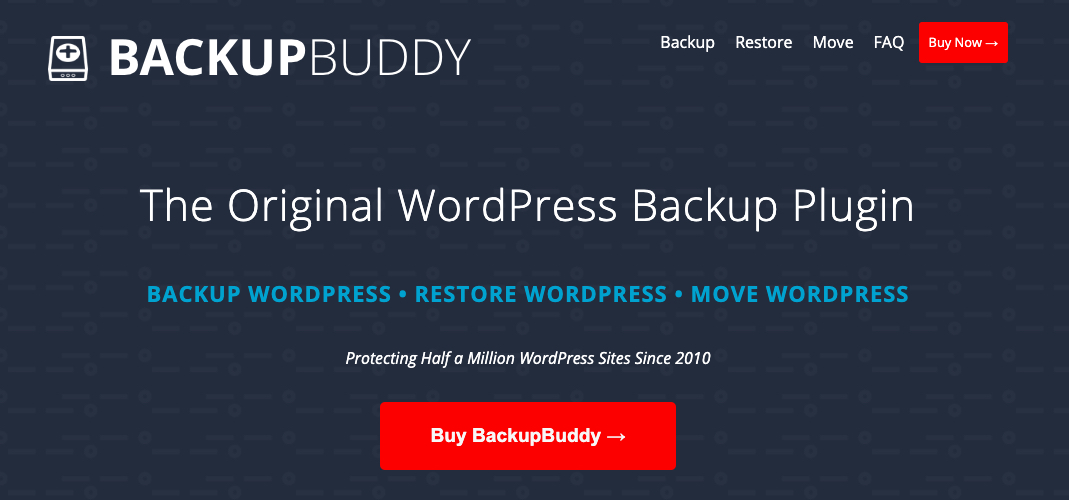 BackupBuddy is a premium plugin by iThemes. It offers a complete solution for all your migration and backup related needs.
You can easily use the plugin to take full WordPress site backups, including databases and files. You can also schedule easy backups for your website.
The best part, you can store your backups in a secure off-site location, which could be used if your sites face complex issues like hacking or malware attacks.
Pros
Store backups on different cloud storage – Google Drive, Amazon S3, Dropbox, etc.
Quickly deploy a website from staging to live server in one click.
Supports easy transfers and full backups.
Get email notifications regarding your backups.
Easily download the files in a zip format after taking backups.
Cons
Does not support multisite migration.
Implementation could be quite tricky for beginners.
2.9

Migrate Guru

Moving to the last plugin in the list, the Migrate Guru is a powerful WordPress migration plugin that enables fast and easy backup and migration for the website.
The developers claim that you can easily clone a 1GB website in under 30 minutes. That is a huge deal!
You don't need all the technical knowledge to migrate websites. Just enter your host details, click on "Migrate" and that's it.
Pros
Easily clone and migrate large sites upto 200GB easily without crashing.
No need for additional addons to migrate complex websites.
Compatible with multiple hosting companies.
Easily use search and replace commands for serialized data.
Real-time email updates will keep you posted about the migration status of your website.
Cons
You can't do localhost to live site migrations and vice-versa.
Multisite migrations have limited support.
3

How to Migrate a WordPress Site? – Easy Steps

You can easily do WordPress migration following some easy steps. Many people think that it is a complex process, but it isn't.

Now that we have already educated you about different WordPress migration plugins, you can easily follow the following steps to accomplish your goal.
3.1

Migrate to a new hosting keeping the same domain name

Step 1: Select your current web hosting platform

Step 2: Backup your WordPress database and files

Step 3: Set up a new hosting account and migrate the site

Step 4: Switch your DNS record settings
3.2

Migrating website to new hosting and new domain

Step 1: Select a new web hosting platform and register on it

Step 2: Backup your Wordpress database and files

Step 3: Set up your new hosting account

Step 4: Migrate the website and domain

Step 4: Set up 301 redirects from your old domain name and submit your new site on the webmaster + notify Google about your new domain name
4

Final Thoughts

We hope that your journey to find the best WordPress migration plugin is now simplified after reading this detailed post.

It is very important that whatever type of migration we are doing, we should pursue with utmost clarity and have a clear vision on our end goal.

Your website is a result of a lot of hard work, patience, and has required a substantial investment. This detailed post has been written to help individuals like you to migrate their WordPress website without a glitch.

Do share your queries in the comment section below. We will try our best to help you achieve seamless WordPress migrations without worrying about losing your essential site data and files.